Particle Physics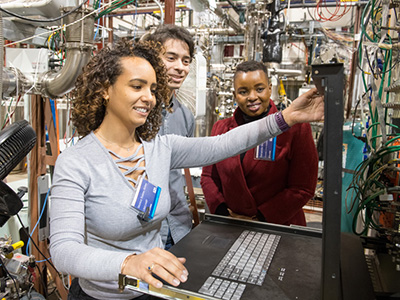 At Fermilab, a robust scientific program pursues answers to key questions about the laws of nature and the cosmos.
The challenge of particle physics is to discover what the universe is made of and how it works. By building some of the largest and most complex machines in the world, Fermilab scientists expand humankind's understanding of matter, energy, space and time.
Fermilab is at the forefront of research into neutrinos, ubiquitous but hard-to-catch particles that might point us to a better understanding of the first moments after the Big Bang. The international Deep Underground Neutrino Experiment, to be based at Fermilab, will be the world's largest experiment for neutrino science and proton decay studies.
Fermilab is heavily involved in research at the Large Hadron Collider and serves as the U.S. headquarters for the CMS experiment at the LHC.
Fermilab scientists are at the cutting edge of research in dark matter and dark energy, which helped shape the universe and will continue to guide its evolution into the future. Fermilab is a base for exploration of the fundamental particles and forces that govern our world on the smallest scales.