2011 Shutdown Event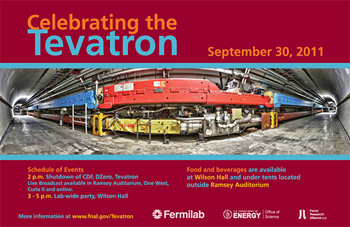 All employees and users are invited to watch a broadcast of the activities that will take place in the CDF and DZero control rooms and in the Main Control Room as the collider and experiments are shut down. Fermilab Director Pier Oddone will host the broadcast, which will begin at 2 p.m. Employees and users are invited to watch the broadcast from Ramsey Auditorium. The broadcast will also be available online.
Employees and users are invited to a lab-wide party in celebration of the Tevatron, which will take place from 3-5 p.m. in Wilson Hall and the surrounding area. More information is below.
---
Sept. 30 Continuous Loop Bus Routes
Busses will run every 15 minutes from 1:15 – 5:30 p.m.
Bus #
Time
Route
Approx. Pick-up Intervals
1&2
1315-1730
Start at CDF (east entrance - portakamp side),
then cross D-Road to IB-4 northeast corner (where IB4, IB3, and ICB meet)
then to FCC (can stop at east and west entrances) via C-Road,
then to Wilson Hall Horseshoe.
15 minutes
3
1315-1730
Village Aspen East,
D-0 Main Doors,
Wilson Hall Horseshoe
15 minutes
4
1315-1730

SIDET – (North Doors of Cross Connect),
Site 38 Warehouse 2 Lot,
Wilson Hall Horseshoe
15 minutes
Note: Any of the buses can drop off at WH Northeast Entrance to accommodate mobility challenged riders.
T-shirt sales
Fermilab's Education Office will sell commemorative t-shirts from 11:30 a.m. to 1 p.m. on Friday, Sept. 30, in the lobby of Ramsey Auditorium. T-shirts cost $10 for sizes small – XL and $15 for 2XL.
Food and Beverage
Party attendees can enjoy a variety of international meat and vegetarian appetizers and desserts at stations set up in the Wilson Hall atrium and in the tents located on either side of the auditorium. Beverage stations in these locations will serve soft drinks, water, wine and beer.
Commemorative items
Attendees can also take home two types of Tevatron souvenir posters and a souvenir lapel pin. Pins will be available in the lobby areas of Ramsey Auditorium before and after the shutdown event. Posters will be available Friday near the Auditorium and the front entrance to Wilson Hall. Posters will also be available next week in the Office of Communication, WH1E.