Accelerator Update
The integrated luminosity for last week was 4.1 pb-1.

Monday September 1
The day shift began with Operations monitoring store 2977, with the Antiproton Source (Pbar) stacking, and with MiniBooNE taking beam.
At 8:40 AM, the Tevatron (TeV) sector D2 wet engine tripped off. Operations reset the engine right away and informed the technicians at CHL of the problem. The cryo system stabilized.
A Main Injector (MI) expert began a study period at 9:51 AM.
At 9:58 AM, a Recycler bulk correction element power supply tripped off. The beam in the machine remained in the machine. Operations won't try to reset this device without talking to a Recycler expert.
At 10:46 AM, the TeV D2 wet engine tripped off again. The cryo tech turned the device back on quick enough to save the store. It tripped again at 11:14 AM and at 11:16 AM. Operations asked the Cryo Coordinator for advice.
Cryo techs went to D2 and began investigating the wet engine trips. At 12:40 PM, It tripped off while they were there and then tripped three more times during the next six minutes.
At 12:46 PM, the D-zero (D0) experiment reported that their detector was off. They said that if it was the problem they thought it was, it would require a crate change and take about three hours. They were still conducting diagnostics. They want an access when the store ends.
The cryo techs reported that the D2 wet engine had problem with its REGEN circuit, which is part of 480 VAC system. This repair would have to wait until the current store ends.
Booster, Switchyard, and MI experts, who had all started studies a various times this morning, finished their studies by 3:25 PM.
By 5:50 PM, D2 had tripped off four more times. By 7:15 PM, the trips were becoming frequent.
A Switchyard expert began another study period at 8:16 PM.
Operations called in D0 and cryo experts. At 10:27 PM, Operations terminated store 2977. By 10:47 PM, D0 experimenters were in access and cryo techs had turned off the D2 wet engine.
Tuesday September 2
The midnight shift began with Pbar stacking, with MiniBooNE taking beam, with D0 in access, and with D2 wet engine repairs in progress.
D0 came out of access at 12:45 AM.
The Switchyard expert ended his study at 1 AM.
Operation put the TeV into shot setup at 1:33 AM. At 3:26 AM, Operations established store 2979 with an initial luminosity of 4.2E31. Pbar resumed stacking.
At 8 AM, Operations turned off beam to MiniBooNE in preparation for the September 8th shutdown.
At 8:04 AM, Operation prepared Linac for an access. The experts were out by 8:55 AM. Stacking resumed at 9:11 AM.
Operations held Pbar beam off at 10:06 AM, so experts could a tune up for 2.5MHz transfers.
At 10:30 AM the TeV beam aborted due to an RF problem. Investigators discovered a 13.8 KV cabinet at the F0 service building with a blown fuse. High voltage experts were called in at 11 AM to replace the fuse.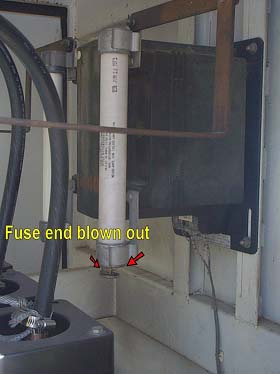 Operation, TeV, and MI experts successfully completed seven 2.5MHz transfers of antiprotons from MI to the TeV at 12:47 PM.
Pbar resumed stacking at 1:50 PM for studies, but ended stacking at 2:11 PM in preparation for an access. Operations had Pbar ready for access by 2:23 PM. They were out of access an hour and fifteen minutes later.
Recycler experts took a shot of protons for studies at 2:26 PM.
At 6:46 PM, the TeV lost its antiproton study store. The TeV quenched at sector D0 while experts moved collimators.
Operations put the TeV through a dry squeeze at 9:06 PM.
Pbar experts completed their studies at 9:45 PM and then resumed stacking ten minutes later.
Wednesday September 3
The midnight shift began with TeV experts conducting damper studies, with MI experts conducting studies, and with Pbar stacking.
The MI studies finished at 1:13 AM.
TeV damper studies ended at 3:32 AM.
A problem with the TEL delayed aborting the TeV beam before starting the next study. An expert was called and operators implemented his suggestion. Beam was successfully terminated at 4:30 AM. Experts then began the next study period.
Today's Plan
The plan for today is to put the TeV into shot setup sometime around 10 AM.
More Information
For Tevatron luminosity charts and the current status of Fermilab's accelerators and detectors (live!), please go to Fermilab Now
Comments and Suggestions
What do you think about the Accelerator Updates? Please send comments and suggestions to: accelupdates@fnal.gov.