Monday December 22
The day shift began with cryo system technicians warming up sector B0 in the Tevatron (TeV), and with the rest of the TeV, Transfer Hall, Booster, the Antiproton Source (Pbar), and transport lines all in access.
At 9:41 AM, techs reported LCW leaks on a quadrupole magnet and a RF cavity.
Operations and Recycler experts began sending antiprotons from the Recycler to the Main Injector (MI) at noon.
Linac techs removed the cover from drift tube 5 to investigate the problem with a quadrupole and found it full of sludge. See pictures below.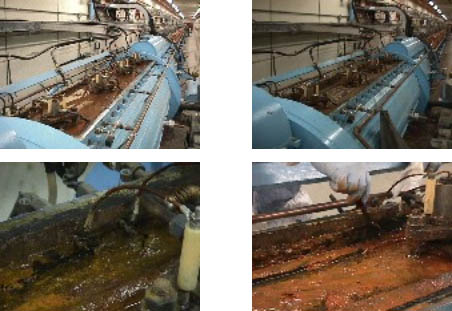 By 3:41 PM, there had been seven transfers of antiprotons from Recycler to MI.
Pbar experts reported at 5 PM that the Debuncher injection septum (D:ISEPV) had a vacuum leak and would be replaced on Tuesday.
At 7:37 PM, a Linac expert reported that Klystron RF cavity 1 had a vacuum leak and would be replaced early Tuesday morning.
Tuesday December 23
The midnight shift began with Operations monitoring systems.
At 4:23 AM, Linac techs began the KRF1 replacement.
TeV sector B1 cryo system went warm at 3:26 PM.
At 4:31 PM, Pbar experts reported that D:ISEPV was in place.
Linac techs reported at 9:28 PM that the replacement quadrupole had a vacuum leak and would need replacing again. This won't happen until Friday.
At 10 PM, TeV vacuum techs reported finding a B14 vacuum leak on a single-phase line of the cryo system.
Wednesday December 24
The midnight shift began with the Linac work continuing, and with the TeV vacuum at B1 pumping down.
At 10:23 AM, the Cryo Coordinator reported that they had begun removing the liquid helium from TeV cryo systems at sectors E3 and E4 for magnet adjustments in those enclosures on Friday.
TeV experts reported at 11:37 AM that the cryo to vacuum leak was located on the B14-1A spool piece.
At 1:30 PM, Operations reported that the Pbar injection septum had been run at full power all morning and looked good.
Thursday December 25
The midnight shift began with all work on hold, and with Operations monitoring systems. Merry Christmas.
At 10 AM, Operations noted that the new Linac quad tripped off and wouldn't reset.
By 4:35 PM, a Linac RF station (KRF5) tripped off three times. It reset okay each time.
Friday December 26
The midnight shift began with Operations monitoring systems.
Here is an 8 AM status report:
Linac is on, with techs beginning repairs on KRF1, and tank 5 quad still has problems.
Booster is on.
Main Injector is on, with the Bends and quads ramping to 120 GeV.
Tevatron is off, with F-sector in access, and with B14-1A spool replacement underway. and with magnet adjustments in sector B2.
Pbar is on, but the AP1 power supplies are off for access.
MiniBooNE is off.
Meson area enclosures M01 through 4 are interlocked, but the power supplies are off. M05 and Meson Center enclosures 6 and 7 are not interlocked.
At 7:50 AM, a six-inch domestic water line broke just north of the old experimental area Operations center. Experts reported that this leak would be repaired on Monday.
Operations reported having a problem with the Linac 32° Preacc magnet at 8:42 AM. An expert had it repaired by 10 AM.
Techs access Linac and Pbar at 9:30 AM.
At 3:35 PM cryo experts reported that the cryo system at TeV sector B2 was nearly cold.
Saturday December 27
The midnight shift began with Operations monitoring systems.
Here is a TeV update at 7:16 AM:
B14 buss connections complete.
One vacuum leak repaired on the downstream nitrogen connection.
At 1:42 PM, Linac experts reported that they are giving up on this KRF1 replacement tube. At 6 PM, they reported that the next replacement tube in the test stand was doing well.
At 6:26 PM, cryo experts were notified that they could begin making the cryo connections in B sector.
Sunday December 28
The midnight shift began with Operations monitoring systems.
By 4 AM, all necessary approvals were given to begin the TeV sector B1 cryo cooldown.
Around 8 AM, Linac techs began replacing the tube for KRF1.
Operations established beam in the Linac at 3 PM. An expert began Linac tuning.
At 5:26 PM, Operations established beam to Booster.
Operations established beam to the MI dump at 6 PM.
At 6:23 PM, MI and Switchyard (SY) experts began a study period.
Operations began sending beam to MiniBooNE at 6:34 PM.
Monday December 29
The midnight shift began with the TeV sector B1 cooldown continuing, with SY and Pbar studies, and with MiniBooNE taking beam.
Pbar experts reported at 6 AM that their stacking studies were hampered by efficiency problems.
Operations had Pbar and TeV F sector ready for access by 7 AM.
Today's Plans
The Tevatron should be cold by this afternoon and experts will the TeV turn on later this afternoon or early evening. The hope is to have a store in the machine by New Year's day.
More Information
For Tevatron luminosity charts and the current status of Fermilab's accelerators and detectors (live!), please go to Fermilab Now
Comments and Suggestions
What do you think about the Accelerator Updates? Please send comments and suggestions to: accelupdates@fnal.gov.