Monday November 24
The day shift began with Operations monitoring the Tevatron (TeV) study-store, with the Antiproton Source (Pbar) stacking, with MiniBooNE taking beam, and with work on Meson feeder 30 progressing.
At 9 AM, Operations terminated the study-store.
TeV experts began a collimator study at 9:35 AM.
Operators began preparing Booster, Main Injector (MI), the Collider Detector Facility (CDF), and D-zero (D0) for an access at 9:50 AM. All accesses were finished by 1 PM.
Operations reestablished beam to MiniBooNE at 1:45 PM and they established beam to the Pbar Accumulator by 2:11 PM.
At 4:20 PM, the high voltage expert reported that they had energized Meson feeder 31, but ten minutes later it tripped off. CHL reported that they suffered a power glitch when feeder 31 tripped. The high voltage expert began searching for the new feeder fault.
Cryo system technicians reported that CHL was back to normal operations at 6:18 PM.
Operators prepared the TeV, CDF, and D0 for an access at 9 PM. TeV wanted to check for a vacuum leak in TeV sector E2. Cryo techs began rebuilding the wet engine at the TeV sector C4 service building.
Pbar's antiproton target had its lithium lens trip off due to a interlock fault at 10 PM. Operators discovered an empty nitrogen gas bottle; they valved in the backup bottle. Stacking resumed at 10:30 PM.
Tuesday November 25
The midnight shift began with Pbar stacking, with MiniBooNE taking beam, and with the TeV in access.
Techs came out of the TeV at 1:40 AM.
Cryo techs completed their work on the C4 wet engine at 2:30 AM.
Stacking resumed at 2:35 AM, though not at a good rate.
The TeV suffered a sector A1 quench at 6:12 AM.
At 9 AM, Operations put the TeV through a dry squeeze.
A TeV RF station (TRF8) tripped off at 9:10 AM. An expert investigated and turned the station back on at 9:30 AM.
At 9:43 AM, Operations turned off the TeV ramp while experts investigated a problem with the wet engine at TeV sector A1. A piston had failed. In the picture below, the wet engine is blue. The box on top covers a flywheel and valves. The box is normally clear so you can see the engine in action.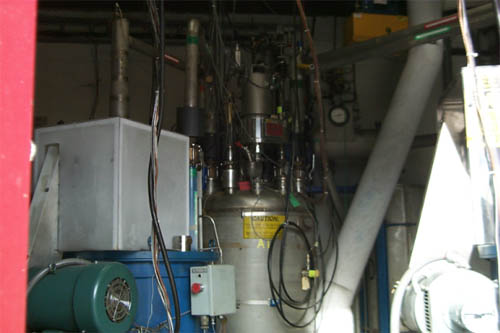 Operators prepared CDF and D0 for access at 10:25 AM.
Cryo techs completed the A1 wet engine repair at 2 PM and the cryo system recovery was completed at 3:17 PM.
CDF and D0 were both out of access by 3:41 PM and the TeV resumed ramping by 4 PM.
Operations put the TeV into shot setup at 4:30 PM and at 6:47 PM established store 3048. Its initial luminosity was .9E31. Pbar resumed stacking.
At 8:30 PM, the TeV suffered a B1 separator spark. This caused a luminosity loss.
Wednesday November 26
The midnight shift began with Operations monitoring store 3048, with Pbar stacking, and with MiniBooNE taking beam.
At 4 AM, TRF8 tripped off on an overcurrent. It reset okay.
A Booster expert began tuning at 6 AM.
Future Plans
Operations will terminate store 3048 early this morning and then establish a new store this the afternoon. The Run Coordinator will allow experts to conduct accelerator studies in between. The high voltage expert will energize feeder 30 early this morning. The rest of the Thanksgiving weekend will consist of stacks and stores with a shot every day.
More Information
For Tevatron luminosity charts and the current status of Fermilab's accelerators and detectors (live!), please go to Fermilab Now
Comments and Suggestions
What do you think about the Accelerator Updates? Please send comments and suggestions to: accelupdates@fnal.gov.