Accelerator Update - June 2-June 4
Monday June 2
The day shift began with Operations monitoring store 2636, with the Antiproton Source (Pbar) stacking, and with MiniBooNE taking beam.
At 9:45 AM, technicians began changing the power amplifier for a Linac RF station (LRF5). This halted stacking and MiniBooNE beam.
Experts found a wiring problem with the Neutron Therapy Facility (NTF) LCW skid.
At 10:48 AM, the MiniBooNE horn tripped off.
The Linac RF station work finished at 2:13 PM. Operations established beam in Linac and then had beam to MiniBooNE by 2:42 PM.
At 2:45 PM, the Tevatron Electron Lens (TEL) went unstable. Operators notified an expert who investigated the problem.
After experts resolved a problem with a Pbar Debuncher Septum (D:ESEPV); stacking resumed at 3:16 PM.
Tevatron (TeV) experts began end-of-store studies at 4:47 PM.
At 5:03 PM, Operations terminated store 2636. Operator then made the Collider Detector Facility (CDF) and D-zero (D0) collision halls ready for access. They also prepared the TeV sectors A-E for access.
Cryo system techs found a water leak on a TeV sector A4 spool piece at 6:15 PM. Water techs were called in to make repairs. The Cryo techs also found a nitrogen leak in the same area and believe that was the cause for the ice ball. Other Cryo techs were called in to carefully thaw out the ice ball.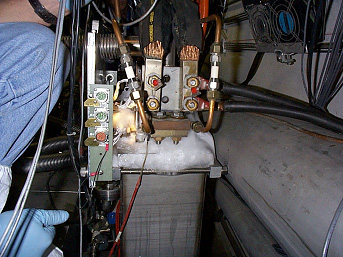 Tuesday June 3
The midnight shift began with the TeV in access, with Pbar stacking, with Main Injector (MI) experts conducting studies, and with MiniBooNE taking beam.
By 3:11 AM all the TeV work and accesses had ended and Operations had begun the TeV turn on.
Operations put the TeV through a dry squeeze at 4:29 AM.
Operators discovered a TeV quadrupole magnet (B0Q3) not operating normally. Operators called in experts to make repairs.
At 10 AM, the TeV turn on resumed, but thirty minutes later was put on hold to investigate a number of power lead problems in sectors BA and BB. Experts accessed these areas and made adjustments.
Operations established beam to the TeV at 12:27 PM for a tune up.
Operations put the TeV through a dry squeeze at 1:04 PM.
At 2:37 PM, Operations put the TeV back into shot setup.
Operators accessed the H- Source to investigate a NTF water valve at 2:48 PM. The access took thirty minutes.
At 3:25 PM, an AP0 breaker tripped off causing the loss of power to a number of devices in the Pbar transfer lines AP2 and AP3. The breaker reset okay, but may need work in the future.
A Linac expert investigated a power fluctuation in RF station LRF1 at 3:43 PM. After protons were loaded for the upcoming shot, LRF1 was rested at 4:55 PM. This halted the delivery of beam to MiniBooNE. The power amplifier tube for LRF1 is dying and may not last long.
At 5:32 PM, Operations established store 2642 with an initial luminosity of 31.18E30.
The MiniBooNE horn tripped off at 6:04 PM.
Operation brought LRF1 back online and resumed stacking and sending beam to MiniBooNE at 6:10 PM.
Wednesday June 4
The midnight shift began with Operations monitoring store 2642, with Pbar stacking, and with MiniBooNE taking beam.
At 2:41 AM, a MiniBooNE power supply (E:MBEXPS) tripped off. Operators could not reset the device and called in experts. The experts had the device repaired by 5:14 AM. There was no MiniBooNE beam during this time.
Operations noticed a pressure drop in the Pbar LCW system at 5:21 AM. Operators contacted the Duty Mechanic who discovered a pump had tripped off. The Duty Mechanic started up a backup pump and pressures returned to normal.
Today's Plan
Today's plan is to stack and store. It was announced this morning that the seven-week summer shut down would begin on August 25th.
More Information
For Tevatron luminosity charts and the current status of Fermilab's accelerators and detectors (live!), please go to Fermilab Now
Comments and Suggestions
What do you think about the Accelerator Updates? Please send comments and suggestions to: accelupdates@fnal.gov.