Wednesday October 22 through Friday October 24
All shifts began in shutdown.

On Wednesday, electricians cut the power to certain Tevatron (TeV) service buildings for maintenance. A group of quadrupole magnets in the I- Source began tripping off early on the evening shift. Preaccelerator experts lowered the LCW temperature to help cool these magnets down. The TeV sector F0 bake-outs finished on the evening shift. MiniBooNE expert began testing their power supplies.

On Thursday, the water group began changing pond water filters around the TeV. Electricians continued their power down maintenance around the TeV. By the afternoon, Antiproton Source experts reported that PreTarget, Pre Vault, and Transport enclosures were all ready for interlocking. Operators completed the interlock by mid afternoon. Linac technicians switched to the H- Source. A Linac expert conducted a beam study. During the evening shift operators interlocked the Main Injector (MI) for safety system tests. Operators inspected the MI busses.

On Friday, early on the midnight shift Operations conducted a MI Lowpot.

TEVATRON Status
Major jobs for the 2003 fall shutdown

1) Install the sector F0 Lambertson liners
2) Install the sector A48 Collimator
3) Fix cold leaks at sectors A4, F1, E2, and B3
4) Rebuild the Collider Detector Facility (CDF) concrete shield wall
5) Smart bolt shimming 106 dipoles around B0 and D0.
6) Tevatron survey network include installing monuments and measuring magnets positions
7) HLS system at B sector instrument 26 quadrupoles
8) Replace 79 magnet stands around ring
9) TeV magnet roll measurements
10) Conning tower work in sectors A4, A2, and B3 that are warmed up
11) Octupole circuits
12) Sextupole at A0
13) BPM wiring and fixing
14) General clean up in tunnel
15) Add 6 sumps pits in tunnel
Sectors A2, A4, and B3 have been vacuum certified and highpotted. They are ready for final walk through and cool down.
Japanese Pots at A48 are installed and ready for survey.
Sector F0 multiwires and BPMs have been surveyed.
The Lambertson bake out has been completed and the magnets are cooling. We are ready to connect water, power, and do the final alignment.
HLS system is being tuned up.
The sector A0 sextupole magnet is at A0. Techs will install this magnet next week.
We are unrolling and leveling the magnets in sector E2.
We have discovered an alignment problem with the A0 kickers. Experts will continue their investigation.
Japanese Pots
A Japanese Pot is a special kind of small detector that is driven very close, but not into the colliding beam on either side of the collision points. The pots look at beam scattering beyond the experiment's detector.

Here are two pictures showing CDF personnel installing the pots.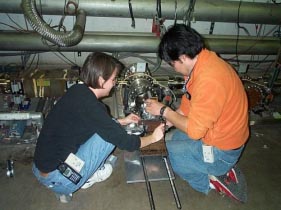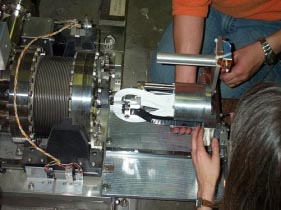 RECYCLER Status
Ring bake outs (21 of 28) is 75% complete
Alignment of components is 60% complete
The rework of the 620 region is 45% complete
More Information
For Tevatron luminosity charts and the current status of Fermilab's accelerators and detectors (live!), please go to Fermilab Now
Comments and Suggestions
What do you think about the Accelerator Updates? Please send comments and suggestions to: accelupdates@fnal.gov.