Wednesday April 7
The midnight shift began with Operations monitoring store 3361, with the Antiproton Source (Pbar) stacking, with the Recycler maintaining its stash, and with Switchyard (SY) and MiniBooNE taking beam.
A Main Injector (MI) expert began a slow acceleration study at 9:24 AM.
At 1:06 PM, Operations made Booster ready for an access to repair a collimator. They were out within an hour, but a problem with the 400 MeV Booster Debuncher power supply delayed beam. A technician had the supply repaired and Pbar resumed stacking at 2:26 PM.
At 3:43 PM, Operations was tuning Meson beam to the MCenter and MTest experiments.
Operations halted the Linac beam at 4 PM due to the erratic output of a quadrupole power supply (QPS308). A tech investigated.
Operations tuned the beam away from MCenter at 4:15 PM.
The MI RF stations tripped off due to a pond water pressure problem at 4:34 PM. The RF was back on within 15 minutes. Later, FESS people cleaned out the pond strainer.
Operator resumed sending beam to MCenter at 8:38 PM.
TeV experts conducted some end-of-store studies and then Operations terminated store 3361 at 9:34 PM.
Operations put the TeV into shot setup at 11:11 PM.
Thursday April 8
The midnight shift began with the TeV in shot setup, with beam off to SY during shot setup, and with MiniBooNE taking beam.
At 1:05 AM, Operations noted that the MIRF LCW temperatures were rising. The pond water pressure is becoming a problem again.
Operations established store 3363 at 1:35 AM with an initial luminosity of 54.49 E30.
Operation didn't resume stacking, but allowed techs to clean the MI60 pond water strainer. The pond plant growth has gone wild.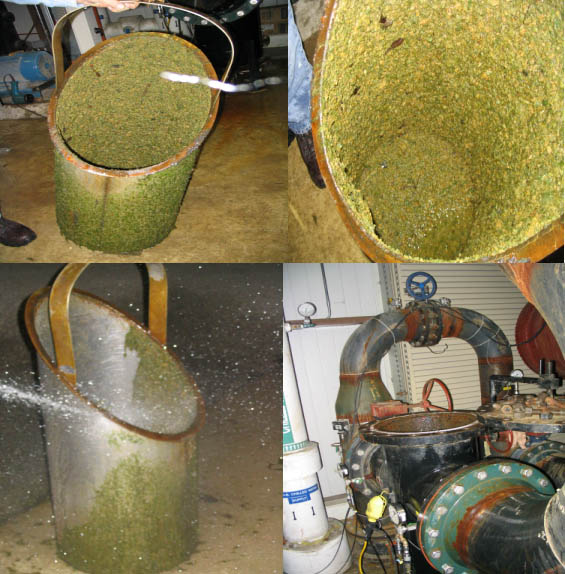 Operations resumed stacking and running MI beam at 2:23 AM.
At 4:21 PM, Operations halted stacking so that Pbar could send shots of antiprotons to Recycler to stash.
Pbar resumed stacking at 4:54 AM.
Operation reestablished beam to MCenter at 5:16 AM.
A TeV RF station (TRF2) tripped off at 5:31 AM. Operators thought that a glitch in the LCW system might have caused the trip. Pbar techs completed some work at AP30 at 7:48 AM.
Techs cleaned the MIRF pond water strainer at 9:33 AM. Roads and grounds personnel cleaned the algae off the top of the pond.
MI and Pbar beam resumed at 10 AM.
A Pbar expert began a reverse proton study at 1:42 PM. More MIRF strainer work also started.
Operations halted SY beam at 1:54 PM.
MIRF strainer work was completed at 2:57 PM.
A one-hour Booster collimator study began at 3 PM.
Techs replaced a flow-turbine on the TeV TRF2 station at 3:52 PM. It will be turned on between stores.
Operations established beam to the SY dump at 5:25 PM so an expert could conduct a study. His study lasted about 45 minutes.
Pbar resumed stacking at 6:36 PM.
Operations established beam to MCenter at 8:43 PM.
Friday April 9
The midnight shift began with Operations monitoring store 3363, with Pbar stacking, with MCenter on access, and with beam to MiniBooNE.
At 12:45 AM, MCenter came out of access.
Operations reported at 6:14 AM, that the earlier MIRF strainer and pond cleaning seemed to have resolved the pond water pressure problem, at least for the time being.
At 7:26 AM, Operations reported that they had to delay the planned end-of-store study due to necessary repairs on a Pbar AP3 line power supply shunt for a quadrupole (D:QS926). The access to make repairs began at 7:35 AM.
Plans for Today and the Weekend
The plan for today and this weekend is to stack and store.
More Information
For Tevatron luminosity charts and the current status of Fermilab's accelerators and detectors (live!), please go to Fermilab Now
Comments and Suggestions
What do you think about the Accelerator Updates? Please send comments and suggestions to: accelupdates@fnal.gov.