Accelerator Update
Monday October 6 through Wednesday October 8
All shifts began in shutdown.
On Monday, electricians began shutting off power to Tevatron service buildings to perform maintenance. This work will go on all week.
On Tuesday water technicians turned on the Main Injector LCW system.
ANTIPROTON SOURCE
One of the Antiproton Source (Pbar) projects was to install motorized stands for ten of their quadrupole magnets. Here are pictures of two quadrupoles: the first one shows an easy installation and another that had to be installed behind cryogenic system piping.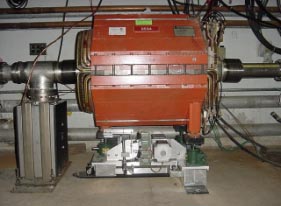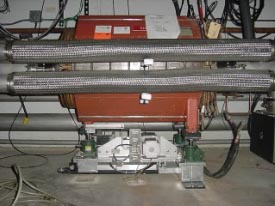 The Pbar experts plan on using the quadrupoles to improve the aperture in the AP2 region, which will then help injection. Once set, the quadrupole is not likely to be moved again. If this system works they may install more motorized stands.
TEVATRON
Technicians will finish installing the Hydrostatic Level System (HLS) by the end of this week. Piping the system has proved to be a challenge as you can see by the following pictures.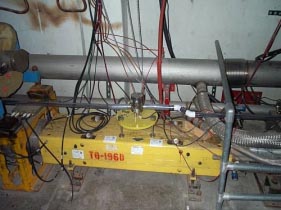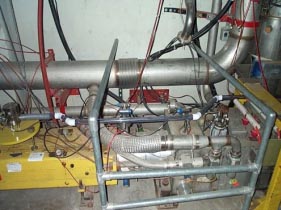 The piping and cans must be half filled with water, which is requiring a meandering path to avoid obstacles.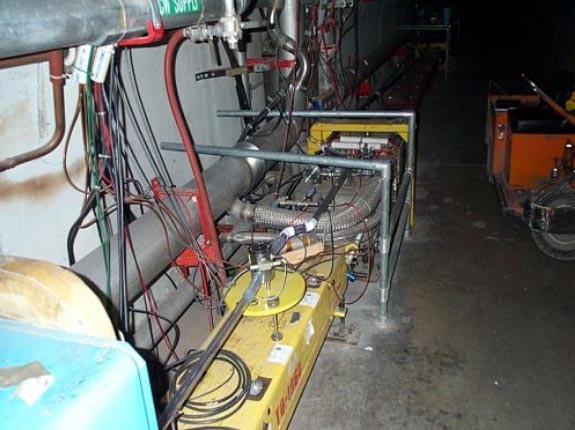 The HLS will give experts information that will help them understand beam orbit changes.
More Information
For Tevatron luminosity charts and the current status of Fermilab's accelerators and detectors (live!), please go to Fermilab Now
Comments and Suggestions
What do you think about the Accelerator Updates? Please send comments and suggestions to: accelupdates@fnal.gov.