Thursday July 6
The day shift began with Operations monitoring store 4813 and a Recycler stash, with the Collider Detector at Fermilab (CDF) and D-Zero (D0) using the colliding beam store, with the Antiproton Source (Pbar) stacking, with the Linac, Booster, Main Injector (MI), and Recycler operating normally, with NuMI off due to a horn cooling problem, and with MiniBooNE taking beam.
FESS technicians reported at 9:53 AM that they had begun the cleanout of the Tevatron (TeV) sector A0 pond strainer. Below are pictures of the work.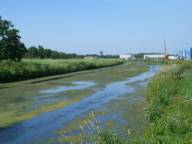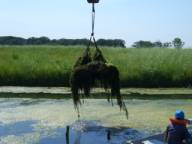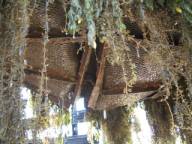 The Meson MTest experiment began taking beam a little after 11 AM.
At 12:10 PM, D0 experimenters reported that their toroid had developed a small LCW leak. They don't need an access to repair the leak.
Operations prepared the Recycler at 12:16 PM to stash antiprotons. The stash ended and Pbar resumed stacking.
Operations terminated store 4813 at 1:02 PM.
TeV experts began their study period at 1:30 PM.
Operations put the TeV into shot setup at 3:15 PM.
At 3:51 PM, a Switchyard (SY) power supply (VH94) developed a small LCW leak. Techs began repairs. This work held off MTest beam.
Operations established store 4815 at 5:16 PM with an initial luminosity of 139.89E30. Operations reported that Pbar had resumed stacking about fifteen minutes before the store was established with no ill effects.
At 5:41 PM, an expert began working on the QXR. MTest experimenters reported that they would be working in their hall for the rest of the evening: no beam.
The Recycler began preparing to stash at 7:06 PM. The stash ended and Pbar resumed stacking at 7:52 PM.
Friday July 7
The midnight shift began with Operations monitoring store 4815 and the stash, with Pbar stacking, and with MiniBooNE taking beam.
The Recycler began preparing to stash at 12:25 AM. The stash ended and Pbar resumed stacking at 12:57 AM.
The Recycler began preparing to stash at 5:12 AM. The stash ended and Pbar resumed stacking at 5:47 AM.
Operators search and secured the MTest experiment at 7:33 AM.
The Plans for Friday and the Weekend
The plans for today and the weekend are to stack, stash, and store.
MACHINE REPORTS
Linac
Linac Running Between June 30 and July 6, 2006
Running on the H- Ion Source
Beam Current 38 ma
Downtime - 3.76 Hours With 17 Occurrences
Major Sources of Downtime
.92 hr. - KRF4 Filament timeout
2.67 hr. - two low energy Linac quad timing pulse repeaters failed
Problems
Other than those that caused downtime, there weren't any problems
Booster
June 30 – July 7
Stacking: 8 – 10 Turns with ~3.5 to 4E12/batch
MiniBooNE: 8 Turns – Protons/Pulse at ~4.8E16/hr
NuMI: Off
Studies
Tuning

Efficiency never recovered after Linac retune?
Looking at 400 MeV wires and beam positions
Mode 47 damper phasing
Beam position problems on high intensity cogged cycles

RF balancing work nearly complete
Gamma t studies continue
Preaccelerator notching enabled for $1D cycles and synched with the Booster notch pulse width tuning
Tested ORBMP foils and switched to a lower density foil
Downtime: 3 hours
MKS05 shorted cable took 2 hours to repair
RF miscellaneous work 0.5 hours
ORBMP work 0.5 hours
Access: 6 hours
Next Week
Continue to work on Preacc notching $1D
Push higher intensity - no NuMI
Damper work - higher intensity
Injection tunes/orbit work
Continue Gamma t
Main Injector
MI
86% large antiproton stash from Recycler
Mini-dip bend field

120 Slow spill

Establish 4 second slow spill
Problem with I68 program identified
LINUX certification continues...
I50, Orbit smoothing program
I52, Orbit closure program
BPM upgrade
Next is MI60 South

Orbit closure for reverse proton from TEV
Use injection frame from the new BPM system
BLT style closure program
Antiproton Source
Stacking
Stacking rate is ~15% lower than it should be for our present intensity on target
Beam to the end of AP2 and circulating in the Debuncher is as good as it was before the shutdown
Beam injected into the Accumulator is ~15% below what it should be for the present intensity on target

It appears that our bottleneck is in the D to A transfer
Beam Studies
This week:

Yield and D-A beam size vs. cycle time
Began centering stacktail kicker tanks
Major streamlining of Pbar-Recycler sequencer aggregates

The near future:

Repeat and improve on yield/beam size vs. cycle time study
Continue stacktail kicker centering
Studies to make the AP2 portion of the "Overthruster" operational
Work List
QS732 Repair
4-8 GHz core ∆p cooling gain change
Debuncher Tank 201 feed through installation (1½ to 2 day shutdown)
Dead high level amplifier stage in core vertical band 1 cooling
TOR724 noise reduction
Target stack exhaust fan trouble shoot (requires pre-target access)
Recycler
Apparent Problems
Transverse emittance growth during mining/extraction (>100%)
Longitudinal emittance dilution during RF manipulation (~15%)
Uneven bunch intensity due to RF distortion (~100%)
Transverse Emittance
Transverse emittances grow after momentum mining RF appears
Only happens with antiprotons cooled by electron beam and stochastic cooling
Only happens when there is high density
Factors of 2~3 increase
We have not totally understood the cause due to operational considerations
Solutions:

Speed up momentum mining
Do not use momentum mining
Change tunes
Remove electron beam during mining/extraction?
Longitudinal Emittance Dilution During RF Manipulation
From stretching a barrier bucket containing cold beam
Due to very slow synchrotron frequency of particles in a barrier and finite speed of manipulation

Solution: change extraction algorithm to raise synchrotron frequencies

Bucket "accordionation"
"Strip mining"
Bunch Unevenness
Caused by potential well distortion
Proof based on cavity fan back voltage
Solution:

Feedback correction
In progress by Instrumentation/Recycler
Fast response compared to speed of RF manipulation
Conclusion
We should be able to further improve the Recycler performance
Transverse growth during mining is the least understood
Need to coordinate more non-destructive studies
RF feedback looks hopeful; may be operational in a few months
Tevatron
Store Summary
Store

Avg. Init. Lum (E30)

Avg. Deliv'd

Lum

(nb -1)

Time (hr)

How did it end?

Comments

4815

139.5

Running

Tune adjust at LEBSQ=2; Tune tracker phase adjustment; New Linux version of orbit stabilization test and in operation

4813

132.5

1259

32.5

Intentional

Tune tracker need tuning

4812

115.1

4825

33.6

Intentional

After quench recovery and damper check up; HF22 @ wrong value

4808

119.7

4718

28.0

Intentional

Antiproton tune lowered to minimize emittance "scallops"; HF22 @ wrong value

4805

141.4

4966

21.7

Abort

BQ9 Firing card problem; 1.7GHz Schottky problem
Machine Maintenance Studies
Machine tuning ups and optimization
Tune tracker phase tuning
Damper checkups
Orbit stabilization program test

New Linux version with improved features
Problems
Lost store due to BQ9 firing card
Quench during cogging

Beam position problems at F48U due to HF22 at wrong value

1.7GHz Schottky tune meter;
Tunes low through squeeze
Study Requests
Proton bumper timing adjustment:
A0 beam abort position adjustment:
Tune adjustment for squeeze
TEL2 orbit and timing tuning, modulator test

Available proton only times
Switchyard
Summary
Friday - Sunday

T956 (ILC muon) low intensity 120 GeV protons ~10K per pulse 12am to 12 pm

Monday - Tuesday T927 (CMS Pixel)

started in proton mode 9am - 9pm

Friday – Tuesday

uptime ~50% of 12 hour intervals

Wednesday -Thursday

Slow spill length modified from 1 sec to 4 sec at T927's request, also request for ~100K in 120 GeV proton mode (Slow spill working need to check tune SY with 4 sec spill)
Unofficial MTest Beam Uptime
70 hours requested, 40 received ~60%
4 hours lost to PS Meson Front End,
P3 line - HP3DS PS intermittent problems
NuMI
Horn 1 Clogged Up with D. I. Bottle Resin Beads
Had been having problem with water collecting in tank under horn 1 instead of coming back to surge tank and had more than normal amount of water in system.
On Friday, tried to drain some water out of the surge tank, hoping that would allow more water to come back from horn collection tank.
Techs turned off the supply line to horn spray, letting ejector pump continue to take water out of horn collection tank. This also cut off pressure to the D.I bottle loop that cleans water, keeping resistivity high.
Spray line draining to horn sucked water backwards through the D.I. Loop, pulling resin beads into the supply line to the horn.
When horn supply line was turned back on, resin beads got into the horn supply line and clogged the spray lines.
Check valve that should have prevented this was mounted upside down. Also, spring-loaded check valve would have made more sense.
Clean-up of water skid is fairly straight-forward
Over weekend, tried test of pushing resin beads out of spare nozzles by back-pressure with water, with reasonable success
Monday/Tuesday, tried on test-bench vacuuming beads out with air pressure instead of water. Are starting with this method on horn
Wednesday, removed target pile shielding. Now doing vacuuming – have sucked some resin beads out and unclogged at least a few nozzles
If horn clean-up works smoothly, estimate ~ 2 weeks downtime
If horn clean-up fails, need to replace horn
A horn change-out takes ~ 1 week, but spare not ready for at least 8 weeks
---
More Information
For Tevatron luminosity charts and the current status of Fermilab's accelerators and detectors (live!), please go to Fermilab Now.
Comments and Suggestions
What do you think about the Accelerator Updates? Please send comments and suggestions to: accelupdates@fnal.gov.