Thursday June 29
The day shift began with Operations monitoring store 4804 and a Recycler stash, with the Collider Detector at Fermilab (CDF) and D-Zero (D0) using the colliding beam, with the Antiproton Source (Pbar) stacking, with the Linac, Booster, Main Injector (MI), and Recycler operating normally, and with MiniBooNE and NuMI taking beam.
At 8:42 AM, the Pbar Lithium Lens tripped off. An expert investigated.
Operations reported at 8:40 AM that CDF had repaired their luminosity monitor.
At 8:51 AM, the Booster suffered from a vacuum burst. The vacuum recovered and operators turned on devices that had tripped. Booster resumed sending beam at 8:58 AM.
Operations prepared Meson for an access at 9:22 AM.
A power supply expert repaired a shorted shunt SCR. The Lens was back on by 9:42 AM.
At 9:54 AM, the Cryo Coordinator reported that the TeV sector D4 wet engine was going to fail within the hour. He said that the cryo system technicians could try to fix the engine in place by putting the system in JT valve mode. Operations notified the CDF and D0. The repair began at 10:30 AM.
At 10:32 AM, the NuMI beam permit tripped for the first of two times in 40 minutes. It reset okay.
Cryo techs reported that they had finished their work on the D4 wet engine at 11:27 AM and the D4 cryo system had recovered by 11:45 AM. Operations notified the experiments.
Operations established beam to the Meson MTest experiment at 12:21 PM.
Operations began preparing the Recycler at 2:18 PM to stash antiprotons. The stash ended. Pbar resumed stacking and MTest resumed taking beam.
At 5:09 PM, a NuMI Lambertson (LAM60) tripped off and took down the NuMI beam permit. It reset okay, but then the beam permit tripped off two more times in two minutes. It reset both times.
At 6 PM, the Booster West Anode Power Supply (WAPS) tripped off for the first of three times in eighteen minutes.
The Recycler began preparing to stash at 8:33 PM. The stash ended at 9:05 PM. Pbar resumed stacking and MTest resumed taking beam at 9:15 PM.
Friday June 30
The midnight shift began with Operations monitoring store 4804 and the stash, with Pbar stacking, and with MTest, NuMI, and MiniBooNE taking beam.
MTest experimenters said they were finished for the night at 12:02 AM.
At 2:24 AM, a TeV proton abort kicker tripped off. Operations contacted two experts. CDF and D0 turned off their detectors. An expert resolved the problem and had the kicker back on by 3:43 AM.
The Recycler began preparing to stash at 4:09 AM. The stash ended. Pbar resumed stacking and MTest resumed taking beam at 4:41 AM.
At 5:57 AM, a Linac RF station (KRF4) tripped off due to a filament problem. This shut off all beam. Operator had the station back on by 6:53 AM. Beam resumed at 7:09 AM.
Operations terminated store 4804 at 8:03 AM.
The Plans for Friday
The plans for today are to stack, stash, and store.
Machine Reports
Linac
Current Status
Running on H- Source
Source is in standby
Beam Current ~ 32 mA
Loss Sum Average ~ 12
Studies Request(s)
Install NMR into Spectrometer (2 - ½ Hour Tunnel Time [no NTF])
Downtime Statistics
95.1% Availability
8.15 Hours w/ 26 Occurrences
Major Downtime
4.67 Hours – H- Source Ion Pump & Turbo Pump Failure
1.07 Hours – KRF1 Charging Current Monitor Replacement
0.50 Hours – KRF2 Cavity Water Cooling 'Kammer' Valve Repair
Booster
Current Status
Increasing Booster Protons/hour
Stacking: 8-10 Turns – Protons ~ 4E12/batch
MiniBooNE: 4 – 6 Turns – Protons/Pulse ~2.4E12/batch, 2E16/hr
NuMI: 6 – 9 Turns – Protons/Pulse ~ 3E12 – 3.8E12/batch
Tuning – Collimator area 2: Dampers– higher intensity issues
HOPS - Higher intensity beam blowup 4: RF capture – still needs work
Gamma –t (part of proton plan)
Downtime – 5 hours
Vacuum (L22 ion pump) and misc. trips 1 hour
RF Misc. - 1 hour
MKS08 - 3 hours
Next Week
Pre-acc notching on $1D cycles –
Somebody said they wanted more beam – continue to push up output
Main Injector
MI
Beam quality from Booster is yet to be stabilized.
Extraction efficiency is at 80% level.

Need to make changing flattop duration easier.
New BPM system at MI 20, 30, and 40
Closed-orbit mode

Working for both proton and antiproton

Injection flash

Timed in for proton beam only.

Safe flash

Working for both proton & antiproton
New BLM system
Working at some capacity
Only at MI40
Antiproton Source
Spent week stacking, tuning. No major downtime
Best stacking hours ~ 13 E10/hr (vs. 20 in February)
Beam on target ~ 6 E12 (vs. full intensity of 8.0)
Want to measure A:PRDCTN vs. intensity and cooling time
Tevatron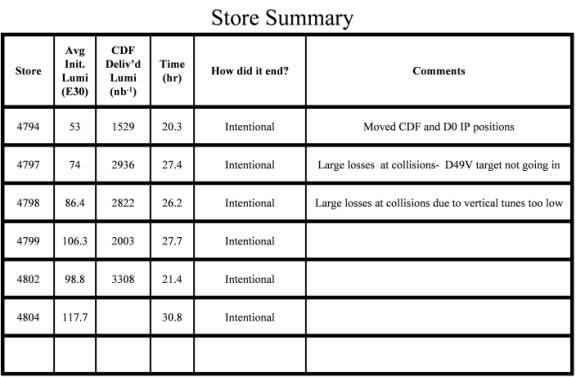 Problems
D49 vertical target (collimator) is not going in and touching the beam. This may be a slipping problem: waiting for tunnel time.
Had an event during store 4802 that blew up emittance – believed to be a spark in the C49 separator but there were no spark indications.
Note: CDF has had problems with accuracy of luminosity reading. Still calibrating.
Work Done this Week
Moved CDF and D0 IP position changes.
Continue working on validating and refining data from flying wires.
Switchyard
MTest
Friday - Slow Extraction established with 1-second spill length and transported to SY Dump
Saturday - Beam established to MTest ~noon
Thursday extraction efficiency work
Saturday through this weekend T956 (ILC muon) user
Next user T927 (CMS Pixel) - higher intensity
Yet to do SY120 careful tune-up for higher intensity including retune with new quad added at A0 (after F49 quad polarity flips)
Unofficial MTest Beam Uptime
70 hours requested, 40 received ~60%
4 hours lost to PS Meson Front End
P3 line - HP3DS PS intermittent problems
---
More Information
For Tevatron luminosity charts and the current status of Fermilab's accelerators and detectors (live!), please go to Fermilab Now.
Comments and Suggestions
What do you think about the Accelerator Updates? Please send comments and suggestions to: accelupdates@fnal.gov.