Thursday June 22
The day shift began with Operations monitoring a Recycler stash, with the Tevatron (TeV) recovering from a quench, with the Collider Detector at Fermilab (CDF) and D-Zero (D0) waiting for colliding beam, with the Antiproton Source (Pbar) stacking, with the Main Injector (MI) and Recycler conducting studies, and with MiniBooNE and NuMI taking beam.
Operations put the TeV into a dry squeeze at 9:34 AM.
Operations began preparing the Recycler at 9:39 AM to stash antiprotons. The stash ended and Pbar resumed stacking at 10:17 AM.
Operations added an event at 10:21 AM to the time line for Switchyard (SY) experts to conduct a study. They eventually got beam to F17.
TeV experts reported at 2:10 PM that they understood the problem with the orbit stabilization program. Experts completed a kicker study and then began a chromaticity study.
The Recycler began preparing to stash at 6:32 PM. The stash ended and Pbar resumed stacking at 7:40 PM.
TeV experts completed their studies at 7:42 PM.
Operations put the TeV into shot setup at 8:38 PM.
Operations established store 4794 at 11:40 PM with an initial luminosity of 61.4E30.
Friday June 23
The midnight shift began with Operations monitoring store 4794 and the stash, with Pbar stacking, with normal MI, Recycler, SY, and Booster conducting studies, and with MiniBooNE and NuMI taking beam.
The Recycler began preparing to stash at 1:36 AM.
At 2:19 AM, the NuMI beam permit tripped off on a target LCW flow indication. Ten minutes later, a NuMI expert directed operators to reset the beam permit and run at a lower intensity.
The stash ended and Pbar resumed stacking at 2:37 AM.
The Recycler began preparing to stash at 7:10 AM. The stash ended and Pbar resumed stacking at 7:56 AM.
The Plans for Friday and the Weekend
The plans for today are to allow TeV experts to conduct end-of-store studies. Booster experts will conduct two two-hour studies: one destructive and the other at low intensity. The weekend will consist of stacking, stashing, and storing.
Machine Reports
Tevatron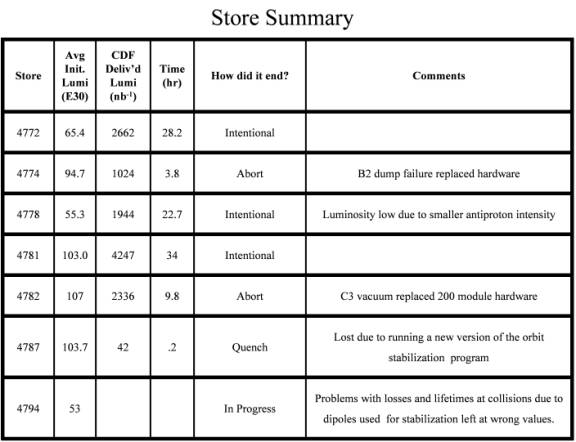 Problems
Flying wires still report sigmas okay, but the data calculated by OAC that fills the reports are still invalid
D0 reported that proton halo losses are higher than 2005, found that D0 vacuum is worse

Work Done This Week
Have CDF and D0 IP position changes ready to implement waiting for an end of store
Measured alpha bumps at CDF and D0 and implemented a vertical change at D0 of ~ 20cm
Tested new application that can measure coupling and calibrated SQ and SQA0 mults used for shot setup tuning
Investigated why the C100, chromaticity measurement application used in shot setup is not working
Work For Next Week
Need to move positions for CDF and D0
Linac
Last Week Summary
Running on the H- Ion Source
Beam positions Started Out Normal, but After Tank 5 Quad Shorted they Retuned, which Resulted in better positions
Downtime 5.94 Hours With 31 Occurrences
Major Sources of Downtime

Klystron 4 Phase Problems .64 hr
Tank 5 Quad #20 Shorted to Ground 3.94 hr
Problems
TRIM90 current was wandering and we replaced the supply
Debuncher Water Skid Tripped Several Times
Booster
Summary
Continued to work on orbits
Added second notcher (L12 kicker)
Changed 400 MeV control processor

Trying to speed up power supply controls

Worked on dampers

Quad damper on, mode 49 still off

Gamma –t and sum resonance studies
Might start collimator work today
First Notcher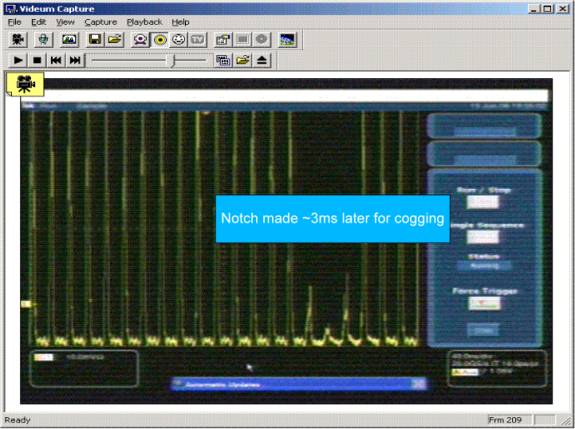 Second Notcher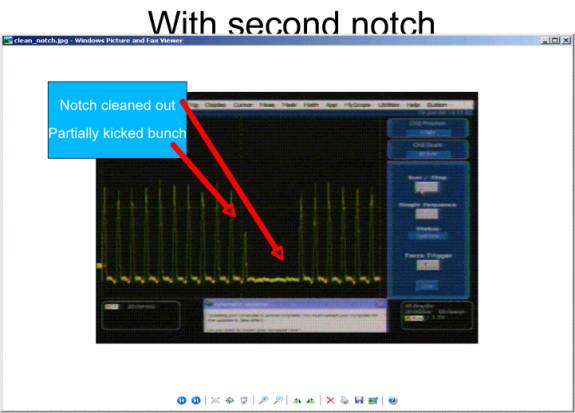 Next Week
Secondary Collimators (starting today)
Dampers will get tuned with higher intensity
RF work – several weak stations
Beam position survey
Main Injector
MI
I68 problem.

120 GeV antiproton production
120 Slow spill
MI BPM upgrade
MI30 BPMs are converted to run on new system.
New BLM system
Still trying to debug the new system at MI40
The BLMs in MI30 were still with multibus system.
Antiproton Source
Last Week
First "routine" week since shutdown. Nearly entire week spent stacking, tuning
Major downtime ~ 1 shift (Mon owl) for M:HV102 supply
Best stacking rate ~ 13 E10/hr (vs. 20 in February)
Beam on target ~ 5.5E12 (vs. full intensity of 8.0)
Things To Do
Yield to end of AP2 line same as before shutdown

Need to streamline/calibrate intermediate stacking efficiencies for Debuncher, D→A, etc.

We need to measure A:PRDCTN vs. beam on target and vs. cycle time, to understand our bottlenecks

Get PRDCTN back to 21 and keep it there at full rate

Access task list growing: Deb tank, CV1, QS732, TOR724, VT726, VT716, M:Q209, AP1 OTR
Would be fantastic to have hard-wired Ethernet connection to F23 and F27 for BPM readout (AP1, AP2, AP3)
MiniBooNE
Horn Supply Failure
Began about 22:00, Sunday. Experts called in.
Traced to arcing in supply. This damaged the connection between two Stripline busses. Shut down.
Monday, EE support removed damaged components and fabricated replacements
Tuesday, repaired horn and did thermal imaging
Smooth running since then
---
More Information
For Tevatron luminosity charts and the current status of Fermilab's accelerators and detectors (live!), please go to Fermilab Now.
Comments and Suggestions
What do you think about the Accelerator Updates? Please send comments and suggestions to: accelupdates@fnal.gov.