Thursday June 1
The day shift began Operations with preparing the Antiproton Source (Pbar) and the Tevatron (TeV) for access.
NuMI was issued a beam permit at 8:44 AM.
Experts put the TeV through a dry squeeze at 12:48 PM.
The Collider Detector at Fermilab (CDF) reported at 12:58 PM that they were ready for beam.
Operations reported at 3:20 PM the following machine status:
Linac is running normally
Booster is doing studies
Pbar is doing studies
Recycler is doing studies
TeV is attempting to inject beam
NuMI is attempting to run some beam
Main Injector (MI) is looking at beam in support of TeV and NuMI
Switchyard F1, F2, and F3 enclosures have been secured
At 4:05 PM, the TeV suffered a quench at sector F1. Experts investigated.
Operations reported that NuMI successfully took beam all the way to their target at 4:12 PM.
Experts put the TeV through another dry squeeze at 6:23 PM.
NuMI resolved some problems and resumed target scans at 6:46 PM.
Operations reported at 7:08 PM a phase unbalance problem with a Debuncher quadrupole (D:Q731). A power supply expert came in and had it up and running an hour later.
Booster experts ended their studies around 7:30 PM.
Experts established beam in the Tevatron at 7:47 PM.
Pbar experts established beam to the target at 7:50 PM.
NuMI experts completed their target scans at 9:10 PM. They began a tuning and study period.
At 10:45 PM, the TeV aborted at sector D0 due to beam positions. There was no quench.
Pbar reported at 11:56 PM that they saw beam in AP2.
Friday June 2
The day shift began with Pbar conducting stacking studies, with the TeV trying to circulate beam, and with NuMI taking beam.
Operations reported at 4:59 AM that Pbar experts hadn't been able to get beam to the Debuncher. Investigators discovered that a kicker (D:IKIK) power supply's power cable had been disconnected. This will be further investigated during the day.
TeV experts established circulating beam at 6:50 AM.
Switchyard safety system tests were completed by 8 AM.
The Plans for Today and the Weekend
The plan is to continue commissioning.
Machine Reports
Linac
Beam Specifications
Running on H- Source
Beam Current ~ 34 mA
Loss Sum Average [< 20]
Downtime
99.5 % Availability
.85 Hours w/ 5 Occurrences
Major Downtime
0.5 Hours à Klystron Debuncher water system trip
NTF Plans for Next Week
Patient treatment on Monday, Tuesday and Wednesday.
Studies
Move Collimator into Beam Line
Booster
Experts continue to tune, balance the RF, and to improve the efficiency. Next week they need to adjust the energy and conduct a single wire scan; both of these items will be destructive to the beam. They also need to work on the following things: the orbit between periods 2 and 4, RF issues through transition, and to take IPM data.
Main Injector
MI is supplying beam to the TeV, NuMI, and to Pbar.
MI.
Tune up for operation as requested

Establish 150 GeV orbit.
Establish 120 GeV beam to NuMI, and Pbar.

New BPM at 40

The closed orbit mode problem was fixed.
MI8 Line
Texas profile monitors, mw826, 827, 829, & 836.

Fixed motion control polarity.
Fixed mw826 problem of not staying in.

Multiwire chambers mw839, 840, & 851.

No signal right from start-up.

Lattice study
Multi-wire profiles from 826 to 852 (at 1.2e12)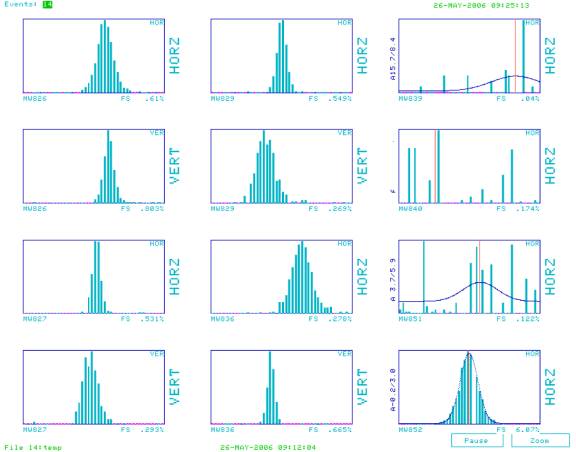 MI8 line dispersion function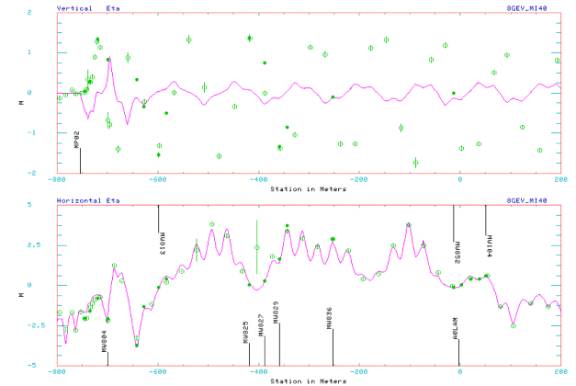 Next Week
Linux program commissioning
BPM
Complete certification of new MI 40 BPM house.
Studies
MI 8-GeV lattice measurement
Aperture scans
Tune harmonic quads at 8-GeV
MI8 line Collimator

Certify loss monitors, thermo-couples, and data logging.

Effect of MPØ3 on beam to MI

Use VT805: 3 bump to test for any sign of impact.
Antiproton Source
Experts established 120 GeV beam to the target and conducted target scans. They have an injection kicker power problem. They are tuning with reverse protons. Experts hope to be stacking by Tuesday or Wednesday, 6/6/06 or 6/7/06.
Antiproton Source Startup Report
DVM electronic logbook titles evolved from "sad, sad story" to "fun & games"
Got reverse protons to Accumulator & Debuncher by Saturday
Many little trim power supply cable swaps, etc.
A power supply expert changed out D:IB contactor
Repercussions of kicker 165 ® 465 ramp card swaps
Accumulator aperture work. Running wave correctly identified several limiting apertures, e.g. tank 301 moved during leak fix
Acceptances comparable to February, except Deb V, Acc Inj V
Prototype tank backwards; got data Thurs; swap arrays Friday
Aim to remove tank (regain full Deb V acceptance) on Monday
Got 120 GeV beam to target, some secondaries to end of AP2, by Thursday night
TeV
Many little problems delayed establishing beam in the TeV.
Tevatron Status
Looked for main bus ground fault. Did not isolate it and at times it has gone away.
Repaired, baked, and conducted a small amount of conditioning of the B11 separator due to vacuum leak.
E11 flying wire was found to be bad & required pulling the internal can for repair.
Started running beam on Thursday and established the first turn on evening shift.
Established circulating beam at 0700 this morning.
Problems Establishing Beam
There is a new transductor for the main bus that is different by 3.4 amps at 150gev and 22 amps at 980gev. This may mean that the program current is not in step with the low beta quad program. We are thinking about this.
Required significant P1 tuning to establish beam.
Recycler
Experts are ready for antiprotons.
Emittance Growth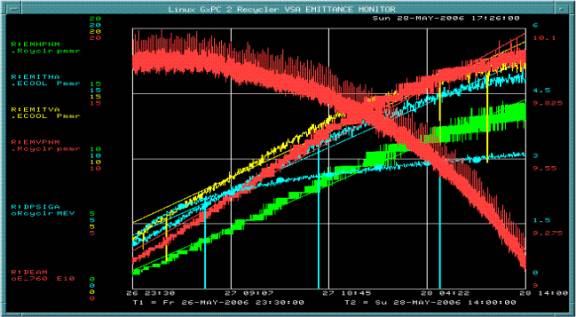 Orbit Corrections
Reversed polarity of R:H90C
Corrected orbit to very close to what we had in Feb. before moving magnets.
Bulk supply failure caused by powering skew quads
Excellent lifetime
First look at MI stray field compensation says same as Feb.
Vert. slope on 30 straight needs work
Transfer Lines
Protons through both transfer lines.
Once MI orbit corrected, both transfer lines appear unchanged from Feb.
Vacuum fixed
Still need to make multiwires & BPMs work.
Closure programs work.
Acceptance
Worked on understanding how to make acceptance measurement.
Injection acceptance was less than circulating acceptance because of counter waves. Reducing the counter wave fixed this.
We now believe acceptance is comparable to best we've ever seen.
Instrumentation
Ring BPMs fine, transfer line BPMs need check out.
Schottky & VSA was fine, except we need a time-sampled measurement to see the MI effect on tune.
H flying wire had a reference problem, but that's now fixed. The V flying wire is fine.
Transfer line multiwires need check out
Lattice Function
An expert tried to get lattice function measurements but program didn't read BPMs reliably. This is being worked on and will need future beam time.
Operating Tunes
Started up at h = .414, v = .418
Corrected skew quads to get min. tune split of .0014
Increasing vertical tune reduces lifetime at and above .424 until above about .438
Lifetime still not great, improved by h = .436, v = .444
More studies needed.
Chromaticity and Sextupoles
Need beam measurements to document
Stochastic Cooling
The preliminary check out is okay, but we need antiprotons for a full system check.
Switchyard 120
The P3 line turn on was delayed by power supply problems.
Meson Test
P3 dipole replaced
P3 dipole LCW leak repaired in place
New A0 quad staged
Interlock testing today through Meson primary
Run power supplies over weekend
MTest interlocks next week
Beam next week if possible
Experts are ready for beam. (Booster will begin delivering low intensity beam to MiniBooNE, possibly as soon as this afternoon.)
NuMI
They hit their target with the first pulse of beam. However, they still have a lot of little problems that need fixing.
Collider Detector at Fermilab
CDF experts ran DAQ and trigger testing.
D-Zero
Experts are investigating a noise problem that is possibly from their muon system. They also exercised their DAQ system.
---
More Information
For Tevatron luminosity charts and the current status of Fermilab's accelerators and detectors (live!), please go to Fermilab Now.
Comments and Suggestions
What do you think about the Accelerator Updates? Please send comments and suggestions to: accelupdates@fnal.gov.