Thursday June 15
The day shift began with Operations monitoring a Recycler stash, with the Tevatron (TeV) in shot setup, with the Collider Detector at Fermilab (CDF) and D-Zero (D0) waiting for the next store, with the Antiproton Source (Pbar) stacking, with the Booster, Main Injector (MI), and Recycler conducting studies, and with NuMI and MiniBooNE off due to a problem with a Linac RF station (KRF6).
At 9:42 AM, Operations reported that Linac technicians had replaced a firing circuit power supply for KRF6. Then they discovered that the CS switch also had to be replaced.
Operations put the TeV into a dry squeeze at 10:01 AM.
Linac techs completed their repairs on KRF6. Beam to NuMI and stacking resumed at 10:28 AM.
Operations put the TeV into shot setup and at 1:07 PM established store 4772 with an initial luminosity of 65.74E30.
At 3:29 PM, FESS began working on Linac chilled water leak. This work will hold off beam.
Linac and all downstream beam returned at 4:09 PM.
At 5:55 PM, NuMI tripped off on vacuum valves for the first of three times in about thirty minutes. There was no vacuum problem and the valves were open. Operators traced the problem to BV100 and contacted vacuum techs. NuMI reset each time.
Operations began preparing the Recycler at 6:11 PM to stash antiprotons. A problem with a Debuncher power supply (D:H926) halted the stash. Pbar resumed stacking at 7:14 PM.
Operations prepared MI for an access at 7:47 PM to repair BV100.
Vacuum techs reported at 9:54 PM that they replaced a bad solenoid coil for BV100.
At 10:43 PM, Operations reported that sequencer problems had gotten serious enough to call in controls experts.
Operations reported at 10:44 PM that they had resumed sending beam to MiniBooNE, NuMI, and Pbar.
Friday June 16
The midnight shift began with Operations monitoring store 4772, with Pbar stacking, with controls experts working on the sequencers, and with MiniBooNE and NuMI taking beam.
The controls experts reported at 2:30 AM that they were still working on the sequencers.
At 3:43 AM, Operations reported problems with the orbit stabilization program. Operations contacted an expert and started the program on a different console. Later they switched back to the original console.
The controls experts gave the sequencer a clean bill of health at 4:09 AM. Operations began preparing the Recycler to stash. There were nine transfers of antiprotons. Pbar resumed stacking at 5:28 AM.
The Plans for Friday and the Weekend
The plans for today are to allow TeV experts to conduct an end-of-store study this afternoon, followed by a shot setup. The plans for this weekend are to stack, stash, and store.
Machine Reports
Linac
Linac Running Between June 9 and June 16, 2006
Running on the H- Ion Source
Beam Current 30 to 35 ma
Beam position problems over the weekend, then tuned away during the week.
Downtime 6.94 Hours With 53 Occurrences
95.9% Availability
Major Sources of Downtime
400 MeV Debuncher Cavity Water Pump 2.48 hours 29 occurrences
KRF6 Charging Supply SCR Switch 2.63 hours
Chilled Water Leak above KRF4 Charging Supply .72 hours
Problems
Ion Source beam current decayed during the weekend and had to be tuned up.
TRIM90 current was wandering and we replaced the supply
Booster
Continued to work on orbits
Efficiency slowly improving
Orbits at collimators & extraction
Enabled Corrector Ramps
Worked on balancing Bex3 and tuned ramp
Tuned on harmonics
Sextupole and Quad ramps
Cogged cycles hop ramps
Worked on 400 MeV power supplies controls
Knob control and alarm limit monitoring
Next Week
Issues Limiting Intensity:
Orbits near collimator still could be better
Horiz orbit slew due to feedback/local positions

Tune on local bumps and rpos
Primary collimators Testing
Vertical - moved in near beam
Scan Secondary collimators (2 days)
Extraction losses still too high
Notching is not removing the required 3 bunches

Will be better with Collimators in
Will try and convert Long 12 kicker into 2nd Notcher
Dampers still need tuning
Most are working – except mode 47 and Quad
Main Injector
MI-8 Line
Verified Trim dipole HT806 & HT808
MW826, 827, 828, & 836 to stay in beam, always.
MI
Mixed mode commissioned.
Beam to TEV
Linux conversion
I2 and I3 are certified.
I50 and I52 will be done next month.
MI-40 conversion
MI 40 BPMs are fully converted to run on new system.

Not all channels are timed-in.

And a new BLM system as well.
MI Next Week
NuMI
Get interleaving between $29 & $23 going.
Intensity tune-up
Slip-stacking for antiprotons production.
Beam to NuMI.
Start slow extraction cycle $21
Dedicated cycle with 1-second flattop.
MI-40
Evaluate new BPMs after they are timed in.
Evaluate the new BLM system.
MI
Lattice measurement
Aperture scans
Tune harmonic quads at 8-GeV
MI-8 line
Collimator

Certify loss monitors, thermo-couples, and data logging.

Effect of MPØ3 on beam to MI

Use VT805:3 bump to test for any sign of impact.
Antiproton Source
Most of week spent stacking while tuning, phasing, device centering, and re-enabling feedback systems
Major downtime Sun.: N connector feed thru on Debuncher cooling kicker tank 201 heated up & broke vacuum
Weds. <prdctn> 13.6 E-6, zssr 12 E10/hr

AM: TOR109 5.8 (-27%), A:IBMINJ 9 (-25%), STCKRT 11 (-39%)
TGTCHK 98% (-3%): check IC728 for given TOR109 (need more of these)

2/21/06: tor109 8.0, ibminj 12, stckrt 18, prdctn 15
Try 6→8 turns 08:00 Weds: prdctn drops, stckrt same, hmmmm
After stacktail proto tank out, Debuncher Ax=32p, Ay=34p
Prototype BPM beam test: ~ 20um Debuncher closed orbit measurements while stacking look possible
Chasing Acc-RR xfer eff.: recent % 74, 55, 76, 69, 77, 79
AP2 QS732 dead Weds. 16:00 →AP50 beam position problems

Fortuitous reminder that D:Q731 supply was ramping (oops)

Core vertical band 1 needs tunnel investigation (bad amplifier?)
Tevatron
Commissioned at new 150gev and collision helix.
Attempted stores this past week and are transitioning out of commissioning mode and into operational mode.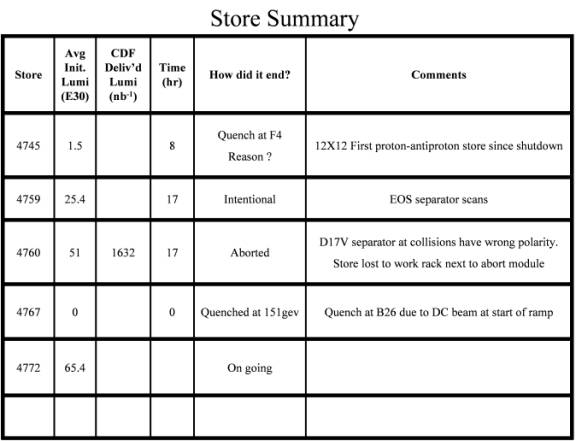 Problems
D17V Separator landed in wrong polarity.
Flying wires are not working
Had a hard time getting our antiproton closure programs to work.
Beam in the abort gap.
Work for Next Week
Have a new 150gev helix that we would like put in.
Need to move positions for CDF and D0.
Need to have collision data for B* and optics.
Recycler
Orbit Corrections
Corrected non-local vertical position bump across ECOOL. Corrected slope and position of antiproton orbit through ECOOL
Discovered that H520 had been changed by sequencer program crashing during change of this corrector to clear unwanted beam.
After these corrections, orbit has been restored to where we set it during start-up.
Corrector Power Supply Problems
We continued to have corrector bulk supply problems. So far this has been a nuisance and not caused beam position problems or emittance blow-up, but as we run larger stashes and have more transfers, it threatens to have more serious effects.
Transfer Lines
Adjusted antiproton trajectories through RR to MI transfer line while reducing excess currents in some correctors that were fighting each other. We believe transfer lines are operational.
Ecool Drag Rate
With the electron and antiproton orbits carefully aligned, an expert measured highest drag rate we've ever seen. We must (and will) closely monitor this alignment.
RF Leveling
First pass at adjusting barrier heights during mining to equalize 9 parcels and 4 bunches from each parcel has been done up to 100E10. This will need to be extended for higher intensities and monitored for drift. Hardware fix is being designed, engineered, and built.
Path Length Ramps
An expert tuned up the path length ramped corrections for the 150 GeV ramps for injection into the TeV. More work needed as we use the new fixed target ramp and the new ramp for NUMI.
Flying Wires
Both horizontal and vertical work well. We are now creating fly specs and sequencer commands to fly during transfers into and out of Recycler.
Instability and Dampers
We saw several instances of slow or fast instabilities with over cooled beam before dampers were fully operational. Both new horizontal and vertical dampers are running, we have to better measure growth rates caused by dampers and set final gains.
MiniBooNE
Beamline operated well.
Off for three shifts while experiment accessed MI13.
Next week:
NuMI
Ongoing Problems
Water

Consultants here next Wednesday

Mixed mode – NuMI only

Dual beamline scenario hasn't worked
Trouble recognizing mixed mode cycle
---
More Information
For Tevatron luminosity charts and the current status of Fermilab's accelerators and detectors (live!), please go to Fermilab Now.
Comments and Suggestions
What do you think about the Accelerator Updates? Please send comments and suggestions to: accelupdates@fnal.gov.