Current LINAC Status
400 MeV Beam has been established
H.E. Debuncher water readbacks calibrated
LRF5 SCR controller has been fixed
LRF1 Cavity water pump replaced
HRF3 Coil Power Supply replaced
LRF1 IPA1 Power Supply reset
Collimator installed, but motor can not pull open, needs to be operated manually
LRF7 (Test Stand) – work is currently ongoing to repair station and hope to return to testing 7835 tubs soon
LINAC Plans for Next Week
NTF Patient Treatment (M, W, & Th)
400 MeV Beam for LINAC studies and Booster Studies
Finished Work
Cleaned L.E. LINAC Modulators & Rectifiers (LFR1-LRF5)
Replace water fittings in Klystron Modulator De-Qing circuit
Replaced Collimator between L.E. LINAC Tanks 1 & 2
L.E. LINAC Water Maintenance
Modified Chopper & Moved Quad for future MuCool operations
Completed McCool Alignment
Annual Pre-Acc Safety Trip Test
Cleaned Filters on 8 Ion Pump PS's
45°/90° Magnet PS Maintenance
New I-Anode Bulk Supply On-Line
BPM Digitizers Installed
All major L.E. LINAC LLRF system characterization data collected
Remaining Work
MI-8 Dump

All Supplies Tested
Polarity checks completed
SEPTA MP03 has a ground faulted cable – will repair today

400 MeV/ORBMP

All supplies tested (except MV1 – safety lock)

MH2 – problem with some interlocks

ORBMP foils installed – waiting for beam tests

RF repair/maintenance continues – Most stations On

RF 6 has a bad tuner and will need to be pulled (2 days)

Long 13 extraction elements removed – LCW water drained
GMPS supplies tested - # 4 still needs some adjusting
Safety System Tests Completed
Schedule
Booster Beam signoff

New Limits on Booster BBM

DC Beam studies – later today/evening
Accelerated Beam to dump – early next week
Pbar
On Schedule
On Schedule
On Schedule
Jobs in Process
F 17-3 kicker replacement
TEL 2 vacuum leak
A3 vacuum certification
Separator conditioning
TEL 1 Bake
A17 collimator Bake
E11 bake
HOPs cable installation
HLS at B0
HLS D0
A 48 collimator alignment
Install poly beads at B0 D0
Tunnel clean up
Work Continues
Work Continues
Work Completed

Horn test.
RAW system.
Triplet realigned.
Desiccator filter changed.
Belleville washers complete.
Leaky magnets fixed.

What's Left?

Need signatures.
Safety system test.
Begin running power supplies.
Begin pulsing horn Monday (May 15).
On schedule
On Schedule
D-Zero (D0)
Friday May 12

Upgraded Silicon Micro strip Tracker readout verification

Monday May 15

Reconfigure detector in preparation for beam pipe installation

Tuesday May 16

Install SNEG beam pipes (AD support)

Wednesday May 17

Leak check beam pipes (AD support)

Thursday May 18 and Friday May 19

Activate SNEGs (assuming leak checking was successful)

Friday May 19

Survey End Calorimeters after closing (AMG support-5169)

Monday May22
Tuesday May 23
Wednesday May 24

Close west CF and monitor for calorimeter noise

Thursday May 25
Friday May 26

Rollout nose pieces and close clam shells
VStar Survey detector center beam (AMG support-5318)

Tuesday May 30

VStar Survey detector center beam (AMG support-5318)
Search and secure collision hall during early evening for power on tests of solenoid and toroid (AD ops support)

Wednesday May 31

Closing EF, CF stick mic survey (AMG support-5317)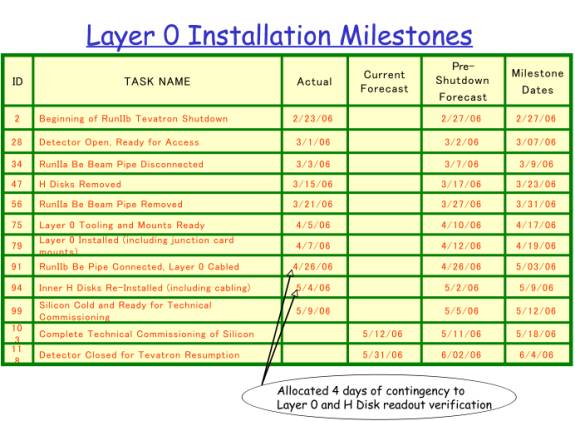 Cryo Operation
Tevatron at LN2 temperature and LN2 usage is stable with vendor deliveries running only 2-3 truckloads per day due to the Tevatron being 1/6 at room temperature. Helium losses are slightly down at 12 kscf/day (1/3 of normal during TeV operations); some helium being replenished from A0 GHe Recovery of test caves.
A1 and A3 are at room temperature and isolated with LOTO.
D1 and F4 are also at room temperature, have been reconnected by Cryo, and are under helium flow. D1 cooldown permit signoff has been completed and cooldown to LN2 temperature will commence soon.
F4 cooldown will wait until TEL-1 is re-installed.
A3 has been completed by MSD, but spool piece conning towers retrofit by TD is in progress.
Pbar D60 Debuncher tanks were cooled down to LHe temperature after Division sign-off.
ACNET application programs relating to FRIG operations continue to be tested on Linux consoles.
Nitrogen Reliquefier plant was started and cooled down successfully. It was shut off later for some minor repairs and due to lack of sufficient nitrogen gas coming from Tevatron due to E0 still being on generator power. We plan to cool it down again next week.
CHL Helium Compr "C" was started for testing and purification but was shut down due to 2 nd stage suction cylinder valve failure.
MCR monitoring cryo operations but CHL 24/7 shiftwork operations will resume on Monday 5/15/2006 0600.
CHL Maintenance:
Helium Compr motor starter switchgear had mechanical binding that was addressed by FESS. Compr "A" was started fine thereafter.
Helium Compr "D" overhaul is almost completed but awaiting installation of cylinder valves that are being delivered today.
Helium Coldbox-2 controls upgrade is in progress.
FRIG Maintenance:
Various FRIG bldg vacuum maintenance and instrumentation repairs (e.g. lost charge on VPTs) are in progress, as well as support work on houses at room temperature and other equipment as things fail even during the shutdown period.
Wet expanders' u-tubes have been reinstalled; cold compressors will be re-installed as necessary.
Reciprocating cold compressors are being overhauled for A4, B1, and C4.
Tevatron Cryogenic Transfer Line between D1 and D2 was leak checked due to vacuum rise last week and no leaks were found. We will monitor vacuum over time.
D2 EV101 main bldg shutoff valve leak-thru was investigated and actuator alignment fixed it. B4EV101 valves leaks thru very badly and needs to be investigated; repairs may necessitate isolating whole sector helium discharge header.
All helium to atm leaks on safety leads and conning towers due to fittings were fixed, except for A1, A3, and F4 .
Zebra mussel cleaning began on May 8.
Work continues.
Work continues.
Controls
Work continues.
EE Support
Work continues
Alignment
Tevatron

Scheduled A 48 Collimator
Completed Add on F17-3 Kicker as found.

Main Injector

Completed
Scheduled Add on OTR P150 line

Recycler

Completed
Scheduled Add on Job for Monday

8Gev

Completed
Scheduled Add On Level run on floor point.

P-Bar

Completed deep rod installation
MiniBooNE
NuMI
Booster
400Mev
Switchyard

Scheduled Add on Check the alignment of elements in Switchyard manhole enclosure F3.

D0

Closing Stick Mic.
VSTAR survey of detector (center beam) position
Level-Run vertical measurement of select Collision Hall

Add Ons
D0 - Make Level-Run vertical measurement of select Collision Hall monuments West Wall
Main Injector Align barrier cavity at MI604 location. Completed
Fess - the Batavia Rd. Guardhouse project. Completed
Fess - MI Ponds C&D project will replace existing manholes and pipe.
Switchyard - Check the alignment of elements in Switchyard manhole enclosure F3.
CDF Scheduled CDF Low Beta Alignment
8Gev Magnet re-alignment Moved Completed
8Gev Elevation run (Wednesday) Completed
NuMI Target Hall check for deformation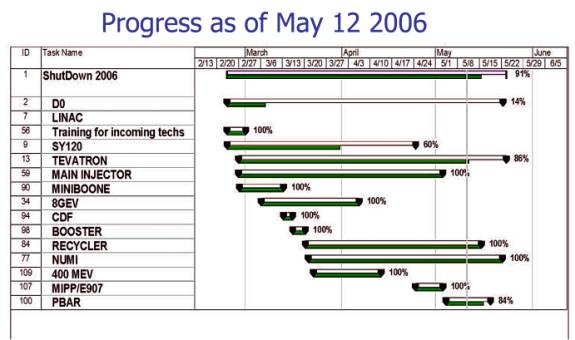 Schedule for Next Week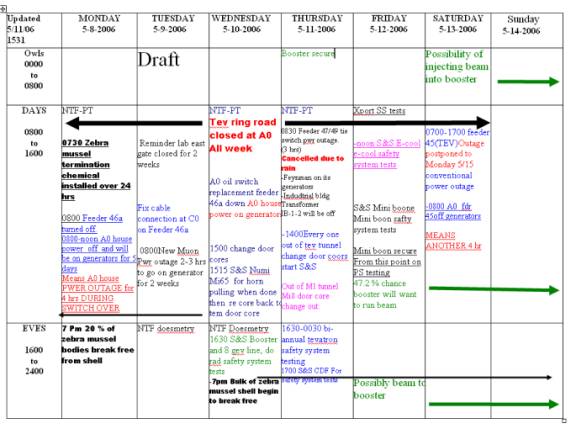 More Information
For Tevatron luminosity charts and the current status of Fermilab's accelerators and detectors (live!), please go to Fermilab Now.
Comments and Suggestions
What do you think about the Accelerator Updates? Please send comments and suggestions to: accelupdates@fnal.gov.