The shutdown has come to an end and the startup has begun.
Coordinating the startup is as difficult as scheduling and completing the work.
Just to give an idea of some of the things happening this weekend, Safety personnel will start restoring door locks to their original states and Operators will begin searching and securing enclosures so that machine experts can begin testing their equipment. During this upcoming time, technicians have to finish up their work and remove their tools, surveyors have to make last minute alignments to accelerator components, and janitors have to clean the enclosures. Every accelerator has to go through a signoff procedure before it can begin operating.
Scheduling is everything and is apt to change on short notice. The schedules shown at the bottom of this document can be seen online at
http://www-bdnew.fnal.gov/operations/schedules.html.
Per schedule, Operations will establish small stores shortly after the Tevatron is ready for beam with the first official store on June 17 th and with high-energy physics (HEP) beginning on June 18 th.
Technicians are working on Drift Tube Tank #1 today 5/19/06.
Technicians are working in Booster at Long 16 and in the MI8 line today, 5/19/06
Pbar
Experts and techs are baking out a section of the Accumulator due to a vacuum leak in a stochastic cooling tank. They are finishing the Debuncher extraction kicker installation.
Experts hope to have signoffs completed on Monday, 5/22/06.
Experts want to complete their signoffs today, 5/19/06. They hope to have established an electron beam on Sunday, 5/21/06.
Experts are arranging for enclosure keys so that techs can finish work in the tunnels under a controlled access early next week. The Tevatron should begin testing power testing on 5/25/06 and with beam on 6/1/06.
Waiting for help to install a quadrupole magnet at A0.
Experimenters and techs are working to be ready for beam on 5/27/06.
Experimenters and techs are continuing to work.
The experimenters are checking their detector. They have begun flowing gas.
D-Zero (D0)
The experimenters are checking their detector.
Friday May 19

Complete SNEG activation
Resume ICD maintenance activities
Detector checkout

Monday May 22

Detector checkout
Survey End Calorimeters after closing (AMG support-5169)

Tuesday May 23
Wednesday May 24

Close east CF and monitor for calorimeter noise

Thursday May 25
Friday May 26

Rollout nose pieces and close clam shells
VStar Survey detector centerbeam (AMG support-5318)

Tuesday May 30

VStar Survey detector centerbeam (AMG support-5318)
Search and secure collision hall during early evening for safety system tests and power on tests of solenoid and toroid (AD ops support)

Wednesday May 31

Supervised access resumes early morning
Closing EF, CF stick mic survey (AMG support-5317)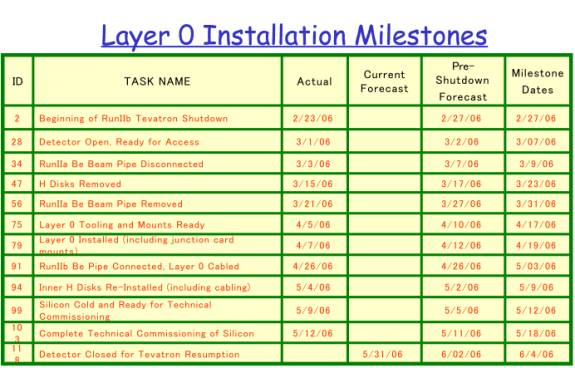 Cryo Operation
Tevatron at LN2 temperature and LN2 usage is stable with vendor deliveries running only 1 truckload per day due to the Tevatron being 1/8 at room temperature and the CHL Nitrogen Reliquefier plant being online. Helium losses are stable at 15 kscf/day (1/2 of normal during TeV operations); some helium being replenished from A0 GHe Recovery of test caves.
A1, A3, and F4 were at room temperature but have been reconnected by Cryo and are under helium flow purification; Division sign-off occurred on Thursday afternoon and A1 cooldown to LN2 temperature commenced thereafter though at slow pace to allow installation of vacuum pumping port today. F4 cooldown is awaiting TEL-1 beam tube bakeout completion and vacuum pumping port installation before cooldown to LN2 temperature, anticipated next week. A3 cooldown is awaiting minor housekeeping before cooldown to LN2 temperature, though should happen today.
Tevatron FRIG system purification is in progress utilizing CHL Mobile Purifier.
Pbar D60 Debuncher tanks are at LN2 temperature for purification.
CHL 24/7 shiftwork operations resumed on Monday 5/15/2006 at 0600.
CHL Helium Compr "B and "C" have been purified, as well as Helium Coldox-1.
Coldbox-1 is cooling down the CHL subsystems, with anticipation of liquid helium delivery for Monday 5/22/2006.
ACNET application programs relating to FRIG operations continue to be tested on Linux consoles.
CHL Maintenance:
Helium Compr "D" overhaul is almost completed, currently installing cylinder valves and refilling cooling water system; purification will commence thereafter, probably this afternoon.
Helium Coldbox-2 controls upgrade is in progress.
FRIG Maintenance:
Various FRIG bldg vacuum maintenance and instrumentation repairs (e.g. lost charge on VPTs) are in progress, as well as support work on houses at room temperature and other equipment as things fail even during the shutdown period.
System purification in progress thus addressing various startup problems such as Mycom compressor trips, failed instrumentation, and vacuum pump down of various u-tubes and components.
Zebra mussel flushing has finished. Experts reported removing approximately 3,000 pounds of mussel shells.
Work continues.
Work continues.
Controls
Work continues.
EE Support
Work continues
Alignment
The surveyors have completed all pre-shutdown requests for alignments. Priority for added work is being given to those accelerators receiving beam first.
Schedule for Next Week as of 5/19/06 (The schedule will change)
This Weekend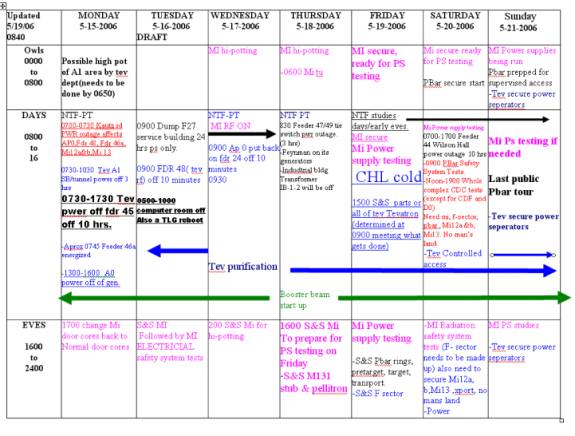 Next Week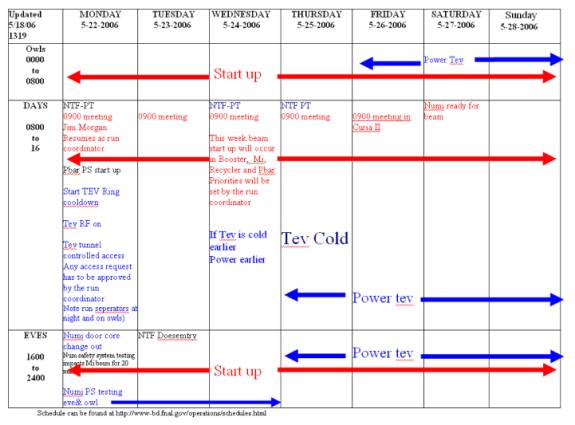 More Information
For Tevatron luminosity charts and the current status of Fermilab's accelerators and detectors (live!), please go to Fermilab Now.
Comments and Suggestions
What do you think about the Accelerator Updates? Please send comments and suggestions to: accelupdates@fnal.gov.