April 21 - 28
Running to NTF with the I- Ion Source
Beam Current 36 ma
Ready to Run 400 MeV Beam to the Dump
April 28 – May 5
Characterized LRF3 and LRF4
Replaced the Power Amplifier in LRF3 (it was sparking)
Replaced 4616 Driver In LRF4
Remaining Work
Make LRF4 Power Amplifier Run
Finish Characterization of the Low Energy RF Systems.
Calibrate High Energy Linac RF Gradient and Phase Readbacks
Install Motor Drive for 10 MeV Collimator (parts have arrived)
Find and Repair Ground fault in LRF7 Modulator.
Rebuild LRF7 Driver
MI-8 Dump cable pull finished

Terminating cables (upstairs/downstairs)
Vacuum continues to improve
Kickers installed/connected – pulsing starts today
Cleaning up tunnel

400 MeV/ORBMP

Vacuum pump down continues
PS testing
Polarity Testing

RF repair/maintenance continues
Sump discharge re-route done today
RF repair and maintenance continues
Schedule
MI-8 Dump on schedule – (tasks remaining)

Terminate and test supplies

Septa, V809 switches, Kickers, Beam Stop

ORBMP – Finish PS work/testing
400 MeV PS/Polarity Testing
RF work – Connect up Anode & 480
Safety System checkout
CUB LCW pumps – only 1 pump on now
Pbar
On Schedule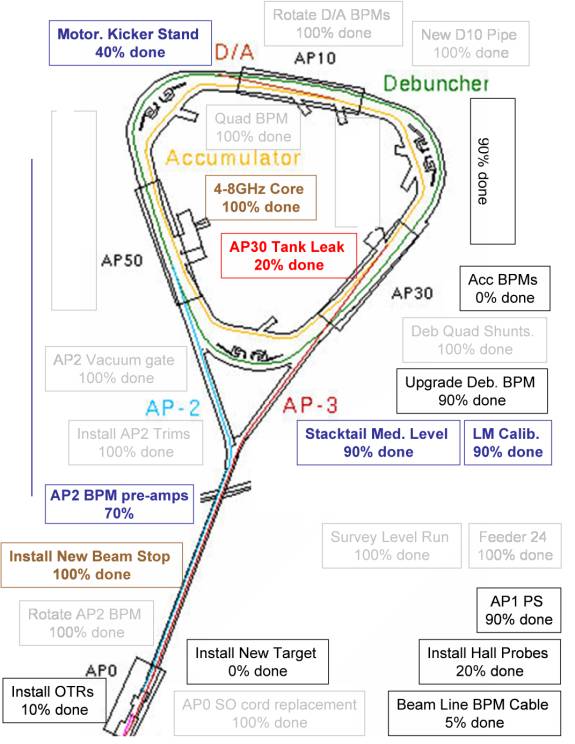 Continued vacuum repairs in the MI8 line.
Continued vacuum repairs at 620.
Began Lambertson bake at 101.
Continued installation of large aperture quad at 521,522.
Began installation of the MI10 kicker cooling system.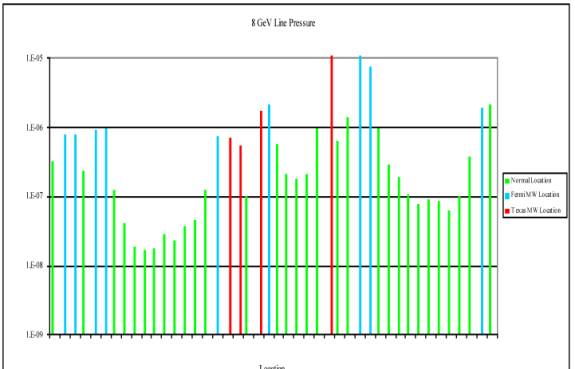 MI Startup (DRAFT)
Power Supply Startup:
Clear bus and Hipot.
Main PS commissioning (New wide aperture quads).
Establish ramps, slow magnet warm up.
Beamline PS turn on and commissioning.

Beam Startup:
Establish 8 GeV beam. 6 Hours.
MI8 line lattice measurements. 2x4 Hours.
Establish 120 GeV. beam. Smooth orbits. 8 Hours.
Commission lattice with new wide aperture quads 16 Hours.
High field Orbit smoothing (quad moves). 16 Hours.
Tune Up for Operation. 8 Hours.
Extraction line tune up. 4 hours each (7).

Startup Activities and Studies:
Coalescing.
Damper commissioning.
NuMI Multibatch slip stacking.
SY 120
8 GeV collimators
Install and commission new BPM electronics.
Install and commission new BLM electronics.
Test software programs with Linux.
Lambertson aperture scans.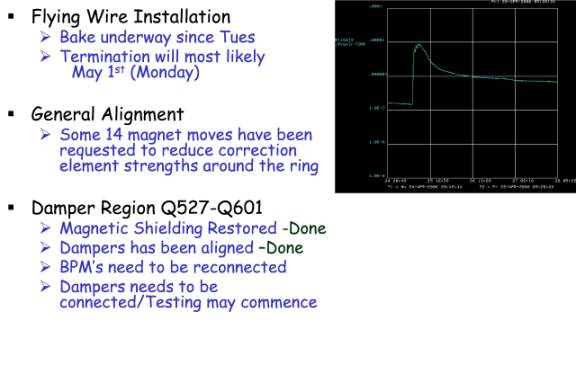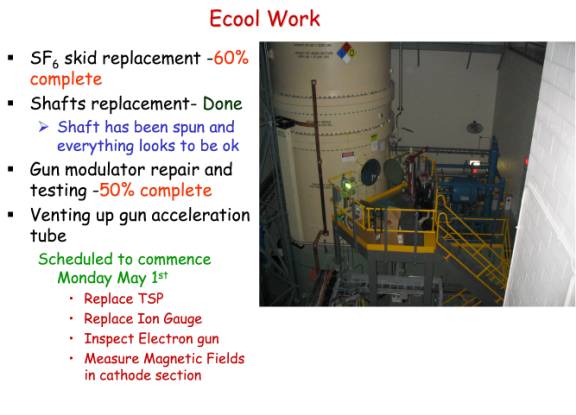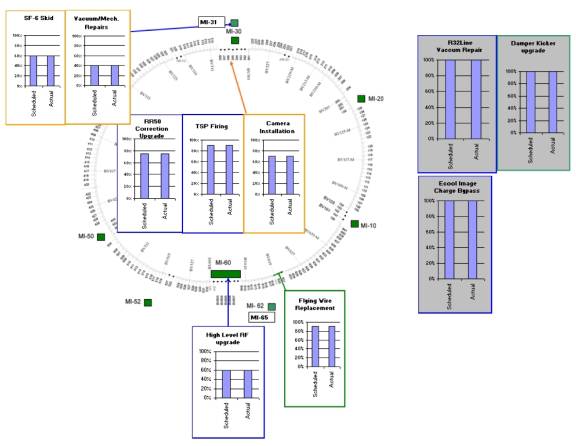 TEL 1
Jobs Not Yet Started
Realign low beta quads at B0 week of May 1
HOPs cable pull
A3 conning tower replacement, TD will to do conning towers in A3 next week
Unroll 48 magnets around ring
Measure rolls 13 magnets around ring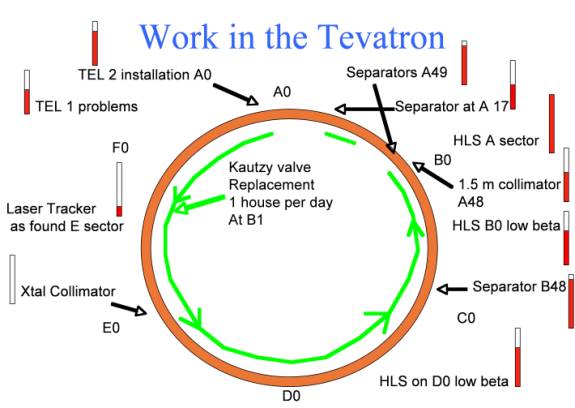 Work continues.
Horn 2 Repair – Successfully Tested the cooling
Drained and Refilled Horn 1 and 2 RAW Systems
Changed Horn 2 DI Bottle and High Potted OK
Planning on Horn 2 Pulsing for Next Week
Clapper Valve Installed on Horn 1 Raw System
Target Chase Chiller Delivery Expected Mid Next Week
Drains in Target Hall Being Covered to Reduce Area Humidity
Electric Installed and Ready for New Desiccant Units
Prism Well Underway with Dehumidification Duct Work
New Motorized Damper Installed Above Door to DK Passageway
OTR Installed and Surveyed in the Pre-Target
New Pre-Target Drip Ceiling Installed
Concrete Coring Complete for Various Piping and Electric
Excavation and Concrete Work in Process at SR3

Conduit In and Concrete Pour Today

Reworking HV Cables & Connections at New Motorized 13.8 Switch
Horn:

Complete (it works).
Reconnect old horn by May 8.

RAW System:
Alignment:
On schedule
D-Zero (D0)
Layer 0

Complete evaluation of Layer 0 readout performance

All SVX4 chips have been successfully readout with the sensors biased

Connect spool pieces and leak check joints
Re-install south inner H disk

Level 1 Calorimeter Trigger

Delivery of lower skew LVDS cables complete
Continue installing LVDS cables
Test transmission from ADF to TAB
Continue firmware debugging/development/verification

Level 1 Central Track Trigger

Finish connecting outputs to L1CalTrk and L1Muon
Verify outputs to L1CalTrk and L1Muon

Luminosity Monitors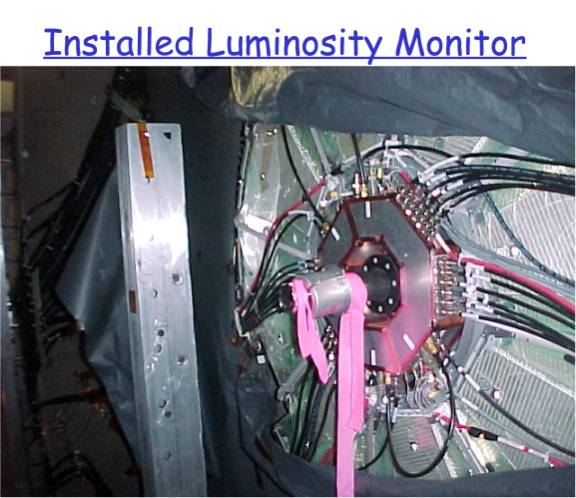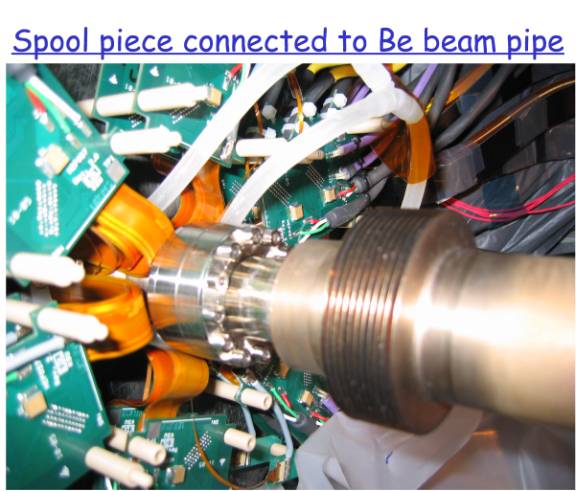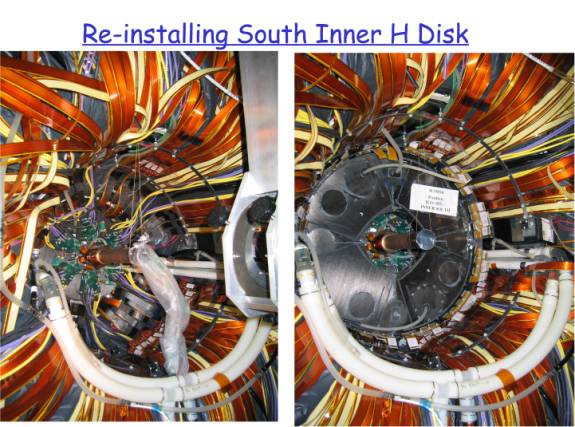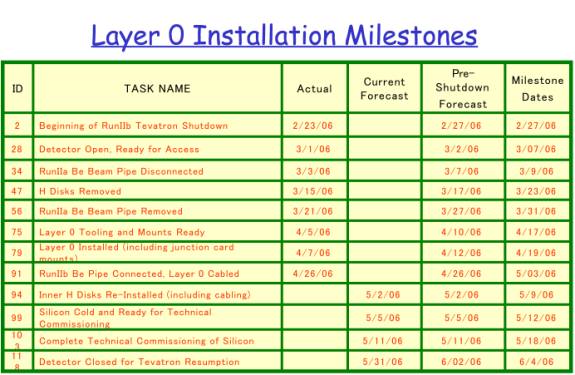 Mechanical
Work Continues
Cryo Operations
Tevatron at LN2 temperature and LN2 usage is stable with vendor deliveries running only 2-3 truckloads per day due to the Tevatron being 1/4 at room temperature. Helium losses are slightly up at 18 kscf/day (1/2 of normal during TeV operations); some of the loss was replenished with A0 GHe Recovery from the test caves.
A1 and A3 are at room temperature and isolated with LOTO.
D1 and F4 are also at room temperature, have been reconnected by Cryo, and are under helium flow. D1 is ready for Division sign-off.
F4 cooldown will wait until TEL-1 is re-installed.
B4 and E2 were cooled down to LN2 temperature.
A3 has been completed by MSD, but spool piece conning towers will be retrofitted (5 out of 8 leak) by Tech Division during this shutdown. Cryo has completed epoxy of helium leaks on Tevatron power lead and snoop leak tested fine.
Pbar D60 Debuncher tanks have been reconnected to system and we are awaiting Division sign-off before cooling down to LN2 temperature.
ACNET application programs relating to FRIG operations continue to be tested on Linux consoles.
Nitrogen Reliquefier startup is delayed due to concern of "old" electrical cables being used for cross-connect between MSS and KRSS, especially due to high startup currents of 3000 hp TSI compressor.
MCR monitoring cryo operations
CHL Maintenance:
General facility maintenance is in progress, including testing of relief valves per FESHM.
CHL Helium Compr "A" cooling tower installation has been completed with only some minor work is left, such as fencing; system testing will be commencing.
CHL Helium Compr "D" is being overhauled.
Helium Coldbox-2 controls upgrade is in progress.
Mobile Helium Purifier is being derimed at room temperature and piping modified.
FRIG Maintenance:
Various FRIG bldg vacuum maintenance and instrumentation repairs (e.g. lost charge on VPTs) are in progress, as well as support work on houses at room temperature and other equipment as things fail even during the shutdown period.
Various Mycom compressor maintenance: leak hunting and general repairs, F0#3 motor starter replacement in progress.
Wet expanders overhauls have been completed for A1 through F4; one D-Zero Dry Expander was also completed with modifications. AP30 and CDF remain to be done.
Kautzky relief valves have been replaced from C1 through F4 (16/24). Pace is at one house per day though running into problems with galling nuts on clamp's T-bolts and bad compression fittings. More Clamp T-bolts are on order.
We have been finding some leaking quick-disconnect fittings on conning towers. We have none in stock and thus ordered units expected next week.
Zebra mussel cleaning, though waiting for approval, is scheduled to begin on May 8 and continue for a minimum of 16 days.
Proposed Treatment

EVAC Introduction Stage
Flushing Stage

Hydrants Opened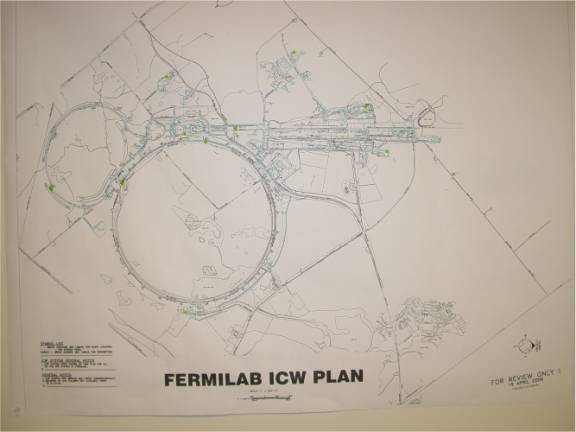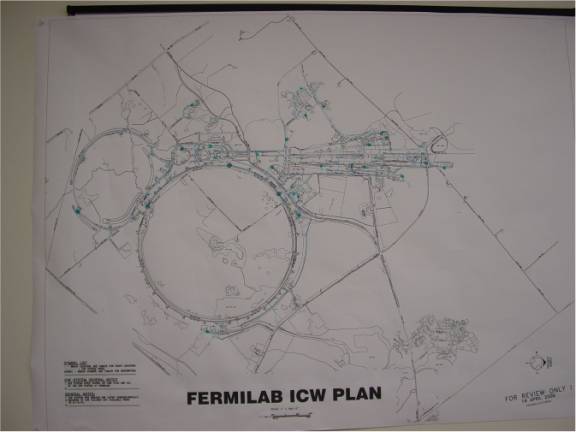 Work continues.
Work continues.
Controls
Work continues.
ES&H Upgrades
Safety System Upgrades
Keep discussing safety with your crews to keep our focus on getting our jobs done safely.
Booster 60% Complete

Booster Dump Move Configuration Changes

LG1 area work started

Cables pulled to into the tunnel
New logic chassis being installed
Enclosure status pages updated for the new configuration

Booster Staging Area gate was replaced by mechanical support

Documentation submitted for Approval to Operate

Main Injector 40% Complete

Lower Level Controlled Access Displays Replaced

MI-62 & MI-30 complete. 5 Buildings left.

Main Injector Coasting Beam System changes

Lam10 Critical Device Interface Installation complete

Stairwell cleaning continues

MI Ring cleaning is complete.
Looking at the 8 GeV line stairwells.

P-Bar Source 100% Complete

Safety System Power Supply & Junction Box Replacements
Interlock New BSC700 Beam Stop

Tevatron 98% Complete

F-Sector Radiation Monitor Card Replacement

MT6 Section 1 & 2 70% Complete

Enclosure Interlock System Upgrade

Safety System Testing 0% Complete

All areas need to be re-tested before startup
Plan is to change Booster door cores Thursday evening
Booster Electrical Safety System testing is tentatively scheduled
for 6:00 pm May 4th

Transition to Operations

Pressure to complete work to resume operations.
It's the people that make the machines run.
Pressures to operate are not a reason to cut corners when it comes to working safely.
EE Support
Work continues
Alignment
Tevatron

Completed As found E10-E15.
Scheduled CDF Low Beta Alignment

Main Injector

Scheduled Wide Aperture Quad
Scheduled Align barrier cavity at MI604

Recycler

Completed Cooling Kicker Tank
Completed Alignment suspect magnets

8Gev

Scheduled To Complete Pipe and New Toroid
Scheduled BPM Alignment to continue

P-Bar

Completed Girder Check
Scheduled ceramic beam tube alignment
MiniBooNE
NuMI

Completed Re-Survey Multiwire and OTR.
Scheduled Horn check for Thursday
Add Ons

D0 - Make Level-Run vertical measurement of select Collision Hall monuments West Wall
Main Injector Align barrier cavity at MI604 location.
Fess - the Batavia Rd. Guardhouse project.
Fess - MI Ponds C&D project will replace existing manholes and pipe.
Switchyard - Check the alignment of elements in Switchyard manhole enclosure F3.
Scheduled CDF Low Beta Alignment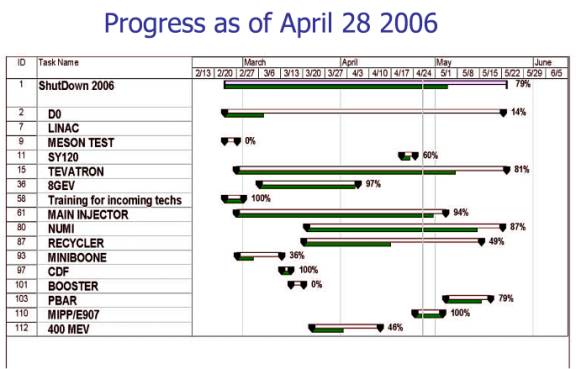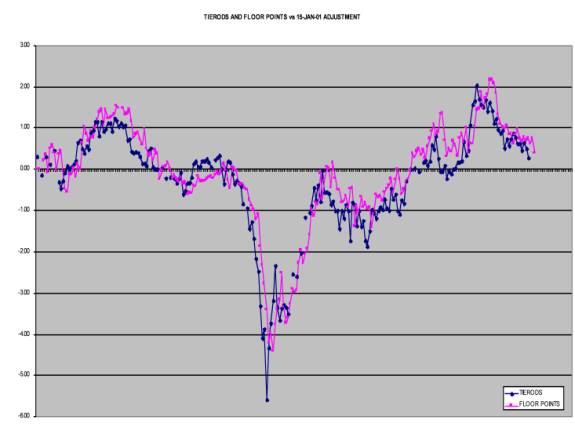 Power Pole Replacement
0700-0730 Master Sub goes off and this affects everything except for: Main Injector the Village, Mi 12a, Mi12b, Mi13, and Feeder 46a (cryo feeder).
0700-0830 Feeder 48 (TeV RF) will go off.
At 0730-0745 Pbar AP10, 30, and AP50 will be moved to master substation AP0 will not be affected at this time.
At 0800-0830 Kautz Rd Substation off on Monday
0900-1500 Power will be off in the Tevatron at E0, E1, E2, and E3 to replace a transformer.
(Special Note) Feeder 48 RF annual maintenance is currently scheduled for the day after all these substation outages from 0830-1700. (Currently Tuesday). Note: approximately a week later Feeder 48 goes down again
Pole Work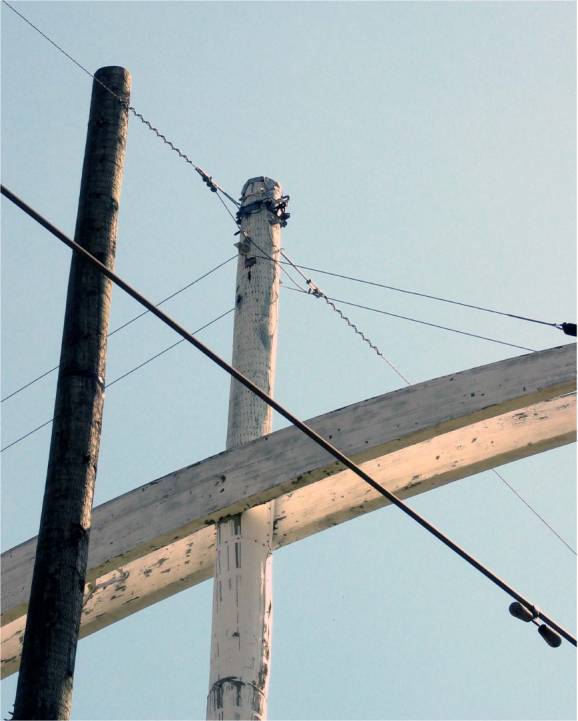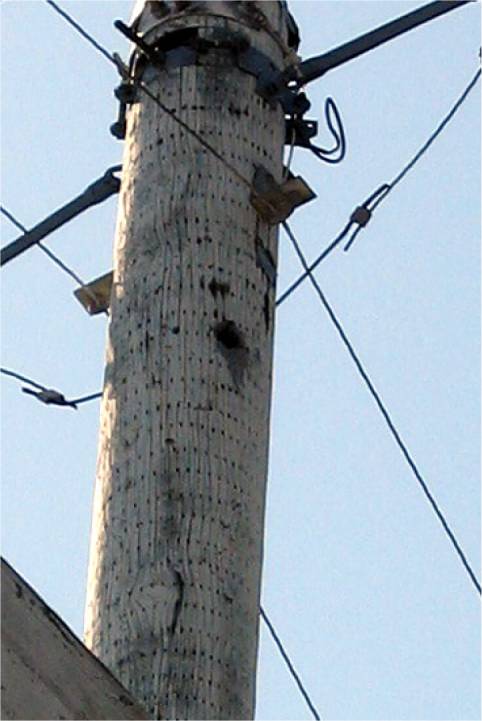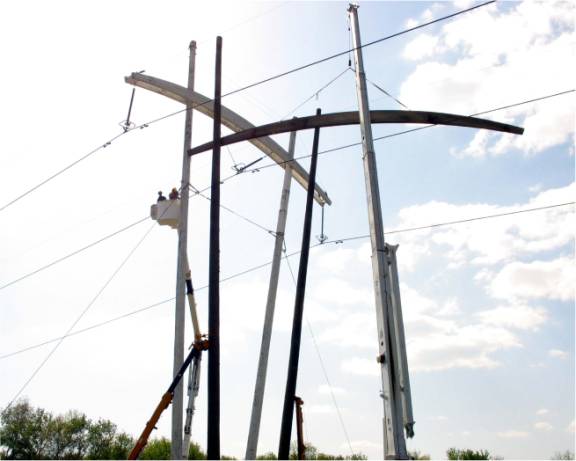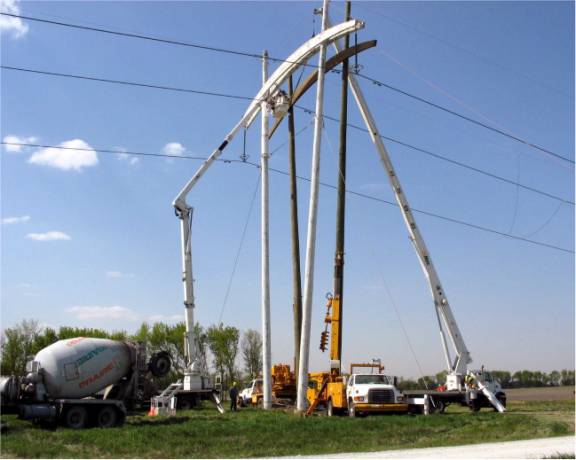 Schedule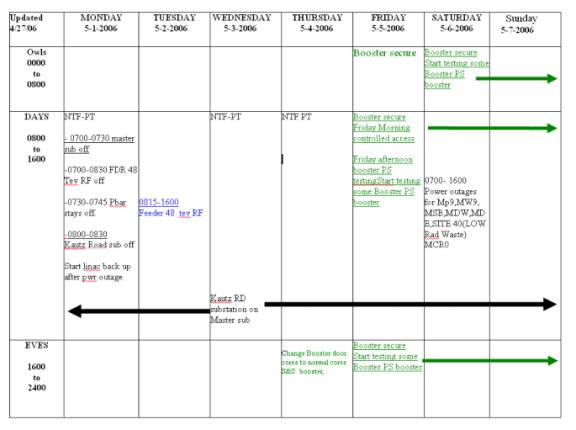 More Information
For Tevatron luminosity charts and the current status of Fermilab's accelerators and detectors (live!), please go to Fermilab Now.
Comments and Suggestions
What do you think about the Accelerator Updates? Please send comments and suggestions to: accelupdates@fnal.gov.