March 3 - 10
Installed and Interlocked new 750 KeV Beam Stop
Cleaned L.E. Linac Modulators & Rectifiers (LFR1-LRF5)
Finished Water Maintenance
Modified Chopper and moved H.E. Quad 74 for future McCool Operations
Restored Beam to LINAC March 9, 2006
Plan to Run beam to NTF later today after 4616 tube change out
March 10 - 17
Start Preventative maintenance on H.E. Klystron Systems
Investigate Q3Bulk Supply
Continue LLRF Characterization on LRF4 and LRF5
NTF Patient Treatment (Mon, Wed, & Thur)
MuCool Alignment Survey planned on Friday, March 17
Booster
Completed shield wall removal
Installed MI-8 ceiling hoist/ Kicker supports
Removed MI-8 Quadrupole magnets
New Dump placed in MI-8 line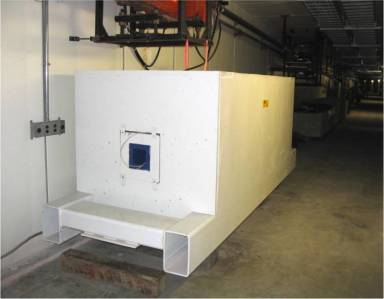 Completed ORBMP Girder/Septa removal
Removed 400 MeV elements
Installed LCW water taps
RF maintenance continues
Waiting on MI-8 conduit!

Pbar
On Schedule.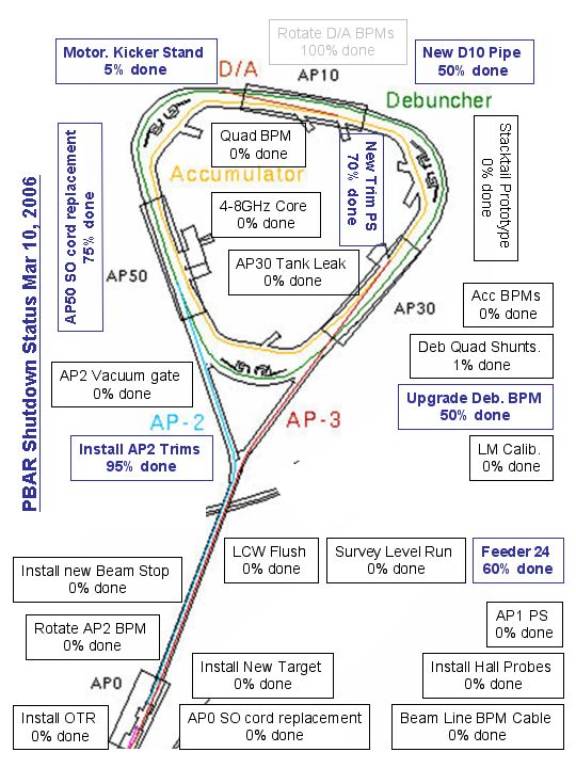 Main Injector
Repaired vacuum leaks in the MI60 RF area.
Continued installation of MI8 collimator.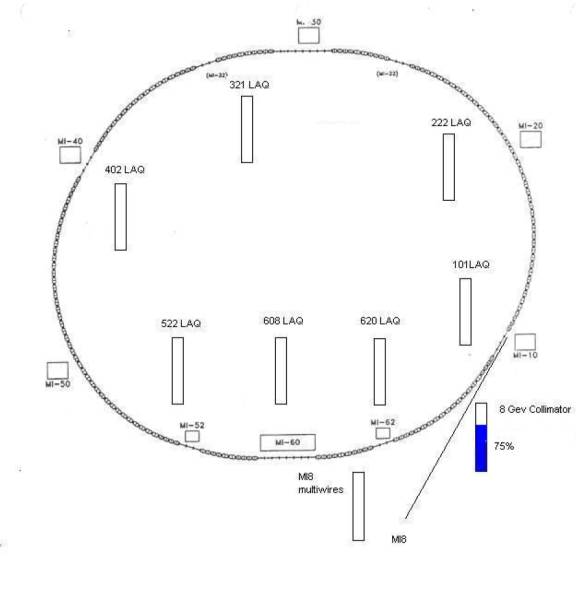 Continued installation of MI10 kicker cooling system.
Replaced LEP correction elements in MI8.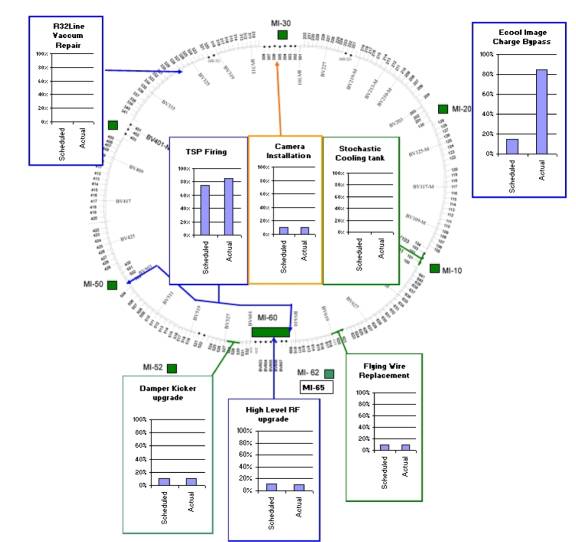 There are 38 magnets with rolls > 1 mr that need to be unrolled. These have all moved since Nov 2004. There are 64 magnets that have roll changes > 0.5 mr and 25 in A sector. Sector F4 vacuum certification is underway. TEL 1 has a serious leak; discussions are underway on a solution.
Tevatron Electron Lens (TEL) #2 bypass in place.
Core boring for DRMs at E0

Working on low beta alignment at sector B0.
Dipole shimming proceeding as planned.
Getting TeV fix list cleared.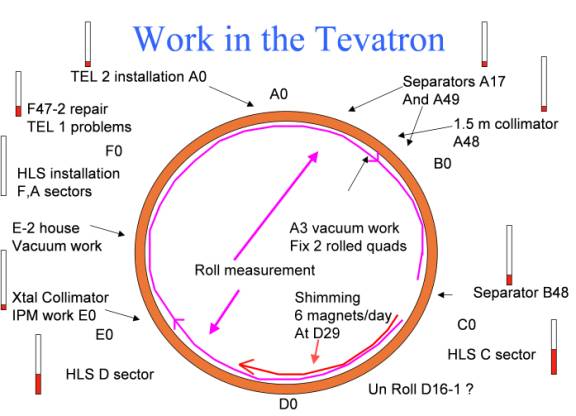 SwitchYard
Requesting quadrupole magnet for sector A0.
May have to reconfigure beam line for MTest.
NuMI
R Blocks Removed to Allow Horn #2 Inspection
Special LCW Suction Problem Found – Cracked at Ceramic.
Horn 2 Moved from Target Chase to Work Cell.
Repair Being Investigated by Mechanical support.
Target Hall Crane Failure
Blown SCR in VFD for Hook Motor and Brake Failure
Repair Scheduled for Saturday
Shield Wall to Target Hall Opened
Hatch Covers to Pre-Target Removed
Drain Cleaning Scope Defined
Preparatory Work for OTR Installation
20 KW Quad Power Supplies Being Modified by EES
Motor Operated 13.8 KV Switch for TR-MI65B Has Arrived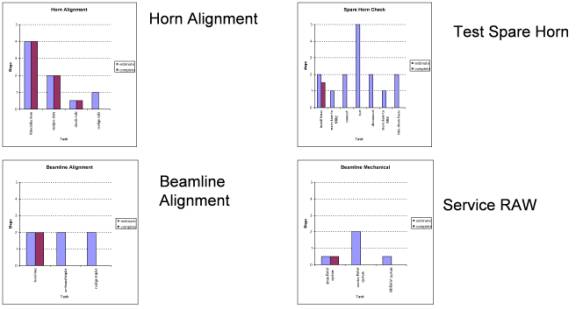 Collider Detector at Fermilab (CDF)
Flammable gas is off.
Kautzky valve replaced.
Finished reprogramming CTC cards
D-Zero (D0)
Disconnected beryllium beam pipe.
Cut flanges off EC beam pipes.
Dismounted Luminosity Monitors.
Rerouted silicon coolant flow.
Uncabled and extract outer H disks.
Uncabled inner H disks.
Prepared for installation of new adapter cards.
Removed Run IIa Level 1 Calorimeter trigger and associated infrastructure.
Begin uncabling DFE crates for Level 1 Central Track Trigger.
Recovered from Feeder 46B downtime.
Keeping solenoid cold while helium compressors are offline.
Layer 0 Installation Milestones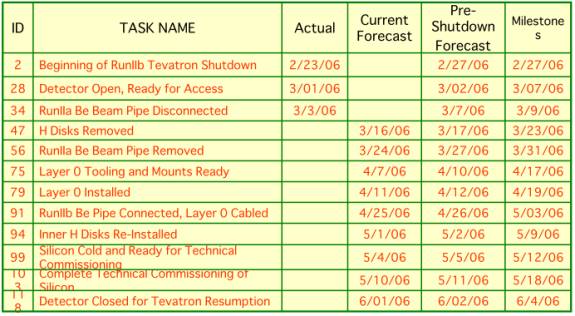 Mechanical
Work is going good.
Cryogenics
Tevatron at LN2 temperature and stable with magnet cryostat vacuum problems addressed well by MSD/Vacuum Group. No cryo problems with scheduled power outages of individual houses and feeders. Helium losses look stable at 10 kscf/day (1/3-1/2 of normal during TeV operations).
F4, A3 and A1 are at room temperature and isolated with LOTO; E2 is slowly warming up to room temperature though magnet cryostat vacuum is still intact. Looks like neither F4 nor A1 will have HTS spools installed due to mechanical interferences/geometry issues.
Pbar Debuncher D60 helium tanks have been isolated for warm up to room temperature.
CHL Nitrogen Reliquefier (NRL) has been shut down for maintenance, actually tripped on night before scheduled shutdown.
ACNET application programs relating to FRIG operations are being tested on Linux consoles.
CHL operator interfaces (HMI) for all nodes (9) have been upgraded to Intellution iFix from Fix32 with no problems noted.
CHL shift work (24/7) operations will cease today. MCR will monitor the cryogenic system.
CHL Maintenance
General facility maintenance was started.
CHL Helium Compressor "A" cooling tower installation is continuing with anticipated completion by month end.
NRL maintenance has been started, which includes overhauling the IR Booster Compressor and cleaning the Niagara Intercooler for the TSI Compressor.
Helium Coldbox-2 controls upgrade has been started. This involves replacing existing 1980-vintage PLC and HMI hardware/software to Seimens' 505 system and Intellution iFix, thus final upgrade matching four other existing operational systems.
FRIG Maintenance
Ring wide overhauls of wet expanders in progress with 7/24 completed.
Leak checking for vacuum leaks on Cryogenic Transfer Line was started as follows:
E4-F1 leak at F1-end bellows was verified and to be fixed tentatively next week.
D1-D2 leak checking was completed and no leaks were found; vacuum pumpout valves will be overhauled.
D3-D4 leak checking was completed and no leaks were found; vacuum pumpout valves will be overhauled.
Five IHI cold compressors were removed for inspection and are being overhauled.
Various FRIG bldg vacuum maintenance is in progress, as well as support work on houses at room temperature.
Various instrumentation repairs in progress (e.g. lost charge on VPTs).
Controls Dept is replacing FRIG Front End UPS units with new ones; all except FRIG-A are done.
B0 Low Beta Kautzky relief valves (4) inside CDF were replaced as preventive maintenance.
Various Mycom compressor maintenance is in progress.
95 Booster LCW system
Replaced 8 valves
Repaired leaking seals
Installing new 200 HP pump
CUB – 3/4 & 5/06
All Pump maintenance completed
Inspected the main tower water tank – minimal silt and shells
Inspected the ICW main strainer – some shells
High Voltage
Repaired C phase splice in the B1 service building
Tunnel lighting completed
Site
Hydrant flushing yielded 375 lbs zebra muscle shells.
Divers are replacing pond pump interlock valves at B3, C1, E1, RFA, and RFB.
Instrumentation
Work continues.
RF
On 3-6-06 a LCW pressure surge hit the Booster RF equipment. All the damage hasn't been determined, but 9 of 19 RF stations have developed leaks.
Alignment
D-Zero 14%
Meson Test 0%
SwitchYard 120 60%
Tevatron 25%
MI-8 7%
Main Injector 39%
NuMI 6%
Recycler 0%
MiniBooNE 36%
CDF 20%
Booster 0%
Pbar 21%
Meson Center 0%
400 MeV 0%
More Information
For Tevatron luminosity charts and the current status of Fermilab's accelerators and detectors (live!), please go to Fermilab Now.
Comments and Suggestions
What do you think about the Accelerator Updates? Please send comments and suggestions to: accelupdates@fnal.gov.