March 31 – April 7
Running to NTF with the H- Ion Source
Beam Current 36 ma
Brought New Anode Supply On-line for the I- Haefely
Characterization the Low Energy RF Systems continues.
Low Energy RF PM is Complete.
High Energy RF PM continued and is 85% Complete.
We continue to Test/Condition Econco Switchtubes in LRF7
LRF5 Modulator has failed and troubleshooting continues
Replaced Tubes in the H- Haefely
April 7 - 14
Continue Characterizing Low Energy RF Systems
Finish High Energy RF PM
Possibly Install Motor Drive for 10 MeV Collimator
Continue Test/Conditioning of Econco Switchtubes LRF7
Begin Checking HE RF Phase and Gradient Readback Calibration
Install New Digitizers for BPM Readbacks
Linac will begin turning on for 400 MeV beam after the power outages scheduled for April 22 - 24, 2006
MI-8 Alignment nearly complete
MI-8 beam line being reconnected
Kicker cables pulled
Conduits are in – rebuilding MI-8 berm
One of two tunnel sump lines completed
ORBMP girder may be shipped today
Transformer work nearly completed
Peek tubing work completed
Corrector LCW piping continuing
400 MeV power supply work nearly complete
Schedule Issues
MI-8 Dump on schedule – (tasks remaining)

Pull and terminate cables
After beam tubes connected – begin vacuum work
Install kickers after HV testing
Septa & Kicker PS connections and testing

ORBMP - was scheduled to be here earlier this week
400 MeV line waiting for ORBMP girder install – should begin next week
400 MeV PS work on schedule
LCW work on schedule
RF work – problems with LCW delaying other jobs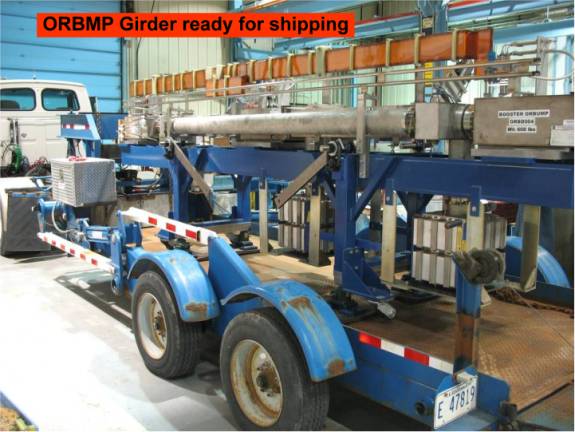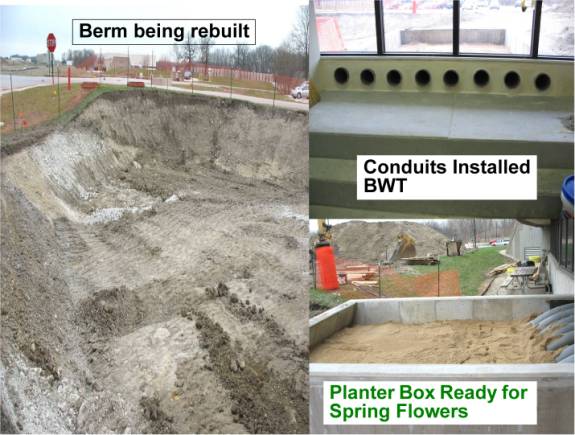 Pbar
On Schedule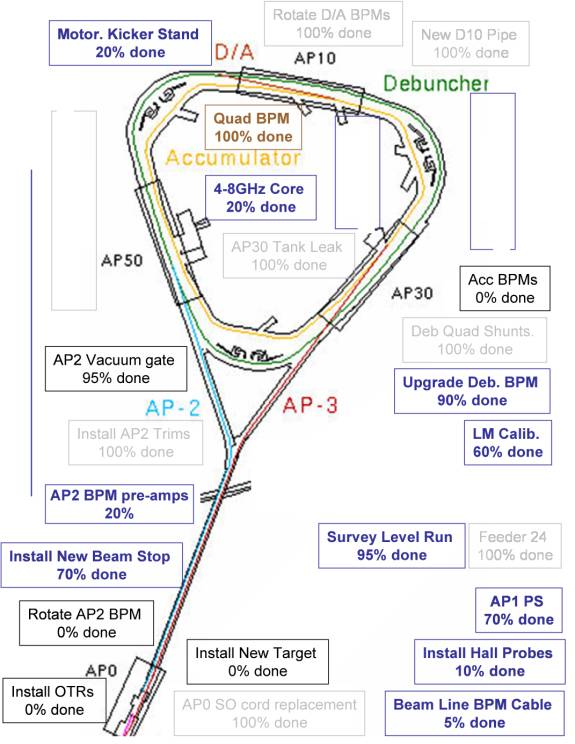 Continued installation of the new MI8 line multiwires.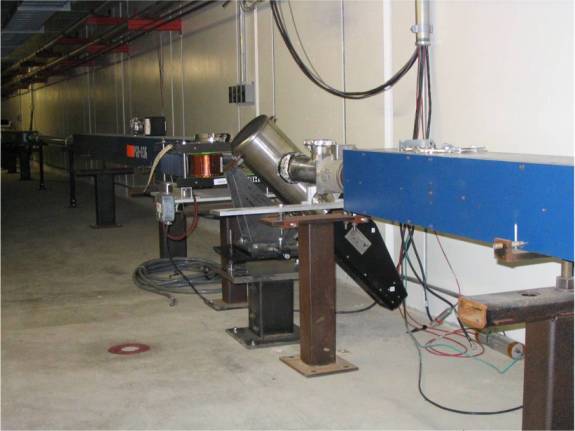 Continued installation of MI8 collimator.
Continued installation of a large aperture quad at 608.
Continued installation of large aperture quad at 620.
Continued installation of large aperture quad at 101.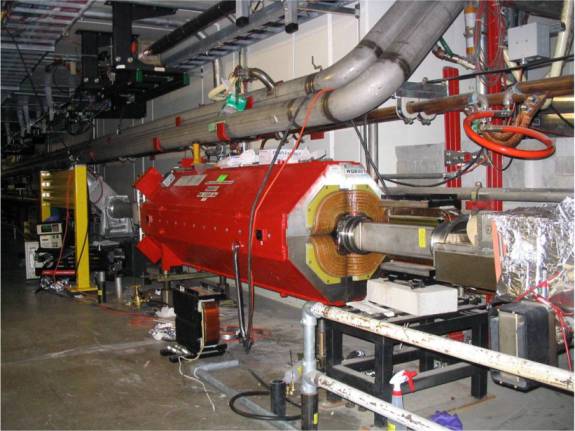 Began installation of large aperture quad at 402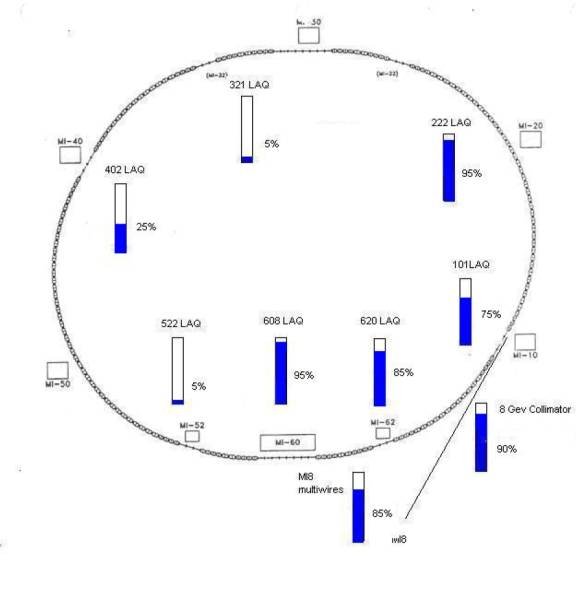 Flying Wire Status
Wire Vacuum Certified
Tunnel Bake Prep status

Disconnection of BPM, Correctors, etc -Done
Check bake out circuits -Done
Waiting on MI-62 Lambertson Bake to be completed
Damper Kickers
Kickers Vacuum Certified (final scan this morning)
Tunnel Bake Prep status

Bake setup is complete -Done
Stands are installed -Done
At the stage of cutting into the beam pipe and welding on new flanges
R32 line Vacuum Burst Investigation
Replaced Ion pump connector on several ion pumps
Prepping the area for a leak checking
Ecool Studies Period
Almost doubled the maximum beam current that can be recirculated

New 'world record'

1.8 A, 4.34 MV
7.8 MW of DC beam

HV stability being a problem on its own (even at low current), limit to stable operation is not established
Max current appears to be limited by the amount of losses to the tubes

No indications that the collector is the limitation

Shut Down Work

Starts next Tuesday April 11th (4-5 weeks)
Ecool Work List
New SF6 Skid
Repair of the following Vacuum Components
Replacement of shaft Bearings
Repair Collector Current read back
Repair Pulser switch
Upgrade Fault protection system
Misc. Maintenance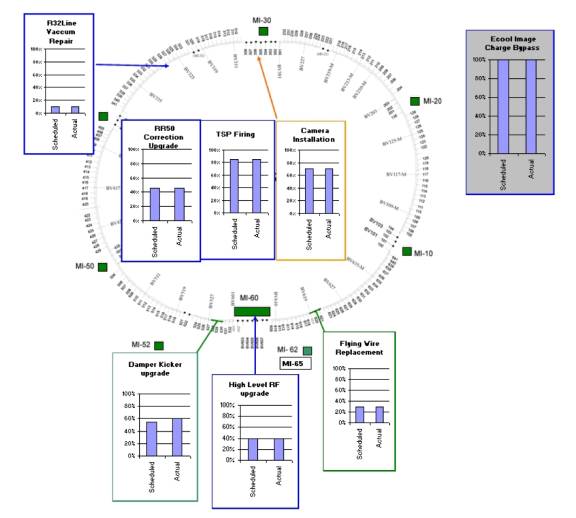 Progress
F4 and A3 vacuum work done, walk through complete today
A 49 separators installed and under vacuum need to do power test before bake
B48 separator installed needs alignment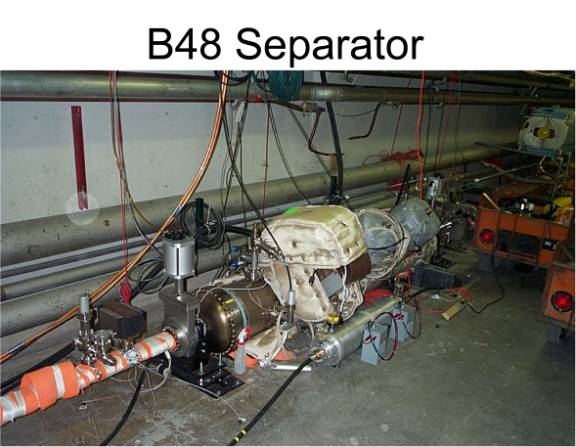 C0 HLS system done
D0 HLS system needs final test
Shimming on schedule in F sector skipped 11 magnets in E-2 to make way for vacuum work
E2 found one bad bellows and one bad seal: finish next week?
TEL 2 in place
Vacuum Work
F-4 done
A-3 done
B-4 done
E-2 ready for hi pot
D-1 leak checking underway D16-1 un rolled
A-1 next house to work on
Jobs Not Yet Started
Alignment at E-0: xtal Coll, IPM flying wires
Re align low beta quads at B0
As found A and E sectors with laser tracker
A 17 separator
TEL 1 installation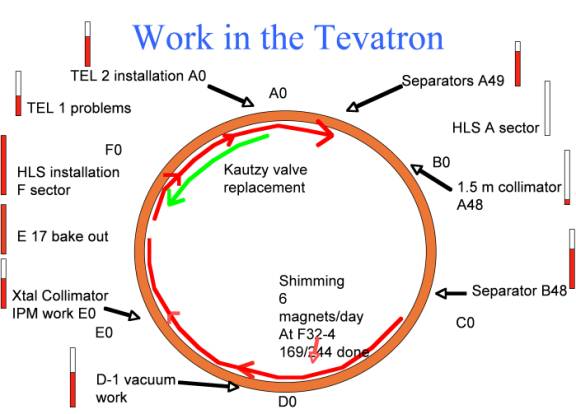 They are ready to install the quadrupole at A0.
Horn 2 Repair Status

Necessary Parts for Repair are Fabricated
Practiced Repair Procedure and Finalizing ALARA Plan
Expect to Commence with Repair w/o 17-April (2 Days)

Target Hall Air Dehumidification – 5 x Desiccant Units

Scope of Project Has Management Approval
Nearly All Major Requisitions Have Been Submitted
Prism Coming Today for Ductwork Estimate
Electrical Work Has Started

Resealed Target Chase to Allow Fan Restart and Tritium Tests
Level Runs in Progress – Currently in Target Hall
OTR and Target Profile Monitor Installation has Started
Drain Cleaning in Decay Pipe Passageway
Target Inspection Not Accomplished
Horn

Ready for safety walkthrough April 13.
Interlock enclosure after that.
Test week of April 17

Alignment
Collider Detector at Fermilab
On schedule
D-Zero (D0)
Layer 0

Installed north Layer 0 mount on SMT support structure
Prepared for inserting Layer 0 in SMT

Configure and align tables/rails and stages
Install long tool and guide through SMT while monitoring transverse position

Inserted Layer 0 into SMT and mounted on SMT support structure

Level 1 Calorimeter Trigger

ORC Review
Continued connecting BLS cables to patch panels and testing
Continued verifying L1Cal Trigger installation

Level 1 Central Track Trigger

Continued verification of LVDS cabling

Detector Maintenance

Recovery from power outages for power distribution maintenance

VLPC cryostats develop leaks during power outage
Readback for L1CTM crate +3.3V supply fails
CAL preamp power supply 11 primary fails to recover

Continued reassembling individual luminosity monitor counters
Continued calorimeter individual channel recovery
Upgrades of L1 Muon power supplies in progress
Continued muon PDT mods to accommodate latency shift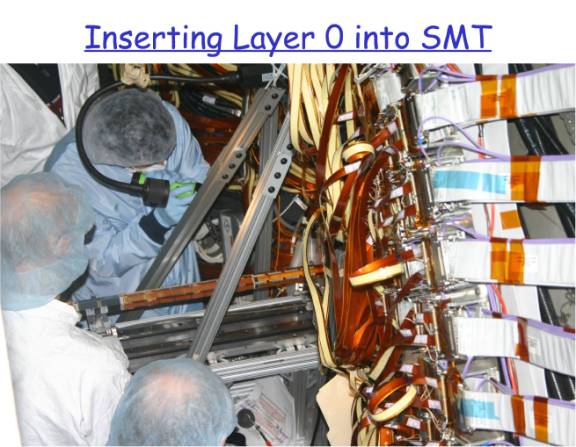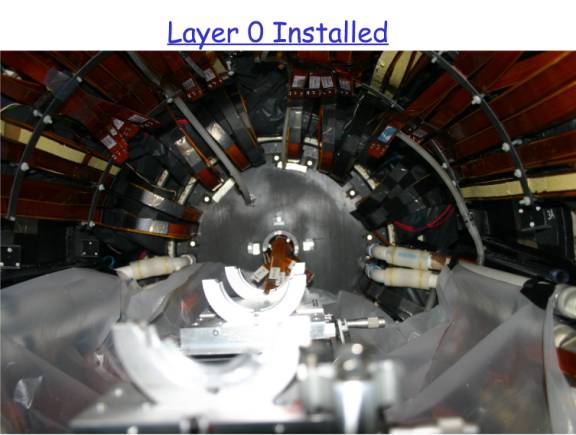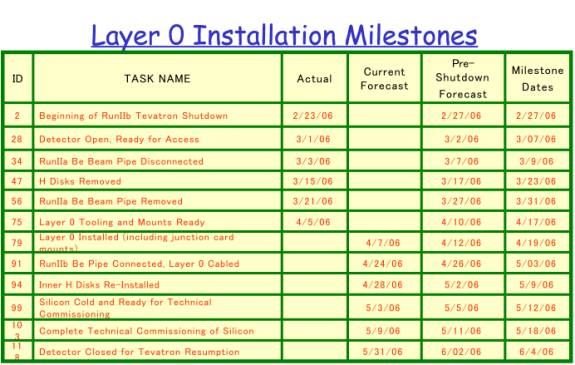 Mechanical
Work Continues
Cryo Operations
Tevatron at LN2 temperature and LN2 usage is stable with vendor deliveries running only 2-3 truckloads per day due to the Tevatron being 1/4 at room temperature. Helium losses are steady at 15 kscf/day (1/2 of normal during TeV operations).
A1, A3, B4, and D1 are at room temperature and isolated with LOTO. E2 and F4 are also at room temperature, have been reconnected by Cryo, and are currently under normal helium flow with anticipation of Division sign-off and cooldown to LN2 temperature soon. F4 house can be cooled down to LN2 temperature without the TEL-1 installed. B4 has been completed by MSD and Cryo will start reconnection procedure. A3 has been completed by MSD, though spool piece conning towers may still be retrofitted (5 out of 8 leak) by Tech Division during this shutdown. Cryo has completed epoxy of helium leaks on Tevatron power leads, though they still need a snoop leak test.
Pbar D60 Debuncher vacuum work has been completed by Pbar Dept, thus Cryo personnel will restore helium/nitrogen connections and cool down tanks to LN2 temperature after Division sign-off.
ACNET application programs relating to FRIG operations are being tested on Linux consoles.
Nitrogen Reliquefier startup is delayed due to concern of "old" electrical cables being used for cross-connect between MSS and KRSS, especially due to high startup currents of 3000 hp TSI compressor. IR Booster compressor was started but had a loading valve failure that is being addressed.
MCR monitoring cryo operations.
CHL Maintenance:
General facility maintenance is in progress.
CHL Helium Compr "A" cooling tower installation has been completed with painting in progress. Some minor controls/electrical/instrumentation work is left.
CHL Helium Compr "D" is being overhauled.
Helium Coldbox-2 controls upgrade is in progress.
FRIG Maintenance:
Ring-wide overhauls of wet expanders in progress with 20/24 completed.
Various FRIG bldg vacuum maintenance and instrumentation repairs (e.g. lost charge on VPTs) are in progress, as well as support work on houses at room temperature and other equipment as things fail even during the shutdown period.
Various Mycom compressor maintenance: leak hunting and general repairs, F0#1 compressor replacement was completed, F0#3 motor starter replacement in progress.
Kautzky change outs have been completed from E4 through F4.
The Kautzky vent hose at C4LowBetaQ3 has been lowered to assist survey.
We finished the work at Casey's Pond. The west pipe was found half closed due to mussels; the east pipe was a third closed. So far, we've collected approximately 9,000 pounds of mussels.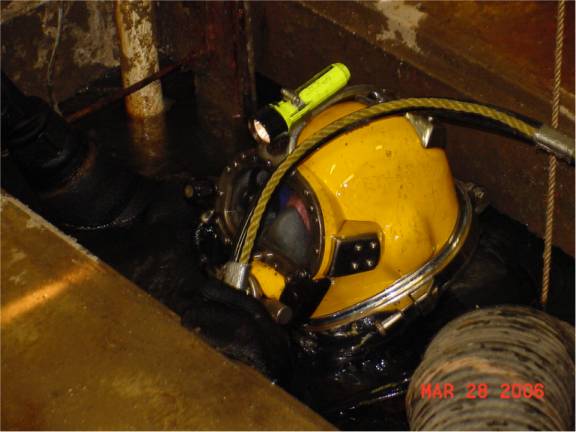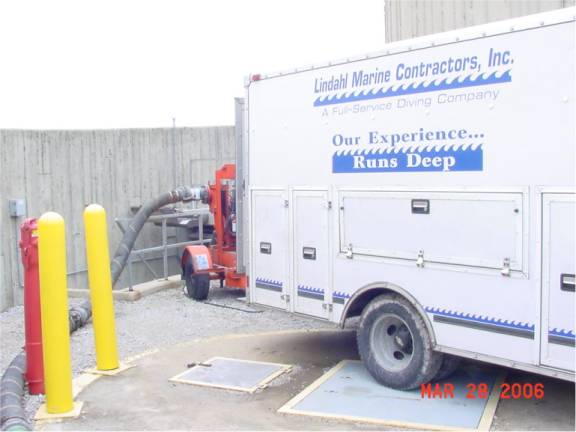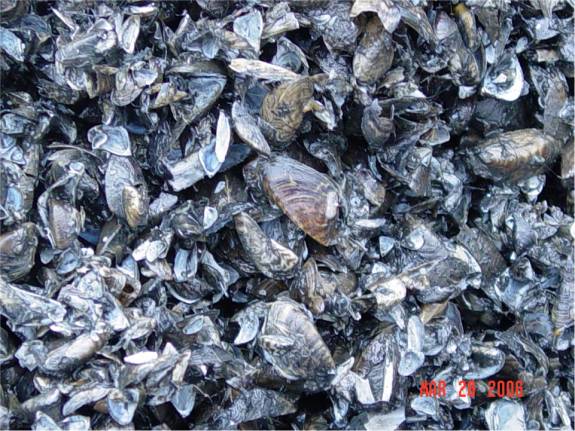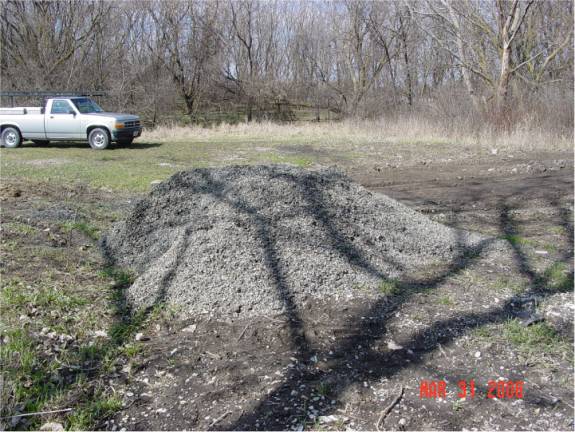 Work continues.
Work continues.
Controls
Work continues.
ES&H Upgrades
Safety System Upgrades
Keep discussing safety with your crews to keep our focus on getting our jobs done safely.
Data Acquisition System 95% Complete

16 of 17 Linux Ethernet Port Replicator (LEPR) chassis installed

Booster 50% Complete

Booster Dump Move Configuration Changes
Completing Documentation to submit for Approval to Operate

Main Injector 25% Complete

Lower Level Controlled Access Displays Replaced
Main Injector Coasting Beam System changes
Lam10 Critical Device Interface Installation

P-Bar Source 80% Complete

Safety System Power Supply Replacement
Interlock New BSC700 Beam Stop

Tevatron 50% Complete

Moving location of both Tevatron Coasting Beam Gate Valves
F-Sector Radiation Monitor Card Replacement

MT6 Section 1 & 2 70% Complete

Enclosure Interlock System Upgrade

Safety System Testing 0% Complete

All areas need to be re-tested before startup
EE Support
They are working on power supplies.
Alignment
Tevatron

Completed Unrolls
Completed Elevation run (Drops still needed)
Completed Deep Rod installation. (Today)
Schedule E0 Crystal Collimator
Schedule IPM both vert and Horiz
Schedule Flying wire cans at E-11.
Schedule Flying wires cans at E17

Main Injector

No Work this week
Schedule Next week Deep Rod installation.

8Gev

Completed Today The installation of the MI-8 beam dump will require alignment. Several kickers will be installed, one septa magnet, 1 BPM, 2 Toroids, beam pipe, 1 quad will be moved and two multiwires.
Scheduled New Texas multiwires will be installed in the MI8 line at 803, 826, 827, 829, and 836. These multiwires will need alignment.

P-Bar

Completed Elevation runs
Completed Set new AP2 beam stop on beam center once it is installed in the Transport enclosure.

400Mev
Recycler
MiniBooNE
NuMI

Completed Level run between MI-60 to NuMI SR3 (Tgt Hall) aprox 1500 ft.

CDF
Linac
MIPP
Add Ons

Tevatron

Completed as found Of 5 More additional Rolls

Pbar

Schedule Topo @ A-50 area next week (Conduit installed)
More Information
For Tevatron luminosity charts and the current status of Fermilab's accelerators and detectors (live!), please go to Fermilab Now.
Comments and Suggestions
What do you think about the Accelerator Updates? Please send comments and suggestions to: accelupdates@fnal.gov.