March 17 - 24
Continue Preventative Maintenance on H.E. LINAC Klystron Systems
Returning LRF7 to 7835 Conditioning
Driver Characterization on LRF5
Anode Bulk Supply Upgrade
MuCool Alignment Scheduled Today
NTF Patient Treatment (M, W, & Th)
March 24 - 31
Continue Preventative maintenance on H.E. LINAC Klystron Systems
LLRF 9" Line Calibration on LRF4
Modulator Characterization on LRF5
Anode Bulk Supply Upgrade
NTF Patient Treatment (M, W, & Th)
Completed Work
Cleaned L.E. LINAC Modulators & Rectifiers (LFR1-LRF5)
Replace water fittings in Klystron Modulator De-Q'ing circuit
Replaced Collimator between L.E. LINAC Tanks 1 & 2
L.E. LINAC Water Maintenance
Modified Chopper & Moved Quad for future MuCool operations
Cleaned Filters on 8 Ion Pump PS's
45°/90° Magnet PS Maintenance
LLRF 9" Line Calibration on LRF5
Dump and Shielding installation completed
Q805/Q806 re-installed, Septum in place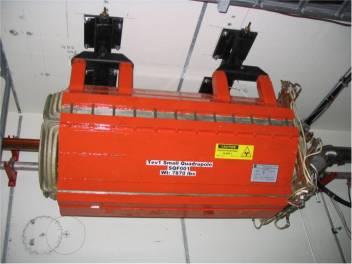 Need to align quads and septum before
Beam pipe installation
Continued Kicker installation
LCW pipe for corrector upgrade nearly done
ORBMP magnet/Girder work delayed but progressing
ORBMP Power Supply Conditioning
Reminder
13.8KV Transformer/Switchgear Replacement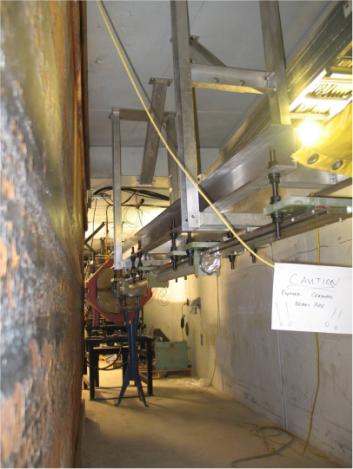 Prepare for next week's transformer/switchgear work
208V work
Schedule for power outage and switch to generator 0700 to 1200 for electrical work and switch over to generator
This will affect BWT, BWG, MuCool and Booster Tunnel
Pbar
On Schedule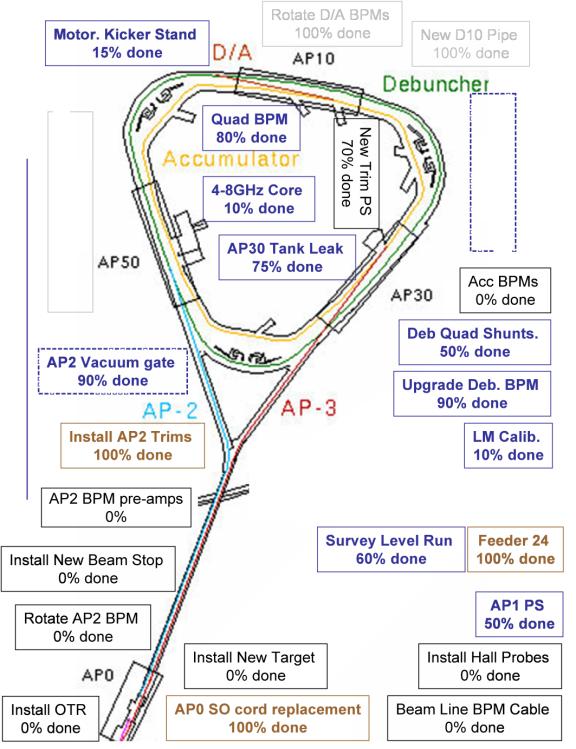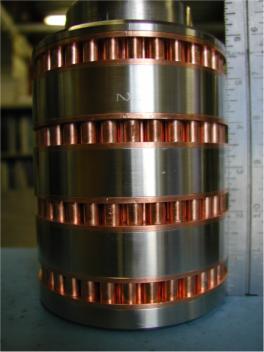 New Pbar Target Assembly
Continued installation of new MI8 line multiwires.
Continued installation of MI8 collimator.
Continued installation of MI10 kicker cooling system.
Continued installation of a large aperture quad at 222.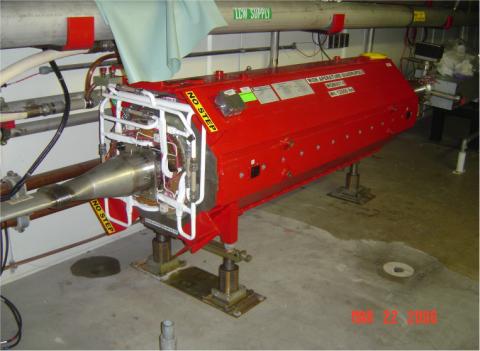 Began installation of a large aperture quad at 608.
Began installation of a large aperture quad at 620.
The major work is on the Flying Wire vacuum. The Stochastic Cooling Tank work has been dropped.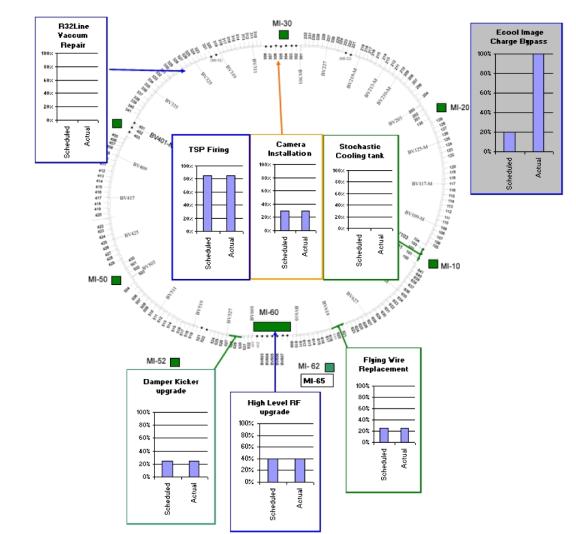 Progress
F4 and A3 vacuum work done, walk through complete today
A 49 separators installed and under vacuum need to do power test before bake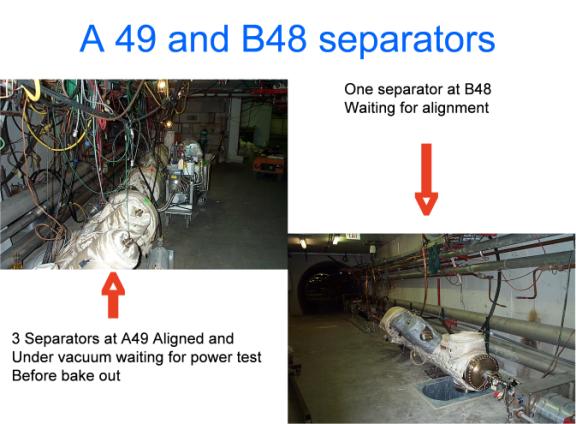 B48 separator installed needs alignment
C0 HLS system done
D0 HLS system needs final test
Shimming on schedule in F sector skipped 11 magnets in E-2 to make way for vacuum work
TEL 2 in place TEL 1 at VMS getting cut open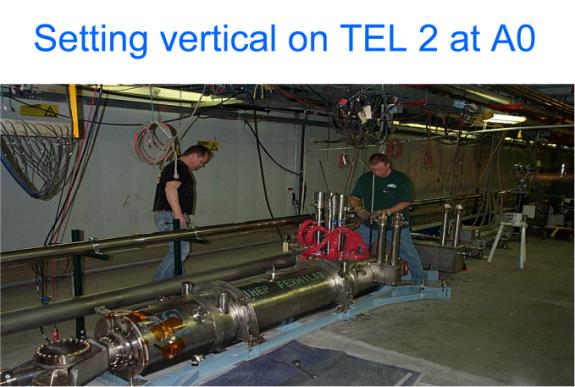 E2 found one bad bellows and one bad seal finish next week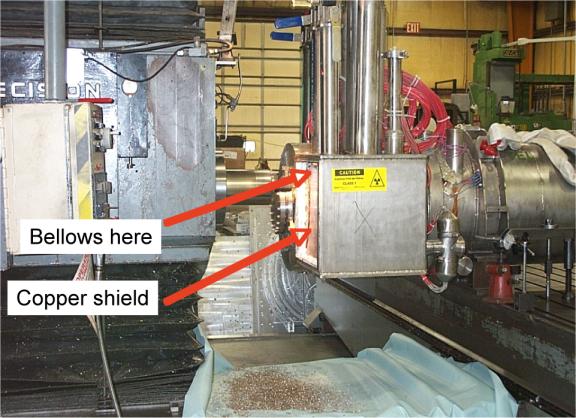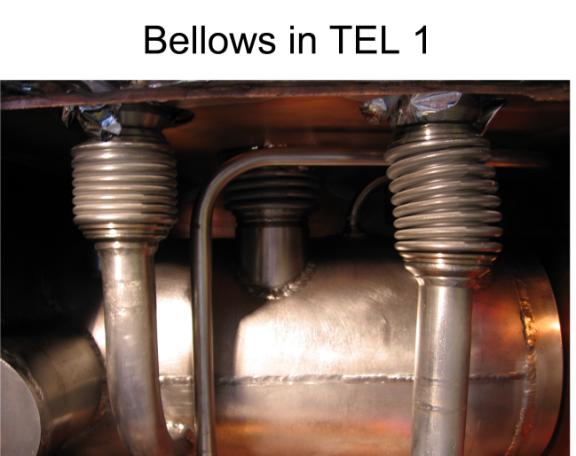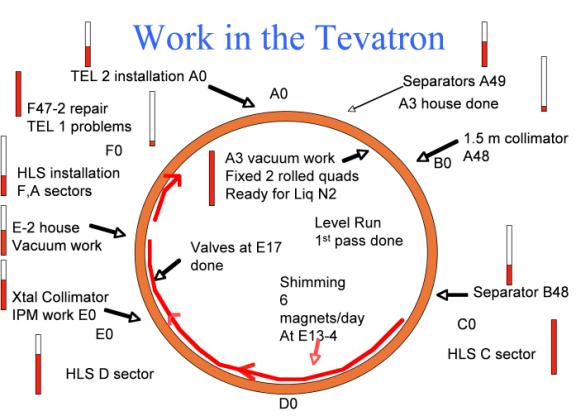 Still planning the installation of a new quadrupole at A0
Target Hall Crane Hoist Brake Again Operational
Completed More Detailed Map of Horn 2 Residual Radiation
Developing ALARA Plan for Horn 2 Repair
Checked Feet for Horn 1 – Found Not to be Loose
Cleaned Flaking Nickel Coat from Horn Stripline Blocks
Target Chase Chiller Modifications Progressing at Manufacturer
Scaffolding Construction for Drip Pan Removal Complete

Pan Removal Scheduled for Next Week

Drain And Calcite Cleaning Completed in Pre-Target & Target Hall
Target Hall Air Damper Replaced – Air Leaks Minimized
Beginning Installation of Fall Protection in Pre-Target
NuMI Water System Again Operational

Pump Aligned and Miscellaneous PM
This week: No work scheduled.
Test Horn week of April 10:

Need LCW.
Need enclosure interlocked.

Week of May 1:

Begin alignment work.
Begin RAW system work.
Collider Detector at Fermilab (CDF)
Power outage for 480 maintenance
The power generator had a missing phase
Had power outage earlier this week
On Schedule
D-Zero (D0)
Layer 0

Reconfigured north end of detector to extract Run IIa beam pipe
Removed Run IIa beam pipe from Collision Hall
Transport Layer 0 to Collision Hall
Load Layer 0 and Run IIb beam pipe into EC north beam pipe

Level 1 Calorimeter Trigger

Move L1Cal trigger crates from sidewalk to MCH1
Continue routing BLS cables to patch panels

Level 1 Central Track Trigger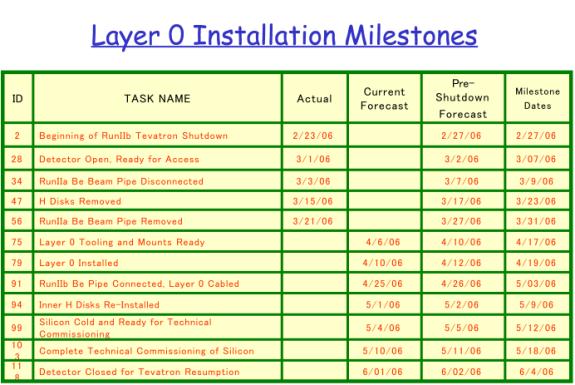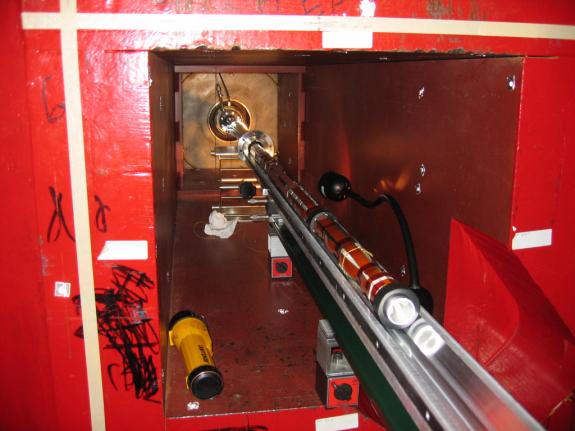 Mechanical
No Report
Cryo Operations
Tevatron at LN2 temperature and LN2 usage is stable with vendor deliveries. Helium losses are slightly up at 13 kscf/day (1/3-1/2 of normal during TeV operations).
A1, A3, and E2 are at room temperature and isolated with LOTO. F4 has been completed by MSD and currently being restored by Cryo Dept with anticipation of final walk-through and sign-off early next week; this house can be cooled down to LN2 temperature without the TEL-1 installed. A3 is also almost completed by MSD; Cryo may epoxy past noted helium leaks on power leads and spool piece conning tower leaks need addressing.
Pbar D60 Debuncher vacuum work has been completed by Pbar Dept, thus Cryo personnel will restore helium/nitrogen connections and cool down tanks to LN2 temperature next week.
ACNET application programs relating to FRIG operations are being tested on Linux consoles.
MCR monitoring cryo operations.
CHL Maintenance
General facility maintenance is in progress.
CHL Helium Compr "A" cooling tower installation is continuing with anticipated completion by month end; required piping passed pressure test and radiography. Some minor electrical/instrumentation work is left.
NRL maintenance is in progress. The IR Booster Compressor was overhauled (one piston rod needed repairs). The TSI Compressor Niagara Intercooler heat exchanger bundles were cleaned, leak checked, and over a dozen leaks were fixed with brazed patches; plans are to reinstall the Intercooler next week. Estimate return of plant back to service is after the April 3 MSS power outage.
Helium Coldbox-2 controls upgrade is in progress.
FRIG Maintenance
Ring-wide overhauls of wet expanders in progress with 13/24 completed.
Tevatron Cryogenic Transfer Line E4-F1 air-to-vacuum leak at F1-end bellows was repaired successfully. However, two plate relief valves (D4-E1, A1-A2) on the TRL LN2 circuit were lifted and thus required depressurizing and thawing for resealing.
Five IHI cold compressors were removed for inspection and are being overhauled.
Various FRIG bldg vacuum maintenance and instrumentation repairs (e.g. lost charge on VPTs) are in progress, as well as support work on houses at room temperature and other equipment as things fail even during the shutdown period.
Various Mycom compressor maintenance is in progress: leak hunting and general repairs, F0#1 compressor replacement, F0#3 motor starter replacement
No Report
Work continues.
Work continues.
Controls
The database will be down on Saturday, March 25
ES&H Upgrades
Safety System Upgrades
Data Acquisition System 95% Complete

16 of 17 Linux Ethernet Port Replicator (LEPR) chassis installed

Booster 40% Complete

Remove RDF Area
Booster Dump Move Configuration Changes

Main Injector 15% Complete

Lower Level Controlled Access Displays Replaced
Main Injector Coasting Beam System changes
Lam10 Critical Device Interface Installation
P-Bar Source 60% Complete
Radiation Monitor Card Replacement
Safety System Power Supply Replacement
Interlock New BSC700 Beam Stop
Moving location of both Tevatron Coasting Beam Gate Valves
MT6 Section 1 & 2 30% Complete
Complete Enclosure Interlock System Upgrade
Safety System Testing 0% Complete
All areas need to be re-tested before startup.
~3.5 R total dose for the first 3 weeks of the shutdown.
Reminder to get weekly dose cards or electronic dose recording turned in on Monday's.
EE Support
No Report
Shutdown Schedule for March 24 through to March 31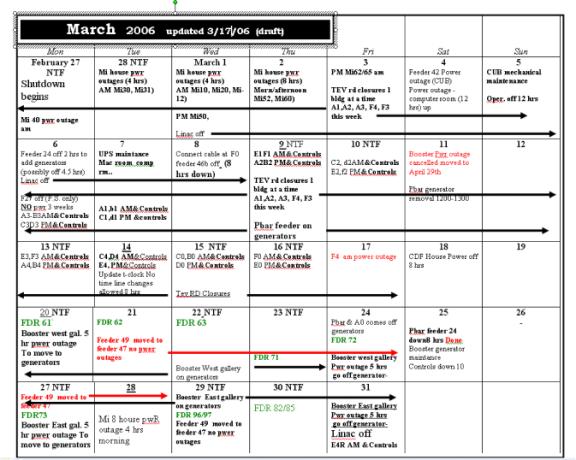 Alignment
Tevatron

Completed A49 Separators
Completed Rough Align TEL II
Completed Bypass Alignment (TEL II) (Miscellaneous Components)
Completed 40% Unrolls
Completed Tie-Rod Elevation run 50%
Scheduled B48 Separators (Today)
Scheduled Unrolls
Scheduled Deep Rod installation.
Scheduled TEL II, TEL I support.

Main Injector

Completed Alignment MI 222
Completed MI 321 Quad and adjacent Lambertson
Completed MI 521-522 Quad and adjacent Lambertson
Scheduled MI 608
Scheduled MI 620

8Gev

Completed 4 Collimators at CB836 and CB838.
Scheduled " The installation of the MI-8 beam dump will require alignment. Several kickers will be installed, one septa magnet, 1 BPM, 2 Toroids, beam pipe, 1 quad will be moved and two multiwires."

P-Bar

Completed 90% Elevation runs (Drops are still needed)

400Mev
Recycler

Scheduled 180 Deg. Magnet alignment and beam pipe.
MiniBooNE
CDF
Linac

Scheduled Align changes to upstream 400 MeV line in Linac enclosure, Q74

MIPP

Completed 90% of requested as found.
Add Ons

Completed as found E21-2
Completed as Set E21-2
Scheduled Tevatron Unrolls (May bring in second crew)
More Information
For Tevatron luminosity charts and the current status of Fermilab's accelerators and detectors (live!), please go to Fermilab Now.
Comments and Suggestions
What do you think about the Accelerator Updates? Please send comments and suggestions to: accelupdates@fnal.gov.