March 10 - 17
Started Preventative Maintenance on H.E. LINAC Klystron Systems
Tune-Up of RF stations LRF1 to LRF3
Diagnose Various LE Quadrupole Problems
NTF Patient Treatment (M, W, & Th)
LLRF Characterization on LRF5
Anode Bulk Supply Upgrade
45°/90° Magnet PS Maintenance
Return L.E. LRF7 Back to 7835 Tube Conditioning from MuCool 200 MHz Cavity Conditioning
MuCool Alignment planned for today
March 17 - 24
Continue Preventative maintenance on H.E. LINAC Klystron Systems
Investigate Q3Bulk Supply
LLRF Characterization on LRF5
Anode Bulk Supply Upgrade
NTF Patient Treatment (M, W, & Th)
Completed Work
Cleaned L.E. LINAC Modulators & Rectifiers (LFR1-LRF5)
L.E. Water Maintenance
Modified Chopper for MuCool
Cleaned Filters on 8 Ion Pump power supplies
Dump and Shielding installed
MI-8 quads re-installed
Starting Kicker installation
LCW pipe for corrector upgrade nearly done
ORBMP magnet issues – delaying install
MI-8 LEP corrector coils replaced
One transformer replaced – more next week
RF maintenance continues
Still waiting on MI-8 conduit!
Big hole outside BWT getting bigger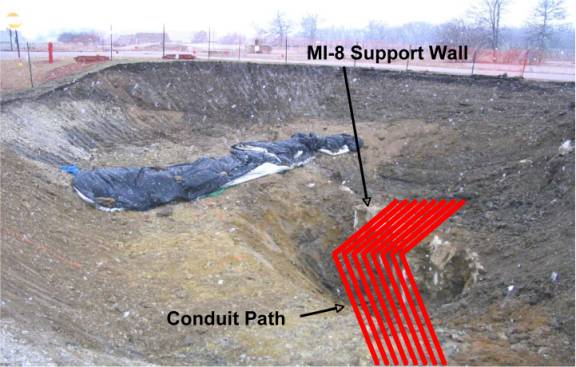 Reminder
13.8KV Transformer/Switchgear Replacement
Prepare for next week's transformer/switchgear work
208V work
Schedule for power outage and switch to generator 0700 to 12:00 for electrical work and switch over to generator
This will affect BWT, BWG, MuCool and Booster Tunnel
Pbar
On Schedule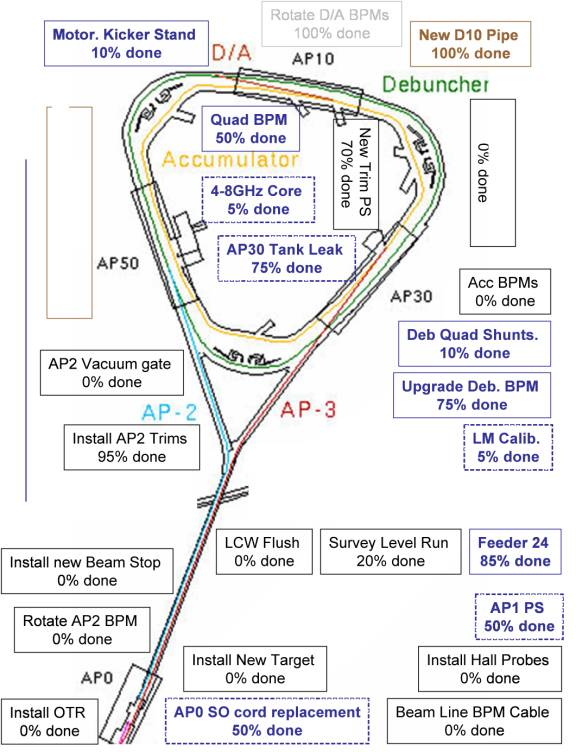 Began installation of new MI8 line multiwires
Continued installation of MI8 collimator
Continued installation of MI10 kicker cooling system
Replaced LEP correction elements in MI8.
Began measuring BPM cable attenuation.
Began installation of a large aperture quad at 222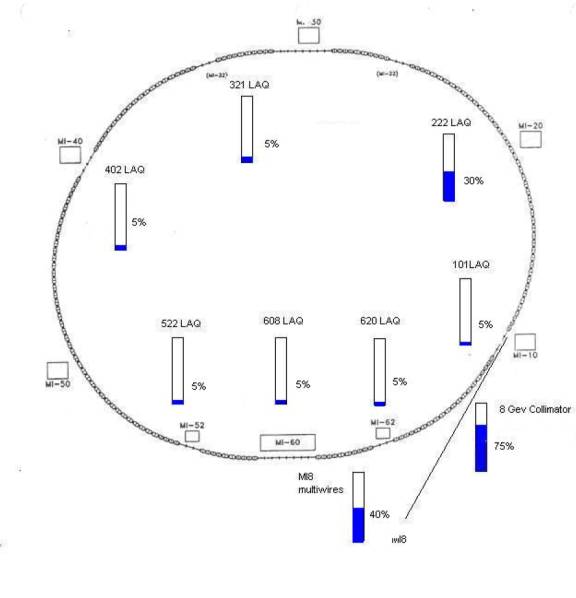 The major work is the on the kicker and the Flying Wire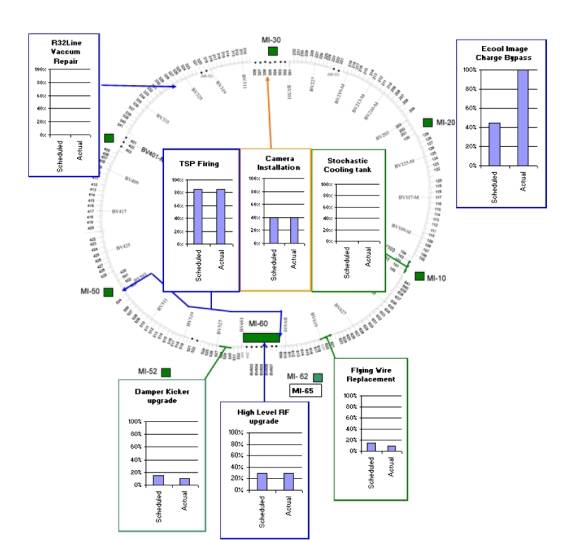 Progress
Kicker at A0 back in place
TEL1 removed from TEV sent to IB2 trying to determine where He to vacuum leak is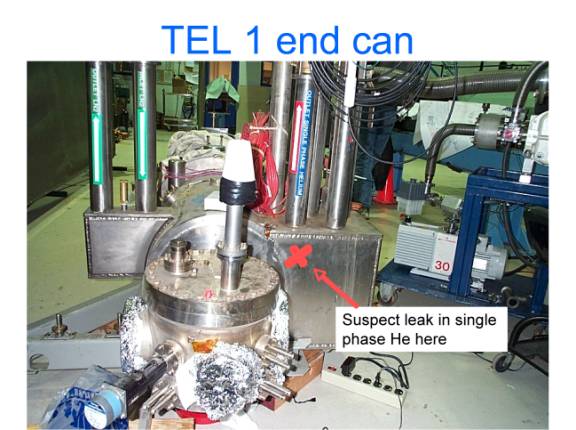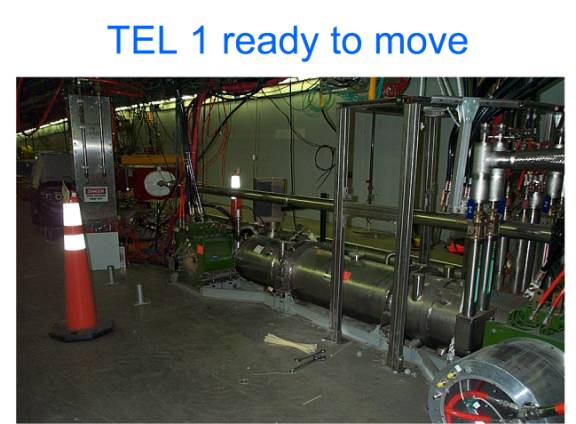 Quad at A38 replaced and quad at A39 unrolled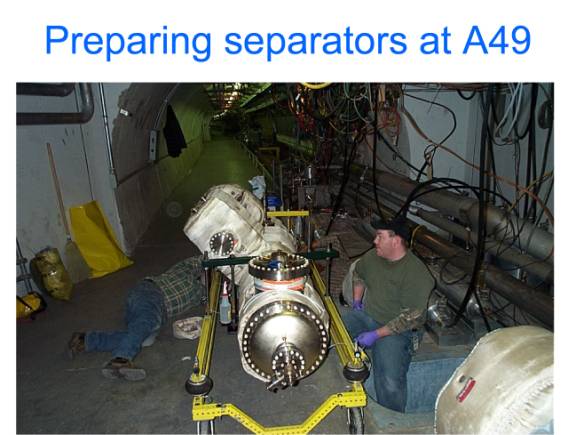 Separators landed at A49 survey underway
C and D sector HLS plumbed in and tested
Crystal collimator installed bake out underway
Valves installed at E17 flying wire
Replaced Spool at F47 certifying house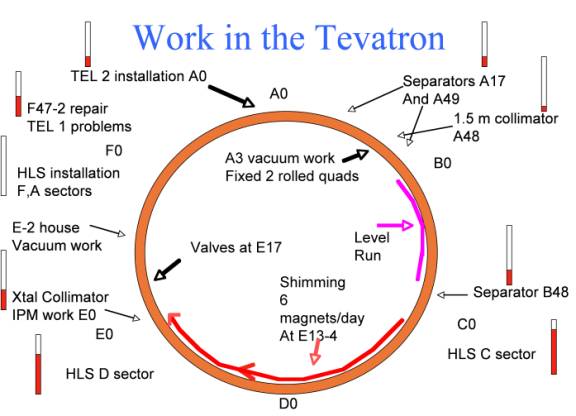 No Report
Optimistic for Repair of Horn 2 Ceramic Break
Radiation Mapping Horn for ALARA
Starting to Develop Work Procedures
Target Hall Crane
Target Hall Crane Hoist VFD and Hoist Brake Repaired
Target Hall Crane Hoist Brake Failure

Repairs Starting This Morning
Scaffolding Construction for Drip Pan Removal on Hold
Misc.
Drain And Calcite Cleaning Started in Pre-Target
Pre-Target to Target Hall Air Leaks Sealed
Beginning Installation of Fall Protection in Pre-Target
20 KW Quad Power Supply Current Regulator Modifications Progressing
New Motor Operated 13.8 KV Switch for TR-MI65B in Place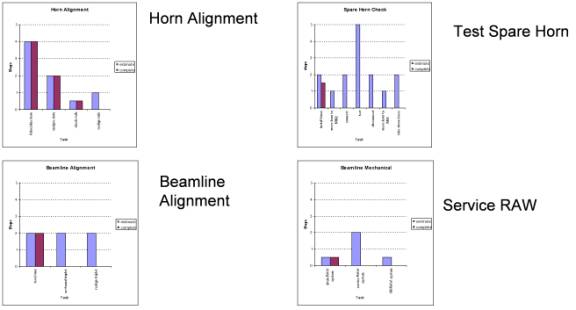 Collider Detector at Fermilab (CDF)
Flammable gas is off.
The collision hall and detector survey has been completed
Cable tray installed
Power Outage on Saturday, March 18
D-Zero (D0)
Layer 0
Extraction of inner H disks completed
Adapter card installation and testing completed
Preparing to extract Run IIa beam pipe
Trial run of transporting dummy Layer 0 to collision hall
Level 1 Calorimeter Trigger
Installation of infrastructure in Movable Counting House nearly complete
Level 1 Central Track Trigger
DFEA crates extracted and DFEA2 crates installed
AFE II
Successful test of pre-production boards on platform
Detector Maintenance
Southeast ICD drawer extracted for testing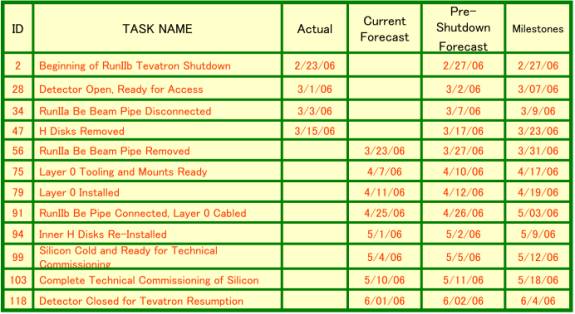 Mechanical
Work is going well.
Cryo Operations
Tevatron at LN2 temperature and stable with magnet cryostat vacuum problems addressed well by MSD/Vacuum Group; B4 vacuum CIA controls crate work affecting B4 upstream magnet cryostat vacuum. No cryo problems with scheduled power outages of individual houses and feeders, though C-sector controls FE problems after C0 power outage allowed power leads to get too cold thus may have some frozen LCW lines (need checking for leaks once LCW pressures are restored). Helium losses are stable at 10 kscf/day (1/3-1/2 of normal during TeV operations). LN2 usage is stable and vendor deliveries are fine.
F4, A3 and A1 are at room temperature and isolated with LOTO; E2 is slowly warming up to room temperature though magnet cryostat vacuum is still intact.
ACNET application programs relating to FRIG operations are being tested on Linux consoles.
MCR monitoring cryo operations.
CHL Maintenance
General facility maintenance is in progress
CHL Helium Compr "A" cooling tower installation is continuing with anticipated completion by month end.
NRL maintenance is in progress, which includes overhauling the IR Booster Compressor (one piston rod needs repair) and cleaning the Niagara Intercooler for the TSI Compressor. Niagara Intercooler (see picture) had 6,000 pounds of mud/scale building) that is being mechanically cleaned; one Intercooler bundle was found with leak (corrosion) that will require repair. Marley cooling tower inspection/maintenance was completed by subcontractor. Estimate return of plant back to service is 2 weeks.
Helium Coldbox-2 controls upgrade is in progress.
FRIG Maintenance
Ring-wide overhauls of wet expanders in progress with 11/24 completed.
Cryogenic Transfer Line E4-F1 air-to-vacuum leak at F1-end bellows was verified and repairs are in progress.
Five IHI cold compressors were removed for inspection and are being overhauled.
Various FRIG bldg vacuum maintenance and instrumentation repairs (e.g. lost charge on VPTs) are in progress, as well as support work on houses at room temperature and other equipment as things fail even during the shutdown period.
Order has been placed for the new Kautzky relief poppets. Design change was made to help expedite the order. As soon as 250 are ready we'll send someone in to pick them up. This is enough to do one sector. Six houses (A1, A3, D4, E1, E2, and F4) were checked in place with only one suspected failure (D46-5) in addition to confirmed failure at F47-2.
Controls Dept completed replacement of all FRIG Front End UPS units with new ones.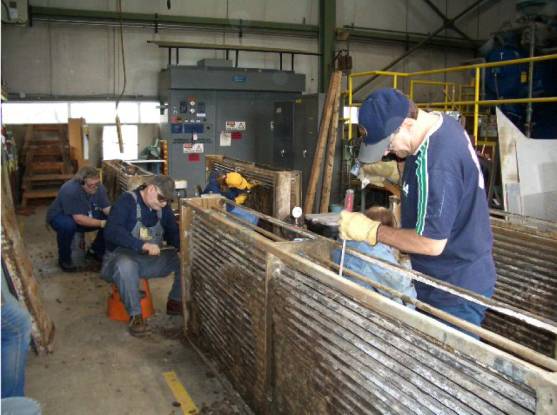 Various Mycom compressor maintenance is in progress: leak hunting and general repairs, F0#1 compressor replacement, F0#3 motor starter replacement
Cooling Tower Repair
95 Booster LCW system
CUB
Shutdown went well
Inspected the main tower water tank – minimal silt and shells
Chiller #2 ran well (it was overhauled two weeks ago)
High Voltage
Tunnel lighting completed in MI and Pbar
Site
Hydrant flushing yielded ~500 lbs zebra muscle shells.
Work continues.
Work continues.
Controls
A CAMAC crate power supply will be replaced in the MCR on Tuesday, March 21
ES&H Upgrades
Data Acquisition System 95% Complete
16 of 17 Linux Ethernet Port Replicator (LEPR) chassis installed
VME Data Acquisition Computer has been retired (Really Good Thing)
Booster 40% Complete
Remove RDF Area
Booster Dump Move Configuration Changes
Main Injector 15% Complete
Lower Level Controlled Access Displays Replaced
Main Injector Coasting Beam System changes
Lam10 Critical Device Interface Installation
P-Bar Source 40% Complete
Radiation Monitor Card Replacement
Safety System Power Supply Replacement
Interlock New BSC700 Beam Stop
Tevatron 50% Complete
Moving location of both Tevatron Coasting Beam Gate Valves
MT6 Section 1 & 2 5% Complete
Complete Enclosure Interlock System Upgrade
Safety System Testing 0% Complete
All areas need to be re-tested before startup.
Equipment
Air Packs and Oxygen Monitors checked out from the MCR need to be returned daily.
There are a limited number of personal oxygen monitors available.
Bump Caps – Expect more to arrive today
EE Support
On Schedule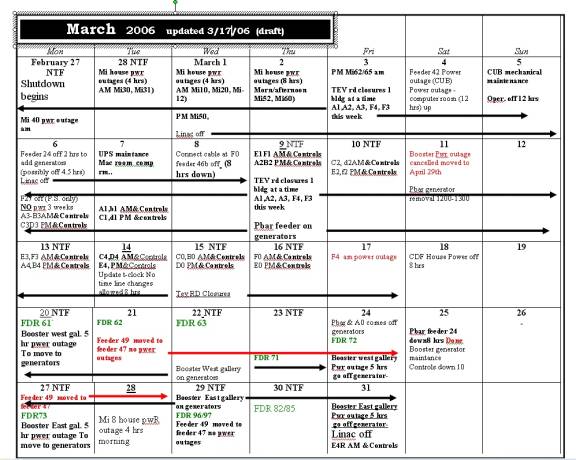 Shutdown Schedule for March 20 through to March 26
Alignment
D-Zero 14%
Meson Test 0%
SwitchYard 120 60%
Tevatron 25%
MI-8 7%
Main Injector 57%
NuMI 15%
Recycler 0%
MiniBooNE 36%
CDF 100%
Booster 0%
Pbar 26%
Meson Center 30%
400 MeV 21%
Tevatron
Completed "as founds' for Pbar kicker and TEL #1
Started D0 level run
MI
Completed "as founds" for 608 and 402
NuMI
Completed "vertical drops" for SR1
Completed "as founds" for MI and NuMI
Completed level run between MI-60 and NuMI SR3
MiniBooNE
Completed level runs
Fiducialized MiniBooNE Horn
CDF
Completed the survey of the west side IMU steel
Completed "as founds" for detector vertical checks and control
Add Ons
Completed "as founds" for failed TeV dipole at F47-2
Completed "as founds" for failed spool at F47-1
30% finished of magnet unrolls
Pbar
Completed reference level run
400 MeV
Completed 400 MeV stake survey on floor
Completed 400 MeV Line Girder stake survey
Recycler
Completed realign of 180 degree magnet
MIPP/E907
60% finished post-run "as founds"
More Information
For Tevatron luminosity charts and the current status of Fermilab's accelerators and detectors (live!), please go to Fermilab Now.
Comments and Suggestions
What do you think about the Accelerator Updates? Please send comments and suggestions to: accelupdates@fnal.gov.