Krebs Steps Down as Director of DOE's Office of Science
by Sharon Butler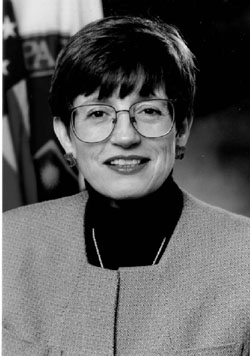 After overseeing some of the nation's finest programs in scientific research, including studies in high-energy physics, Martha Krebs, assistant secretary and director of the Office of Science at the U.S. Department of Energy, has resigned, effective in December.
"DOE and the nation owe Martha Krebs a debt of gratitude for her stewardship for the past six years of some of the nation's premier scientific research. Her expertise, energy, vision, professionalism, and her leadership will be sorely missed," said Secretary of Energy Bill Richardson. "During her tenure in the Office of Science, the Department of Energy has emerged as a global leader in science technology, and technological innovation, and has made groundbreaking collaborations with the scientific community."
DOE's Office of Science, formerly the Office of Energy Research, funds basic research in the agency's national laboratories and in universities throughout the United States. In fact, it is the largest funding source for the physical sciences, including high-energy physics.
Before Krebs took over, DOE's role in basic research was little known or appreciated, particularly in congressional circles, said John Peoples, former director of Fermilab and now Chief Executive Officer of the Sloan Digital Sky Survey. He praised Krebs for succeeding in winning recognition in Washington for DOE's science programs.
In her resignation letter, Krebs counted among her accomplishments "delivering the highest of high technology on schedule, within budget and with a level of performance that enables American scientists to lead the world in many fields."
Krebs specifically mentioned several achievements during her career, including the fact that the High-Energy Physics Program developed a new long-range plan after the Superconducting Super Collider was terminated. The main goals of that plan, she said, were expanded investments in university high-energy physics; the on-time, on-budget completion of Fermilab's Main Injector and SLAC's B Factory, and the successful negotiation and ongoing participation of American scientists in the collaboration to construct the Large Hadron Collider and its detectors at CERN.
Krebs said her position as head of DOE's Office of Science was satisfying in spite of๓and, indeed, sometimes because of๓the challenges that she and her staff faced and overcame.
In a letter to her staff, Krebs wrote that deciding to step down was not easy. "The job of Director is not meant to be a career job but it also doesn't have clear milestones, where one can say, `Now is a good time to leave.' However, I also have confidence that you and the programs will continue to move forward and make great science happen."
In a short note to Richardson, Krebs said she was assured the secretary would continue "his vigorous support of the Department's programs and especially its key role in fundamental science." She also promised the secretary that she would work with him to "provide a smooth transition for these programs."
She added, "It is never easy to say goodbye, especially when the separation will be long and involves people and work you love."