Safety First, Last and Always

by Mike Perricone

The numbers say Fermilab's injury rate is at an all-time low, perhaps the lowest in the 30-year history of the Laboratory.

"We've repeatedly asked our safety officers in each of the divisions and sections if they're hedging on the reporting and classifying of our injuries, the answer is an emphatic `No,'" said Bill Griffing, head of the Lab's Environment, Safety and Health Section. "Beyond any question of statistics, what's most important is that people are not getting hurt.

"We're seeing a genuine change in behavior throughout the Lab," Griffing continued. "People know management takes the safety issue seriously. People are taking more time to plan work properly. And they realize it doesn't necessarily add time to do a job safely. In fact, it probably saves time, because you don't have to go back and re-do a job. It really amounts to working smarter."

Griffing emphasized the role of communication by the heads of Fermilab's four divisions (Beams, Computing, Particle Physics and Technical) and four sections (Facilities Engineering Services, Business Services, Laboratory Services and ES&H), but the importance of communication is underscored again and again in the places where the day-to-day work of the Lab is conducted--especially in places where that work includes some heavy lifting.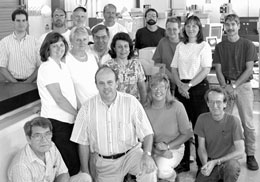 In the Technical Division, as of September 10, 1999, the Material Control Department has gone 1,551 days without a lost workday injury--that is, more than four years without an injury serious enough to cause an employee to miss a workday.
"I think we've been able to do that because our employees are listened to, we take pride in what we're doing and we have a sense of ownership in what we're dong," said department head Gregg Kobliska. "We try to make safety a part of our routine."
That record is all the more impressive considering the kind of work the department does. The bulk of those four years were spent handling the hundreds of magnets that went into the construction of the Main Injector accelerator and the Antiproton Recycler. Those magnets can weigh up to 20 tons each, and even their component parts--such as pole tips, coils, plates, halfcores, bricks and laminations--are heavy enough to require lifting by crane, sling or forklift, and transport by tractor-trailer.
There are three groups within the department: Acquisitions, which orders magnet parts and tooling; Quality Control, which inspects all parts, tooling and supplies coming into the Technical Division; and Magnet and Component Storage, which handles the magnets and parts from receiving through assembly and installation.
Kobliska emphasized that there is no "typical" day for the groups, but a composite picture of their responsibilities might include receiving and inspecting shipments at Industrial Building 4; gathering and issuing the various components to the Engineering and Fabrication Department; moving magnets to the Magnet Test Facility in Industrial Building 1; and then perhaps sending a fully-assembled magnet to the Main Injector for installation there.
All done safely, for more than four years, with no one losing a workday because of an injury.
"We held some meetings recently to get our people's ideas on why we were able to achieve this record," Kobliska said. "Many people listed communication as a key element of our safety program this involves encouraging our employees to participate and to provide input. And we listen to our employees. Listening is so important. They're the people doing the work every day. They're the people facing the hazards every day, and this is their record. I'm a facilitator. My job is to make sure they have the proper training and equipment; to back them up as much as I can in doing the right thing; and to listen to them."
Helping set an example, other groups within the Technical Division have also established strong safety records: the Magnet Test Department has gone 800 days without a lost-workday injury, and Engineering and Fabrication Department recently completed a year without a lost-workday injury.
These records, and the heightened awareness throughout the Lab, attest to the effectiveness of the ongoing Integrated Safety Management process: 1) Define the scope of the work; 2) Identify the hazards; 3) Identify the controls; 4) Do the work using the hazard controls; 5) Evaluate the work just completed, and look for opportunities to do the job better in the future.
The Labwide safety focus was summed up in a recent message from Director Michael Witherell, which concluded: "Though the numbers are important, it is the people at the Laboratory who really matter. We owe it to each other to keep our Laboratory a safe place to work."
Kobliska cited the constant challenges posed by new projects and new situations, all requiring new solutions. But he said the goal remains the same: "I want to be able to talk about this two or three years from now, and say that we still haven't had anybody hurt."