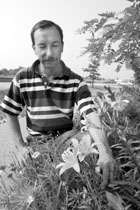 The Talk of the Lab
Simon Stops to Smell the Flowers
Flowers did not always line the east end of the DZero building; but thanks to Pete Simon, they always will. For the past four years, Simon has been working early mornings and during his lunch time to transform the dirty gravel on the east side of the DZero building into a colorful garden.
Simon thought DZero had a reputation for being too boring and business-like. "Somebody thought DZero was a little industrial," he explains. "When you look around, there's not much that's nice." So Simon decided to take matters into his own hands.
Simon, the building manager, organized the planting of the flowers on the east side of DZero. First, he got dirt from Roads and Grounds for the garden. Then, by posting fliers and signs requesting donations from other employees, he was able to acquire a large variety of bulbs and blossoms to plant. He continues to pull weeds and plant for a few hours each week.
However, Simon does not want full credit for the garden. He says he had tremendous help from everyone, from secretaries to experimenters to engineers. Most of the flowers he receives are from other people. For example, Simon said that one person donated $30 or $40 worth of bulbs for the springtime, including peonies, tulips, daffodils, and crocuses. Unfortunately, the recent rain has washed some of the flowers away.
Simon does confess that there are weeds growing on the land. "It's basically a wild, weedy garden, but if a weed has flowers on it, that's okay, we keep it," he says.
Simon wants to keep the plants under control. He says that sometimes he has to "pick flowers like they are weeds" so they do not intrude on the bike path.
Simon enjoys gardening in his spare time; when he has spare time, that is. "It is relaxing, you get outside and you can get dirty," he admits.
As for the future, Simon definitely plans to keep working on the garden and possibly doing more, though his biggest request to Roads and Grounds has always been for a 200-year old oak tree. "I don't know; they are probably still growing it for me."
—Stephanie Holmes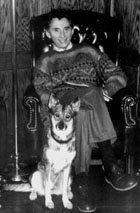 About that chair…
The poster heralding the John Peoples Symposium featured the departing Director wearing a trademark sweater, seated in his favorite chair, against a background of wood wainscoting in his home library, with his faithful canine companion close at hand. One can imagine a cozy fireplace just out of the frame.
"That photo," deadpanned Fred Bernthal, president of Universities Research Association, the Lab's contracting organization of 89 universities "really represents John's audition to replace Alistaire Cooke as the host of 'Masterpiece Theater.'"
Among the gifts Peoples received at his tribute gathering were a plaque from Fermilab's Graduate Students' Association, in appreciation of his support; a framed photograph of the Peoples's home in Geneva, taken by Visual Media Services Head Fred Ullrich and presented by Technical Division Head Peter Limon, who said the director was also "a good friend, there when you need him;" and an "appreciation plaque" from John O'Fallon of DOE, who apologetically explained that Peoples had previously been presented with the Department's Distinguished Service Award, its highest honor, which is given just once to any recipient.
The climactic gift was presented by Bernthal, who dashed off into both wings of the stage ("I don't have an assistant here and I don't even know where this thing is," was his disclaimer) before locating a sumptuous leather office chair, which he pushed back out to center stage and presented to Peoples on behalf of URA.
"You've heard of retiring to a Chair," Bernthal said, an academic allusion, "well, we don't have Chairs at Fermilab—other than the real thing. We thought about a couch, but we decided to stick with retirement to a chair. So there it is, John, and congratulations."
Peoples assumed his position in the new chair, and began delivering his closing remarks, saying: "Since this is being recorded, it's nice to get a few things down for history."
—Mike Perricone