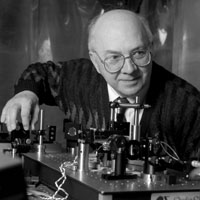 Pedalto theMetal
Employee Award winner Frank Nezrick brought a hard-driving history to Main Injector Safety Review Committee.
By Mike Perricone
Hanging a large-scale Ferrari poster in your office might represent a wistful dream for most sports car enthusiasts. For Frank Nezrick, it's a fond memory.
Nezrick bought a Ferrari in the 1960s while working at CERN, the European particle physics laboratory in Geneva, Switzerland. When he joined Fermilab in the summer of 1968, he brought the Ferrari with him.
"Originally, our offices were in Oak Brook, which was perfect for the Ferrari," he recalled. "When we moved to this site, the mud and dirt were not the place for a Ferrari, and I sold it."
Nezrick has attended the famed Skip Barber racing school and holds licenses from two national racing organizations. He began racing in the old Super Vee class (super-powered, open-wheeled Volkswagen Beetles). He raced an open cockpit Fiat Abarth for years until back problems made racing too painful.
He looks as mild-mannered as a coin collector—which he is, as well as being a carpenter; and professionally, he was researching neutrinos as early as 1959. Nezrick has also served in many administrative capacities in his 31 years at the Lab, and his 14 months of chairing the Main Injector Safety Review Committee earned him a Fermilab Employee Recognition Award on May 7.
Beams Division Head Steve Holmes cited Nezrick's leadership in completing the safety reviews necessary for the commissioning of the Main Injector. Mike Andrews of the Beams Division's Environment, Safety and Health Department cited his patience and dedication to detail during this highly demanding period, and ES&H Head Bill Griffing said Nezrick "has demonstrated an ability to successfully manage a large task under considerable time pressure for the good of the Laboratory."
"We were working with two parallel lines of approval," Nezrick explained. "The official line of approval went from ES&H to DOE to Lab Director John Peoples to the Beams Division head. In parallel, Steve Holmes wanted an independent assessment team that reported directly to him. Everyone was pushing very hard to have the Main Injector commissioned rapidly, and we wanted to avoid problems coming up at the last minute."
Now Nezrick is refocusing his attention toward smaller, non-accelerator experiments; and investigating axions, theoretical weakly-interacting fields proposed as a solution to the problem of dark matter in the universe.
He also mines surplus equipment, including three dipole magnets salvaged from the SSC for a laser interferometer, for proposed experiment P877. The goal: measure the effect of a magnetic field on the speed of light in a vacuum, within one part in 1025—as precise, he explains, as measuring the distance to the star Alpha Centauri within the diameter of a hydrogen atom.
Parked in the dust and gravel outside his portakamp lab, Nezrick's surprisingly-docile subcompact bears the Illinois license plate "AXION 4."
"I wanted plain 'AXION,'" he said. "But there's a detergent with that name. I suspect somebody from Procter and Gamble beat me to it."