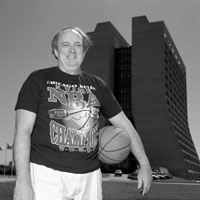 Getting Physical
National Academy elects Fermilab theorist Bill Bardeen
By Judy Jackson
Sure, Fermilab theorist Bill Bardeen was elected to the National Academy of Sciences last month for his distinguished contributions to theoretical physics. But can he go to his left?
"Not really. I wouldn't say he can go to his right either. He does have a jump shot," said engineering physicist Al Sondgeroth. As a ballplayer himself, Sondgeroth has had plenty of opportunity to critique the on-court prowess of the 6'1" Bardeen, who plays forward a couple of times a week in the Fermilab Lunchtime Pick-Up Floating Basketball League.
Fortunately, Bardeen's activities in the realm of the physical also extend to the physical sciences, where he gets considerably more respect. On April 28, he entered the science equivalent of the Hall of Fame when the National Academy of Sciences elected him to membership, one of only 60 U.S. scientists from all branches of science elected this year "in recognition of their distinguished and continuing achievements in original research," according to an announcement from the Academy.
Bardeen is internationally recognized for his work in the area of quantum field theory, the theoretical foundation for the understanding of modern particle physics. He is perhaps best known for his role, with theorist Stephen Adler, in formulating the Adler-Bardeen theorem that concerns anomalies in quantum field theory. Bardeen has also done pioneering work on applications of the theory of the strong force between the subatomic particles called quarks and gluons; and on mechanisms for the origin of mass in which the top quark plays a special role.
"Bill Bardeen has made many wide-ranging contributions in the area of quantum field theory," said Keith Ellis, head of Fermilab's Theory Group, "but always with an eye toward their relevance to experiment."
Bardeen was one of four physicists elected this year to the National Academy. The Academy's membership includes about 180 U.S. physicists, of whom Fermilab can claim five: physicist Alvin Tollestrup, Director Emeritus Leon Lederman, soon-to-be Director Michael Witherell, astrophysicist Michael Turner, and now Bardeen.
The National Academy of Sciences is a private organization of scientists, established in 1863 by a congressional act of incorporation, signed by Abraham Lincoln, that calls on the Academy to act as an official advisor to the federal government, upon request, in any matter of science or technology.
Fellow Fermilab theorist and basketball player Rocky Kolb admires the laconic Bardeen's style, both on and off the court.
"I would describe Bill Bardeen's style of basketball as quiet intensity," Kolb said. "I guess that is not surprising, because he is a quiet physicist. He doesn't say very much—he lets his papers talk for him. On the basketball court, it's the same. He doesn't say much—-he lets his elbows talk for him."