Hand-Crafting the News and Launching New Careers

by Katie Yurkewicz
Seven editors, a dozen photographers, and scores of writers have contributed to FERMINEWS throughout its 26 years. From modest beginnings, it evolved into a magazine that launched science-writing careers for journalists at National Public Radio, The Houston Chronicle, Astronomy Magazine and other notable publications.

Rene Donaldson, former editor of FERMINEWS and later editor of SLAC's Beam Line, with original lab photographer Tony Frelo, founding editor Margaret Pearson, and FERMINEWS correspondents in 1981. Seated, from left: Peggie Lasenby and Rene Donaldson. Standing, from left: Tony Frelo, Barb Edmondson, Michelle Gleason, Pat Yost, Thornton Murphy, Phyllis Hale, Dick Carrigan, Dennis Theriot, Jean Plese, Margaret Pearson, Harlan Dick, Bob Trendler, Treva Gourlay, Cynthia Sazama, Brad Cox, Hank Hinterberger, Roy Rubinstein, Elsie Renaud, Jim Finks and Barb Perington. - Fermilab photo
"I was 21, about to graduate with a journalism degree, and I was only applying to jobs that looked really cool," said Katherine Arnold, FERMINEWS intern in 1997 and now news editor at the Journal of the National Cancer Institute. "Don Sena [former assistant head of Public Affairs and FERMINEWS writer] called me four weeks before graduation to say that I wasn't qualified for the job I'd applied for, but asked if I would consider being an intern. It was an outstanding experience to be surrounded by intelligent people who love what they do."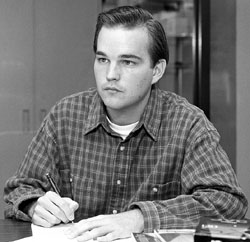 Former intern Eric Berger, now a medicine and science writer at the Houston Chronicle, conducting a FermiNews interview in 1996. "FERMINEWS really helped me practice the art of taking something complicated and esoteric and making it relevant to people. When you're dealing with fundamental particles of the universe, like the Higgs boson, that's a real challenge." Among other former FERMINEWS writers, David Kestenbaum now reports for National Public Radio and Pamela Zerbinos has joined Astronomy Magazine.

Sena, now Senior Editor at Microsoft's MSN Web Portal, brought experience as a reporter for the Washington Post and the Chicago Tribune. He instituted meetings where the editor, writers and photographers brainstormed ideas for the broad range of stories FERMINEWS covered, from scientific discoveries and wildlife to visiting dignitaries and lab sports.

"I remember fondly a series of profiles on the university contingents, and another on the surrounding towns," said Sena. "I also remember interviews with Senator Pete Domenici and Congressmen Joe Barton. We actually had a Washington correspondent for a week, which was great."

Expanded news coverage and changes in design also enhanced the impact of photos and illustrations.

"Working with the photographers from Visual Media Services was really a high point," remembered Leila Belkora. "I had never realized how much help in storytelling you could get from the pictures." Belkora, who published "Minding the Heavens: The Story of Our Discovery of the Milky Way" in 2002, developed her interest in the history of science while at the lab from 1995 to 1997.

"I remember going out with Leila to Rock Island, Illinois to photograph the lamination stacking of the dipoles for the Main Injector," said photographer and VMS manager Fred Ullrich. "We traveled four-and-a-half hours through a blizzard to get several shots and an interview. It was a great time."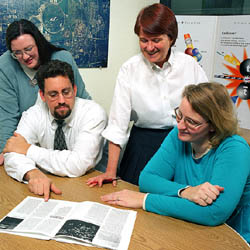 The 1997 Fermilab Public Affairs Staff (from left): Kathy Johnson, Don Sena, Judy Jackson and Luann O'Boyle. "One of the great challenges and one of the most satisfying things about FERMINEWS in its recent incarnation is the ability to write stories that appeal to people with a very broad range of interests. It has let people connect in a human way to life at a particle accelerator laboratory," said Jackson, current head of Public Affairs. - Photos by Reidar Hahn

In the early days, the layout, printing and mailing were mostly done by hand. Rick Fenner, former editor of FERMINEWS and current Manager of Scientific Information Services for Argonne's Advanced Photon Source, remembered paste-ups on paper and getting the first Macintosh computer, when he could only see one-quarter of a page at a time on the screen. Cindy Crego, editor of FERMINEWS in the early 1990s and now deputy head of Lab Services, recalled the "mailing parties."

"When FERMINEWS came in from the printer, we only had an hour to label and bundle over 3,000 copies," she said. "Every one in the publications office would pitch in—we would have contests on who could label the most the fastest. We'd always have paper cuts when we were done, but we learned that superglue will close them right up."

Employees who have contributed to FERMINEWS said they enjoyed working and learning from each other as much as they relished meeting people from all around the laboratory and beyond while on assignment.

"The stories I really enjoyed were about retirees," recalled Crego. "Jean Slisz and I would interview people as they were leaving, and they would tell wonderful tales of their work here, the experiences that they had and the challenges that they met. It was a nice way to say goodbye to them, and to give them the opportunity to pass down a little bit of lab history."

As FERMINEWS now retires and all of its tales become part of Fermilab history, its many contributors bid it a fond farewell.
---
On the Web:
FermiNews Archive:
www.fnal.gov/pub/ferminews/