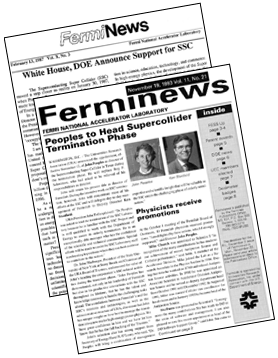 A hit and a miss: in 1987, FERMINEWS reported support in Washington for the SSC; in 1993, the news was John Peoples' appointment to terminate the SSC.
Fermilab's Greatest Hits (1978-2004)

by Mike Perricone
Fermilab has a history of making history, and FERMINEWS has been there to tell the story since 1978. Whether in discovery—the top quark announcement in 1995—or disappointment—losing out on the Superconducting Super Collider in 1988—FERMINEWS has brought its readers a record of events with steadily growing renown for its standards of writing and reporting.
But there would be no news without the science, and no history without the work of the thousands of researchers who have made the lab the world's focus in particle physics for the 26 years of FERMINEWS's run. Here are many of the lab's greatest hits chronicled in these pages since 1978:
Leon Lederman appointed director—October 19, 1978
Commissioning of Doubler (Tevatron)—July 5, 1983
Groundbreaking for Antiproton Source—August 16, 1983
Doubler (Tevatron) hits 800 GeV—February 16, 1984
First 1.6 TeV Proton-Antiproton Collisions at CDF—October 13, 1985
Leon Lederman wins Nobel Prize—October 19, 1988
John Peoples appointed director—April 19, 1989
Norman F. Ramsey wins Nobel Prize—October 12, 1989
First website established—June, 1992 (ties for 2nd in U.S. with MIT, behind No. 1 SLAC)
John Peoples named to direct SSC shutdown—November 12, 1993
Discovery of Top Quark announced—March 2, 1995
Signing of $531 million LHC agreement—December 8, 1997
First light of SDSS—May 9, 1998
Michael Witherell appointed director—March 5, 1999
KTeV announces new result for E'/E—March 19, 1999
Commissioning of Main Injector—April 28, 1999
Discovery of tau neutrino—July 20, 2000
Death of Robert Rathbun Wilson—January 16, 2001
Collider Run II begins—March 1, 2001
First cosmic ray events at Pierre Auger Observatory—June 8, 2001
KTeV announces new result for sin2Øw—October 26, 2001
First MiniBooNE events—September 12, 2002
First MINOS data—August 14, 2003
CDMS sets most sensitive dark matter limits—May 3, 2004
First Fermilab magnet shipped to LHC—May 11, 2004
What's next? The stories of the next few years:
Neutrinos

MiniBooNE: fourth neutrino, yes or no
MINOS: precision neutrino mass measurements
First evidence of CP violation in neutrino sector

B physics

First observation of Bs mixing at Tevatron
BTeV measurement of

Top

Precision measurements at Tevatron
Single top production at Tevatron

Dark matter

CDMS discovery or further best limits on WIMPS

Higgs search

New Tevatron limits, both from direct searches and indirect (precision top and MW measurements)

SUSY

Extending the search reach for supersymmetry particles

LHC

First LHC data analyzed at Fermilab

Linear Collider

LC technology selection
Decision on building

Astrophysics

Pierre Auger: decision on excess of ultra high energy cosmic rays
Completion of Sloan Digital Sky Survey


Discovery of the Top Quark: The Building of the Dream

| | | |
| --- | --- | --- |
| Tevatron construction, 1982 | Aerial of the site, 1978 | Antiproton Source construction, 1983 |
| | | |
| --- | --- | --- |
| Delivering the CDF endcap, 1984 | Dedication of the Tevatron, 1985 | First P-Pbar event at CDF, 1985 |

DZero construction work, 1987

Top Quark event, 1994

...made headlines around the world, 1995

Official announcement of the discovery...
---
On the Web:
FermiNews Archive:
www.fnal.gov/pub/ferminews/