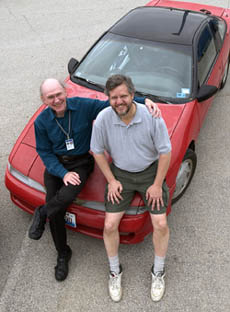 Friendship and used cars do mix, as long as you keep the oil changed. Here are Bob Flora (left) and Brian Chase today, with the 1990 Mitsubishi Eclipse sport coupe that Chase bought from Flora in March, 1996. The car was the subject of the longest-running Classified ad in FERMINEWS history. - Photo by Reidar Hahn
Buying a Used Car From a Friend: It's a Long Story
by Mike Perricone
"Friendship and money: oil and water."
—Mario Puzo, "The Godfather, Part III"
For more than three months (December, 1995 through March, 1996) Bob Flora kept making an offer that everybody seemed able to refuse. Every two weeks, he ran an ad in FERMINEWS offering his red 1990 Mitsubishi Eclipse for sale, at a price ranging from a hopeful high of $9,513 to a close-shaved low of $8,651.
The sales campaign wound up as a back-page story in the FERMINEWS issue of March 8, 1996, headlined: "THE LONGEST-RUNNING CLASSIFIED AD." Accompanying the story was a graph displaying price and mileage as a function of time. Apparently, the publicity had its effect.
"There's a nice twist to the story," Flora said.
Shortly after the story appeared, Flora sold the car to Brian Chase, a friend who worked a few doors down the hall in the Transfer Gallery. Flora admitted to "bringing the price down a little," but a used-car transaction can be a fast way to end a friendship. So what happened next? "Bob and I have known and worked together for years," said Chase, "and, yes—we are still friends after the transaction. Bob has helped me out with the Eclipse several times. He is the only guy that I know that has a mechanic's pit built into his garage, and I have always been able to make him feel guilty enough to give me a hand when I needed it. Who says buying a car from a friend is a bad idea?"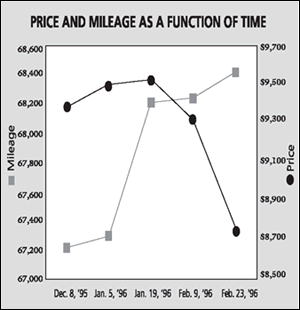 Not only are they still friends, but the 1990 Eclipse is still running.
"We now have four drivers in our family," Chase reported. "When I bought it, my three young boys all could fit in the back seat. Now two of them are over six feet tall, so those days are long gone. I still enjoy taking it out for a drive in the country, though. It's been a good car." Flora knows just what he means.
"When I sold that one," Flora said, "I went out and bought another one exactly like it. I'm still driving it."