DASTOW '04: Wings and Wonders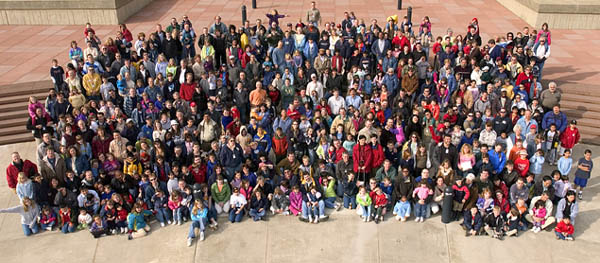 A record turnout of some 400 employees and family members gathered for the annual group portrait in front of Wilson Hall.
Thursday, April 22, 2004: Daughters and Sons to Work Day at Fermilab took flight from its first moments and soared through the day. In a record turnout, some 400 employees and family members were charmed by an early bird walk with Peter Kasper; awed by the beauty of butterflies in Tom Peterson's presentation; thrilled by a simulated helicopter rescue, courtesy of the Fermilab Fire Department and LifeStar helicopter service of Loyola University Hospital; gratified by their work in planting trees in celebration of Earth Day; filled by a hot dog lunch; enlightened by demonstrations at the Leon Lederman Science Education Center; chilled by Jerry Zimmerman's super-cool Cryo Show, and transported back to prairie days by a visit to the buffalo pasture with veteran herdsman Don Hanson. Photos by Fermilab Visual Media Services.
| | |
| --- | --- |
| The Early Bird Walk began the day. | Tom Peterson's "The Butterflies of Fermilab" showed that science is also about beauty and wonder. |
| | |
| --- | --- |
| Loyola University Hospital's LifeStar helicopter dropped in for a simulated rescue. | A crash dummy is transferred to the chopper. |
| | | |
| --- | --- | --- |
| Michael Fox, 7, has all the hot dog he can handle. | Jerry Zimmerman was again Mr. Cool. | Catherine Jordan, 9, conducts a unique electricity experiment at the Lederman Science Education Center. |
| | |
| --- | --- |
| Daena Wallace, 12 (left), and Kariya Spillers, 10 (right) get planting tips from Roshanda Nowlin of Accelerator Division. | Melanie Groenwald, 5 (left), tries on a set of bison headphones, assisted by sister Caitlin, 7. |