Good Neighbor Policy
Fermilab Community Task Force will identify common interests and values
by Katie Yurkewicz
In a major step toward strengthening relationships with its neighbors, Fermilab is forming a Community Task Force on Public Participation with about 25 representatives from DuPage, Kane and DeKalb Counties.
The mission of the Task Force is to develop a set of expectations for how Fermilab and the community should interact on issues that affect them both.
"I'm anxious for the task force to get started," said Fermilab Director Michael Witherell. "We're beginning a process that will continue for as long as the laboratory is here."
"Anything we do in the future will have an impact on our neighbors as well as on ourselves," said Steve Holmes, Fermilab's associate director for accelerators.
With an initial gathering in late March, the Task Force will meet over the next six to eight months to form its recommendations.
The Task Force grows from a simple principle: The best way to find out how the public wants to be involved is to ask. The task force will provide advice to the laboratory by answering three key questions: How can Fermilab identify the types of issues that need public involvement? For each type of issue, how would Fermilab interact with the public? How should Fermilab keep the community informed about each type of issue?
The final report of the task force's recommendations will guide the laboratory in drawing up a comprehensive public participation plan. Fermilab is mounting the task force effort in cooperation with the Illinois Center for Accelerator Research, Northern Illinois University, and The Perspectives Group, of Alexandria, Virginia. This independent consulting firm, with extensive experience assisting government, business and non-profit groups with public participation, will provide facilitation support for the task force.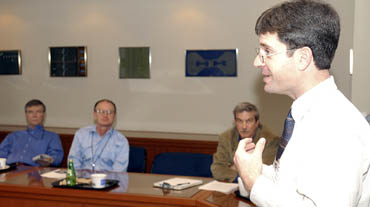 David Bidwell, consultant from The Perspectives Group, outlines plans for the Fermilab Community Task Force to an audience including (from left) Deputy Director Ken Stanfield, Director Michael Witherell and Assistant Director for Program Planning Jeff Appel. - Photo by Reidar Hahn

"The task force will address how Fermilab and its neighbors will interact on any issue—physical, environmental, economic or cultural—where the activities at the laboratory intersect with the surrounding communities," said David Bidwell, a consultant with The Perspectives Group. "They will learn about the spectrum of possibilities at Fermilab and set up priorities for community involvement."

Judy Jackson, head of Fermilab's Office of Public Affairs, said the laboratory is in an ideal time and situation to seek community advice on public participation. The laboratory has a good reputation in the community, and there are no specific proposals currently under consideration. Other laboratories have begun the public participation process only after an important issue arose that demanded community involvement.

"We're not doing this when we're forced to," explained Jackson. "We have the luxury of taking the time to ask the community how they would like to be consulted. We believe that Fermilab will make better decisions with the benefit of the participation of our neighbors."

The U. S. Department of Energy has encouraged Fermilab to begin a formal process of community involvement, while recognizing the laboratory's past successes in community outreach.

"At our laboratories, we want to be good neighbors," said Jane Monhart, area manager at the Department of Energy's Fermi Area Office. "We are not going to be successful in our science mission without public support. Historically, Fermilab has had good relationships with the community, but that doesn't mean we can't do better."

The initiative has had a good reception from neighboring communities.

"I think it's an idea whose time has come," said Batavia Mayor Jeffrey Schielke, who hopes the task force will suggest "creative ways to allow the public to have a better interaction with the laboratory."

For the public participation process to be meaningful and accepted by Fermilab's neighbors, task force members must represent all facets of the diverse community. Northern Illinois University's Center for Governmental Research has been conducting extensive interviews with people in the surrounding communities to identify task force candidates. Members will include elected officials, educators, environmental and business advocates, senior citizens, high school students and Fermilab employees.

"A lot of people have a stake in Fermilab and in Fermilab's future," said Jackson.

In order to stay on the cutting edge of high-energy physics, Fermilab expects to face big decisions in the years to come. Understanding the community's needs for information and involvement will be essential for achieving the kind of future the laboratory and its neighbors would like to see.
---
On the Web:
City of Aurora: www.ci.aurora.il.us
City of Batavia: www.cityofbatavia.net
City of West Chicago: www.westchicago.org
City of Geneva: www.geneva.il.us
City of Warrenville: www.warrenville.il.us