Volunteers Foster Fermilab–SciTech Partnership


by Katie Yurkewicz

Aurora, Illinois — Where can you measure the speed of your fastball, put your hand in the center of a tornado and take a virtual stroll through 1920's Harlem?

At SciTech, the hands-on science and technology museum located in downtown Aurora. At the newly renovated museum, you and your kids can also learn about particle physics by playing the "Particle Smasher" video game or propel yourself on the human yo-yo in the Outdoor Science Park. If you're lucky, in addition to finding a paramecium in the Microscopic Movement exhibit you might spot one of the Fermilab employees who volunteer at the museum.

SciTech Hands On Museum is located at 18 W. Benton, Aurora, IL and is open to the public Mon, Tue, Wed, Fri, Sat 10-5, Thursday 10-8 and Sunday 12-5. Admission is $7/adult, $6/child. Members enter free. The museum's latest exhibit is "Bible Times Tech," which compares 60 archeological artifacts from life in ancient Israel to today's counterparts. For more information call 630-859-3434.



Fermilab has been closely involved with SciTech since it was founded in 1988. Ernest Malamud, a former Fermilab scientist, was SciTech's founding director. Current Fermilab Director Michael Witherell and former Director Leon Lederman are members of SciTech's advisory board, and former Director John Peoples serves on its board of directors. The current Executive Director of SciTech, Ronen Mir, is a trained particle physicist and a Fermilab guest scientist.

"Fermilab encourages its employees to help SciTech as much as possible," said Mir.

Bruce Chrisman, Fermilab's associate director for administration, agreed.

"Fermilab supports SciTech any way it can," Chrisman said. "SciTech is an important part of our outreach efforts."

Chrisman and Mir meet once a month to discuss the status of the museum, its upcoming projects, and ways in which the laboratory can help. Developing exhibits, teaching classes and advising the museum on safety issues are only some of the ways that laboratory employees have contributed to the museum. The tornado that you can put your hand in? It was designed and built by Todd Johnson, a Tevatron operations specialist, who has been involved with the museum since 1989.

"I heard that Ernie Malamud was working on a museum," Johnson recalled, "and went to ask him a few questions. I was practically yanked right out of my shoes when Ernie found out that I wanted to help."

The 10-foot-tall tornado was one of his first designs.

"My patient wife put up with the six-foot-tall model, completely made of cardboard, that I built in the living room," Johnson said.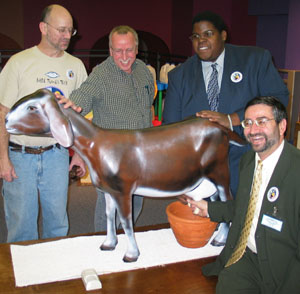 Chris Dunklau of SciTech, John Konc of Fermilab, Samuel Landers of SciTech and SciTech director Ronen Mir have contributed to the progress at SciTech. As has the goat, which is part of SciTech's new exhibit on life in ancient Israel. - Photo Matt Hutson

Since then he's designed many exhibits, including one that lets visitors experience dolphin sonar navigation and a thermo-acoustic sundial, also known as a "solar horn." Smaller versions of the tornado model were built for exhibits traveling around the nation.

John Konc from the Technical Division's Computing and Information Systems Group also volunteers at SciTech, but in a different capacity. Originally asked five years ago to set up a Web server for the museum, he ended up overhauling the museum's computer systems and infrastructure. For the past two years Konc has also taught classes in computing fundamentals at the museum.

"The classes are a lot of fun," Konc said. "The goal is to expose people to the fundamentals of computing, which we hope will stimulate a greater interest in computers."

Students in the two-week summer classes, which are geared toward those ages 14 and up, build a working computer from individual components and complete a project that teaches them software basics.

Konc also helped to train one of the current SciTech employees. In 1999, Konc met Samuel Landers, a docent at SciTech and a computer networking student at Robert Morris College. On Konc's recommendation, Landers applied for the Summer Internship in Science and Technology program at Fermilab and spent the summer of 2000 working in Konc's group. Landers now works full-time at SciTech, where Konc has taught him the ins and outs of the museum's computer systems.

Landers has set up the Virtual Reality exhibit at SciTech, which includes a virtual walk through the Roaring '20s Harlem. In addition, he can walk visitors through a VR recreation of the human heart and lungs, and he flies them through the universe using a program based on the Sloan Digital Sky Survey.

"My brother was amazed that I get to come to work and play with a giant videogame all day long," Landers joked.

Johnson and Konc hope that more Fermilab employees will donate their time to SciTech.

"The people at SciTech have great ideas and always need help," Johnson said. "I think many Fermilab people could have fun volunteering at SciTech. The museum is really good for science outreach, and a great way for people to have pride in their community."
---
On the Web: