Moving Up—And Around
For Dan Johnson, following the action is a Fermilab tradition
by Elizabeth Clements
In 1983, Bob Mau, Head of Accelerator Operations, wrote in a letter to Dan Johnson: "I would like to thank you for volunteering for a tour of duty with the Accelerator Operations group and commend you for the fine job you did while you were with us...I trust that as commissioning of the Saver progresses, you will take personal pride in each accomplishment, because you played a role in its success."
At the time, Johnson was an Operator I in the Operations Group of the Research Division (now the Particle Physics Division). He is now the Deputy Head of Accelerator Operations, and 20 years later this letter is posted on a bulletin board in his office.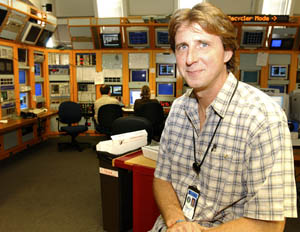 "My job sometimes gets hectic and crazy, but it's fun," says Dan Johnson. "Sometimes things run like clockwork, and sometimes everything gets all messed up. There is always something changing, though, which is what I like about Operations so much." -Photo by Fred Ullrich

"I recently found this note that Bob Mau sent me in 1983 when I was first farmed out to help another group during a shutdown," Johnson said. "This was back when the Tevatron was being commissioned, and I was over to work shift with accelerator operators and install Main Ring correctors."

As the current shutdown again demonstrates, moving staffers to where they're most needed is an often-told story at Fermilab.

"Back when I hired into Neutrino Operations," Johnson said, "there were also Meson and Proton Beam Line Operations. During shutdowns, we would work for the support groups as a main manpower resource."

Johnson had just finished technical school in electronics when he left his home of New Castle, Pennsylvania on Mother's Day of 1981 to start as an Operator I in Beam Line Operations. He planned to stay at Fermilab for a few years, gain some experience and move on to something else. But his plans changed.

"The lab offers a great continuing education program, so after I was here for about a year, I went on to get a B.S. in Computer Science and then my M.S. in Computer Science. I got the B.S. degree while I was working rotating shifts, so it took a little longer than usual," said Johnson. "Twenty-some-odd years later, I'm still here, and to this day leaving home on Mother's Day is still a topic of discussion with my mother."

At that time, operators were designated as technicians, so Johnson was hired as a Technician I and became a Technician II in 1982. Meson, Neutrino, and Proton Operations were merged to form Research Division Operations in 1983. The title of Operator came about in 1984, in line with titles in Accelerator Operations. Johnson became an Operator II and an acting crew chief in 1984, and just kept on moving up. As Johnson's position evolved in Beam Line Operations, the physics at Fermilab was also going through a transition of its own.

"Once we weren't running fixed-target anymore, we had machine operators with nothing to operate," Johnson said. "That led us to go over to the collider facilities at CDF and DZero. But when they weren't running, our people had nothing to do. Money was tight and the accelerators got priority. It made sense to merge Beam Line Operations and Accelerator Operations into one group. It was just a natural progression."

Beam Line Operations and Beam Line Cryogenic Operations merged in 1992, and Beam Line Operations merged with Accelerator Operations in 1997. After the two groups became one, Johnson became deputy head of accelerator operations, joining associate head John Crawford and Bob Mau.

"The combining of the groups could not have been done without Dan," Mau said. "John, Dan and I determined very early on that the three of us would always need to speak as one voice. Dan was very instrumental in making things work."

Crawford, who divides the workload with Johnson, agrees with Mau. "Dan immediately fit right in here," he said. "To put it simply, I don't know how things could work much better."

Mau, Johnson and Crawford, who have all been working in Operations for twenty years or more, admit that staying in Operations this long is a rare thing.

"We have a fairly high turnover rate because of the shift work," said Mau. "While most people are sleeping or at home with their families or opening presents on Christmas day, our operators are here watching over the machines. But every night, when you come into work, there is something new. For an operator, you come in, and you have a plan, and the plan goes to hell. There is some excitement in that."

Johnson agrees that the constant daily change is his favorite part about working in Operations. "My job sometimes gets hectic and crazy, but it's fun," he said. "Sometimes things run like clockwork, and sometimes everything gets all messed up. There is always something changing, though, which is what I like about Operations so much."

During a shutdown, the pace slows for operators. Johnson explains that the pressures of running the Tevatron and other machines every day are gone, but operators are kept busy with such projects as writing software, building hardware, tunnel work, training, editing training manuals and helping groups across the lab.

"I think that it is nice when people get called in, and they can say that I got to help work on this project," Johnson said. "I still have the letter that Bob Mau sent me in 1983, so it must mean that there is some pride in helping things get done and making them a success."

But Mau, Johnson and Crawford all agree that the best of times is when the machines get turned back on.

"The real exciting time for Operations is when it is time to turn the machines back on after a shutdown," Johnson said. "It is really good to see the whole lab get together to work on something, just like we did in '83 when I was called to work on the Tevatron. Hopefully, we will follow up with letters that people can pull out twenty years from now, the way that I did."
---
On the Web:
Fermilab Beams Division
www-bd.fnal.gov
Operations Department
www-bdnew.fnal.gov/operations


---