Many Hands Make Lab Work
| | | |
| --- | --- | --- |
| "Blue Man Group" at CDF: from left, John Voirin, Wayne Shaddix, Harry Carter, Craig Olson, who rolled the detector into the collision hall at a speed of 10 feet per hour—live on web-cam. | | Sharon Austin with the F disk for DZero at SiDet. |
| | | |
| --- | --- | --- |
| Matt Domeier and Steve Baginski at E sector of the Tevatron. | | Fermilab technician specialist Bruce Lambin (left) and Jim Beaty, engineer from the University of Minnesota, work on the CDMS Icebox, half a mile underground in a mine in Soudan, Minnesota. |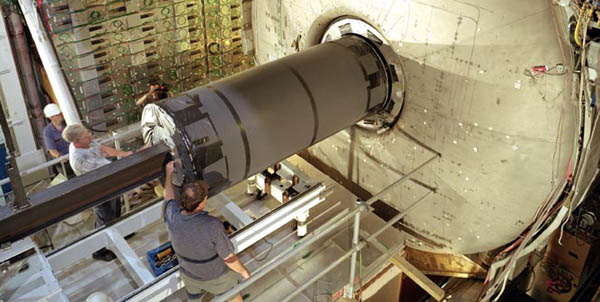 Central Fiber Tracker installation at DZero. Final placement of tracker into calorimeter.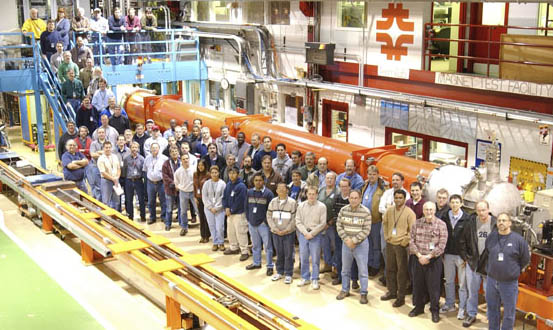 They've built the LHC magnets at the Industrial Building.

Cliff Foster (left) and Henry Gusler working on the cooling tanks of the Antiproton Source.



Chander Sood with Main Injector component.

Cassette fabrication and testing with Wanda Newby.


Rick Conant with Traceable Calibration T&M Equipment at Feyman Computing Center.


Central Fiber Tracker installation at DZero. Riggers attend to the device as it is moved by crane.

Paul Kesich checking groundwater levels.


Hank O'Connor works on wire bonding at Computing Division.
| | |
| --- | --- |
| Bill Barker inspects Ball Grid Array at Feynman Computing Center. | Installing cables in the CDF detector. |
| | |
| --- | --- |
| Fermilab technicians Carlos Gonzalez (from left), Jean Yarger, Wendell Jordan and Steve Bastian live in New Mexico and work on the telescope of the Sloan Digital Sky Survey collaboration. | Inside the CDF cable mover, atop the detector: (front row, from left) Dervin Allen, Jim Humbert, Tom Olsem, Chuck Pribyl, Wayne Shaddix; (back row, from left) Chris Richardson, Lew Morris, Mark Shoun, George Wyatt, Jim Hoover, Steve Sorenson, Manuel Seales, and Jamie Grado. |

Craig LeRette wiring end plugs at CDF.

Andrew Foland and Bert Gonzales with the silicon barrel for CDF.


John Cornele working on Muon Chambers for DZero.

Steve Merker of Quality Control at Material Control Group.


Todd Johnson and Duane Plant examining repairs to Main Injector.
| | |
| --- | --- |
| Material Control Group at IB 4. Front row, left to right: John Zweibohmer, Rob Riley, Marsha Schmidt, Sudhir Ghanta, Steve Merkler, Beth Karau, Doug Kelley, Gregg Kobliska. Second row, left to right: James Williams, Oscar Lira, Frank Juravic, Ted Beale,Cliff Besch, Gary Vezain, Paul Olderr, Mark Steinke. Not pictured: Linda Alsip and Leslie Peters. | Sabina Aponte (left) and physicist Fernanda Garcia prepare photomultiplier tubes for MiniBooNE. |
| | |
| --- | --- |
| Construction of MINOS near detector planes at Fermilab. | Alignment and Metrology Group (standing, from left): May Chau, Terry Sager (holding photos of John Kyle and John Greenwood), Elizabeth Brown, Mike O'Boyle, Tony Rodriguez, Bob Bernstein, Gary Coppola, Randy Wyatt, Jack Smith, Stu Lakanen, O'Sheg Oshinowo, Craig Bradford. Kneeling (from left): Ed Dijak, Ed Wojcik, Chuck Wilson. And up front: Cy. |

---