FERMILAB ARTS SERIES SUMMER SEASON
APRIL VERCH
July 19, 2003; $18 ($9 ages 18 and under)
"It's always a good thing for a performer to leave an audience howling for more. But she is such a startlingly brilliant player/performer you have to wonder whether even too much would be enough." –Halifax Herald
Emerging from the thick of the traditional music scene, the fiddling and step dance vitality of an April Verch concert is a breath of fresh air. Though she has deep roots in the fiddling of her native Ottawa Valley in Canada, April's broad repertoire features traditional and contemporary tunes ranging from French Canadian to Appalachian, from Bluegrass to Celtic, and Brazilian to Old Time, not to mention her own colorful compositions. No matter what you call it, April's music is beguiling in the way it brilliantly balances contemporary élan and traditional resonance. This young musician is highly sought-after, not only for her master fiddling, but also for her virtuoso Ottawa Valley step dancing. April's award-winning performances of this dynamic, high-energy form of dancing never fail to bring the house down.
CORKY SIEGEL'S CHAMBER BLUES WITH BONNIE KOLOC
August 23, 2003; $20 ($10 ages 18 and under)
"Corky Siegel's Chamber Blues –Classical Music, elegant and precise, marries the loose and passionate blues in this utterly winning musical program." –The Austin Chronicle
For almost four decades the defining cultural arts critics from Rolling Stone, Stereophile, Down Beat, Billboard, Jazziz, New York Times, and Washington Post have all recognized Corky Siegel as a "phenomenal virtuoso on harmonica... a deftly accomplished genius of the Blues" and a pioneer who brings his original award-winning benchmark compositions to delighted audiences globally. New fans and longtime followers of Corky's blues career have been quick to embrace his freshly innovative, genre-busting Chamber Blues.
Chicago singer/songwriter Bonnie Koloc joins Chamber Blues for a multi-media event titled "Bestiary" which features some of Bonnie's original artwork and songs. Koloc is often considered, along with John Prine and Steve Goodman, as one of Chicago's top three singer/songwriters.
To purchase tickets for Arts and Lecture Series events, or for further information or telephone reservations, call 630-840-ARTS weekdays between 9 a.m. and 4 p.m. Phone reservations are held for five working days, but will be released for sale if not paid for within that time. Will-Call tickets may be picked up, or available tickets purchased, at the lobby box office on the night of the performance beginning at 7 p.m. When coming to this event, only the Pine Street entrance to Fermilab will be open. For more information, check out our web page at www.fnal.gov/culture.
---
MILESTONES
RETIRING
George Wayne Smith BS-SU-Dist./Rec./Shipping #00841 June 20th, 2003
---
CORRECTION
In Milestones (FERMINEWS, vol. 26, no. 10, June 13, 2003), the name of retiree Jim Ellermeier was misspelled. FERMINEWS regrets the error.
---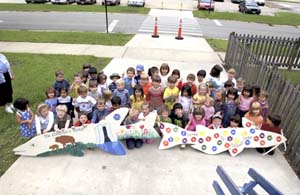 NETTED
Big fish (photo at right), by the Fermilab daycare center, for display on the Batavia River Walk.