Career Building
New Wilson Hall building manager Steve Whiteaker knows the drill from Roads and Grounds up
by Elizabeth Clements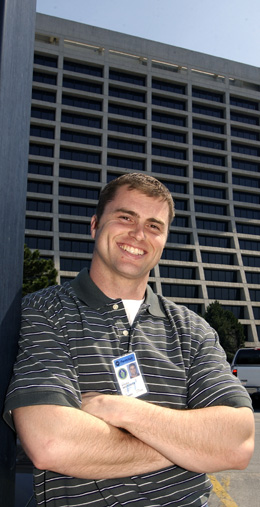 At 16 stories and 238 feet tall, Wilson Hall is home to physicists, administrators, maintenance people; to conferences,arts series performances and, of course, the cafeteria. On any given day the building buzzes with theories about inflation or oscillations or even migration (many Fermilab scientists are avid birdwatchers),but the-behind-the-scenes work of operating the building remains just that — behind the scenes.
Take electricity for example —it is hard to ponder dark matter in the dark. How about elevators? It is hard to maintain "high-energy "if you have to walk up fifteen flights of stairs. And most important of all —heat —because who wants office cryogenics during Chicago winters?
And while you and I may take indoor plumbing,or a roof that doesn 't leak, for granted,Steve Whiteaker,the new Wilson Hall General Building Manager, does not.
On March 31, Whiteaker replaced Kent Collins,who was the Building Manager for more than ten years.Collins is now the new Infrastructure Condition Assessment Coordinator for Fermilab 's Facilities Engineering Services Section.
"The most important thing about being a Building Manager is the ability to communicate with people," said Dave Nevin, head of FESS."Wilson Hall has a large number of very diverse people,who all have very important jobs. It is imperative that the building manager be able to communicate effectively with these people.Steve has demonstrated in his previous positions and interactions with people at the lab that he is very good at communicating both verbally and in writing."
Although Whiteaker may be the new kid on the block in Wilson Hall, he is certainly not a stranger to Fermilab.At the age of 16, he got his first summer job between his junior and senior years of high school, working for the Roads & Grounds Department at Fermilab.
"It was a great summer job because you never had to work on nights or weekends. When you're in high school, you can't do much better," said Whiteaker."Fermilab's summer programs serve a real purpose because they reach out to younger people and open their eyes to all kinds of opportunities. After my first summer at Fermilab, I knew that I always wanted to work here because of the people and the atmosphere. Fermilab is the only place that I have ever worked, and I love it."
Whiteaker graduated from a high school class of thirty people in the small town of Newark, Illinois. He started working full time for the Roads & Grounds Department in 1988 and was part of the pesticides program for eight years. For the past three years, Whiteaker worked for the sign department, which is a Roads & Grounds computerized graphics program.
"In Roads &Grounds, everything is about working as a team," said Whiteaker."The same thing holds true for being a good Building Manager. I learned on my first day that you couldn't do all the things that a building manager has to do without an extremely long list of people. If you want to truly interview the Building Manager, you should have about thirty other people in here. To say that it is all me just wouldn't be true."
At the age of 32, Whiteaker is not only adapting to the new role of Building Manager, but in June, he will also have the new role of Dad. When Whiteaker is not at Fermilab or in a natural childbirth class with his wife, he is taking night classes toward his college degree.
"In another eight years, the degree will be mine," Whiteaker said with smile. "Looking back on it, I would have liked to have gone to college, but I just wasn't ready after high school. I am at the age now when I want to have a college degree. This is the time in my life when I have to decide where I am going."
But Whiteaker has already set a steady course.
"Steve was a stand-out star at Roads & Grounds, and he is going to do a wonderful job as building manager,"said Collins, who will be making the rounds with Whiteaker for introductions over the next couple of weeks."He has the people skills, the motivation,and after being at Fermilab for so many years, he has the background."
Nevin could not agree more.
"Steve is an up-and-comer," he said."This is just another stop in what will be a very exciting career for him."

---
ON THE WEB:
Facilities Engineering Services Section: www-FESS.fnal.gov