Special Delivery
Chris White's goal is spreading the word on ICAR and UEC
by Mike Perricone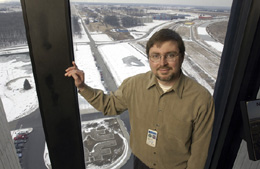 Chris White is on a mission to deliver a message. In fact, White is on two missions, with two messages, and don't be surprised if you see him delivering one or both at a cafeteria table near you.
One message stems from his mission as the new Program Director of the Illinois Consortium for Accelerator Research (ICAR).
"One of our problems is that we're just not well known," White said."If you go to the cafeteria in the High Rise and say,'ICAR,'I would guess that not many people would know what you're talking about. The first thing I'm interested in doing is trying to get ICAR to be recognized within the community,and recognized for the fact that we 're actually trying to make a difference.ICAR primarily is an effort to strengthen the university programs in northern Illinois in the area of accelerator research,and we 're funded by the State of Illinois to do just that."
His other message comes from White's role as chair of the Users Executive Committee at Fermilab,and from the UEC's goals for the annual Users Meeting this summer.
"This year, we're trying to bring it back closer to its roots," White said."The original point of the Users Meeting was to get together and talk about the future of the laboratory. We have to let users know,'You 'd better care about the future,otherwise nothing is going to change.'I see the need for mobilizing our forces,to be less complacent."
An assistant professor of physics at Illinois Institute of Technology and a neutrino experimenter at Fermilab, White likes to quote IIT's vice president for external affairs, David Baker, in describing Fermilab as "an aircraft carrier:" a big ship that also carries a lot of impact on its decks. In Fermilab 's case,the impact is both scientific and economic.
"It's not just the money that's being brought in to pay the employees," White said."It's the whole economic value to the wider community. People who are being trained here are going off to the high-tech areas of the Illinois economy to work. We're providing a talent pool for an economic engine that's larger than the scientific work being done here. We need to bring the message to business and governmental people in the State of Illinois, so they recognize the value of this facility, and work toward insuring a bright future for the lab."
White sees delivering that message as part of ICAR's role. With annual funding of $2.5 million from the state, ICAR is a consortium of five universities (IIT,Northern Illinois University, Northwestern University,the University of Illinois at Urbana-Champaign, and the University of Chicago)established as part of an initiative by former Governor George Ryan to continue attracting research funding to Illinois, specifically in accelerator research.
White also noted, as has Fermilab director Michael Witherell,that the U.S. Department of Energy's Office of Science sends 20 percent of its budget to Illinois,mostly for research at Fermilab and at Argonne National Laboratory.
"The State of Illinois has a large stake in the Office of Science,and part of our mission in ICAR is to have people in Springfield [the state capital ] recognize that,"White said."If they wish to keep that money flowing into the state,they need to participate as well."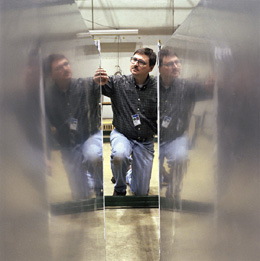 Beyond a small reserve for administration and communication,ICAR's funding is distributed evenly among the five member universities for independently-directed research. IIT,for example, has a strong research effort in muon cooling rings, which could be used for a future muon collider or neutrino factory. NIU has a major focus on the photoinjector project at Fermilab,as well as other research related to a possible future linear collider. White sees ICAR's role as carrying out accelerator research that is precluded by tight budgets at the lab,as well as growing the presence of accelerator physicists in the region. He pointed to two new tenure-track faculty members in accelerator science at IIT, as well as two Ph.D.candidates.
"If you enhance university programs in accelerator research in northern Illinois, you also enhance the ability of northern Illinois to attract future accelerator projects," White said.
The future is very much on his mind with the UEC as well. Again this spring,the users organizations of Fermilab and Stanford Linear Accelerator Center will coordinate a visit to representatives in Washington,D.C. White also said he will invite the Office of Science's High- Energy Physics Advisory Panel to take part in the annual users meeting at Fermilab.
"If HEPAP represents the future of high-energy physics in the U.S.,then the panel should be at our users meeting,"White said."That's what our message to them will be."

---
ON THE WEB:
Illinois Consortium for Accelerator Research www.capp.iit.edu/~icar/
Fermilab Users Organization/ Users Executive Committee www.fnal.gov/orgs/fermilab_users_org/uec.html
SLAC Users Organization www.slac.stanford.edu/grp/rd/sluo/SLUO.html