Focus Groups Will Cover the Bases on Labwide Communication
by Elizabeth Clements
Costello:What's the guy's name on first base?!
Abbott:No, What is on second!
Costello:I'm not asking you who's on second!
Abbott:Who's on first!
Costello:I don't know!
Abbott:Oh, he's on third.
We're not talking about him.
Now, let's get back to first!
— "Who's on First," Bud Abbott and Lou Costello
Have you ever had a conversation like this one before? As Abbott and Costello prove in their most famous routine, poor communication can become very frustrating very quickly.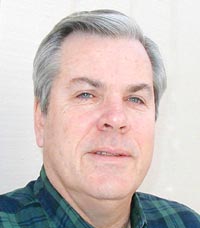 In the All Hands Meetings on November 14, 2002, Fermilab Director Michael Witherell addressed the issue of internal and external communication at Fermilab. He emphasized that the way that we talk to each other as a community is vital for our success as a lab.
"We still need to do a lot better at communicating what we are doing and paying attention to the people who work here," Witherell said."We are looking at a number of changes to improve communication. In particular, we are collecting groups of staff members to talk to us about what we are doing right and what we are doing wrong. We can do a better job of communicating,and we will."
Over the next several months, the Office of Public Affairs will assess communication within Fermilab and evaluate ways to improve it. Understanding how staff members feel about communication within the lab and what they think can be done better will be a major part of this evaluation. Our task is not only to assess the current state of communication within the lab but also to find out what types of communication tools Fermilab employees want. From print to email to personalized web pages, there are many different types of communication tools available. The real question is, how can we strengthen communication within the laboratory community?
Among the questions the focus groups will address is what news employees want, and how they 'd like to get it. For example, Lawrence Livermore National Laboratory produces Newsline, a weekly online publication for employees. Argonne National Laboratory sends out a daily e-mail newsletter that covers daily seminars, events, cafeteria menus and other news of interest. SLAC has a regular message from the director. There are many different forms of communication that a lab can use. But which format is the best fit for Fermilab?
With an abundance of questions and a desire not to model a survey after an Abbott and Costello routine, Fermilab has turned to the experts at the Public Opinion Laboratory at Northern Illinois University. Over the next month, the Public Opinion Laboratory, a survey research facility, will facilitate a series of focus groups at Fermilab. The information collected from the focus groups will be used to create a survey that will be given to every Fermilab employee in the spring of 2003. The Director of the Public Opinion Laboratory, Robert Ard, who will be one of the moderators for the focus groups, described a focus group as a "qualitative data gathering technique." In Fermilab's case, Ard believes that the focus groups will be exploratory to learn not only how employees feel about communication at Fermilab, but also why they feel that way.
"Later in this year, we will be conducting a comprehensive survey of the entire Fermilab staff. Before we can do that, we need know the basic themes of what is on people's minds," said Ard. "Focus groups identify these themes well and answer why they are on people's minds. If you want just a statistical summary about where people stand with regard to an issue, a comprehensive survey is an answer. If you want a cause and effect as to why people feel a certain way, focus groups are the method of choice."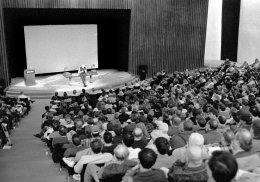 Witherell believes that the information collected from the focus groups and survey will be a strong first step toward improving communication at Fermilab."Communication is very important in any organization, but in an organization as large as Fermilab, it is very difficult," said Witherell. "The focus groups will give us a chance to hear from people at the lab. An important part of communicating is that we are listening and not just speaking. I hope that we get some fairly clear messages about the types of communication that people feel are important to them and how to improve things."
If you have an opinion about communication at Fermilab but do not want to wait for the survey, the Office of Public Affairs encourages you either to stop by to share your thoughts with us or to join a dialogue at: www.fnal.gov/pub/about/public_affairs/communicate/
Who might be on first, What might be on second, and I Don't Know might be on third, but communication at Fermilab will no longer be out in left field.

---
ON THE WEB:
Internal Communication Forum: http://www.fnal.gov/pub/about/public_affairs/communicate/index.html