Uncertainty Principle
Policy changes produced swings in public access
by Pamela Zerbinos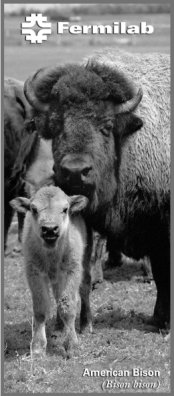 Since its beginnings in 1967, Fermilab has been an open place — open to the sky, open to international collaborators whose home countries were sometimes political opponents, and open to visitors. This openness has always been an integral part of Fermilab's history, mission and identity.
Unfortunately, some of that openness was lost with the terrorist attacks of September 11,2001,a nd although the lab is on the way to regaining it,there is still a long way to go. After the attacks,adhering to the Department of Energy's policy of heightened security,the Lab was closed to visitors.Employees were required to show identification badges to get on to the site,and to wear those badges visibly at all times.
As the months progressed, the Lab began,one step at a time, to welcome visitors to the site once again. This process was aided by the success of programs such as the Fermilab Arts and Lecture Series, which were able to show that public access does not necessarily present a security breach.Although the Arts Series'2001 opening night festivities were cancelled on Sept.15, the rest of the season went ahead as scheduled,and several of the events sold out.
In March, 2002 the Lab opened its doors a crack to allow limited recreational access to pedestrians and bicyclists. They were allowed to use either entrance during normal business hours and on weekends, but were not allowed into any building other than the Lederman Science Center.
A few months later, on May 23, the Lab implemented the free Buffalo Pass, which motorists could obtain at the Pine Street entrance, and which would allow them to drive unescorted to look at the herd of about 60 buffalo that Fermilab keeps on site. The buffalo passes were a success;by mid-July more than 400 had been issued.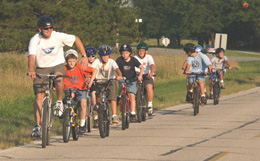 On Thursday, August 8, the Lab announced the site would return to its pre-9/11 level of access, with both pedestrians and motorists being allowed on site from either entrance between 6 a.m.and 8 p.m.every day.Although motorists were required to leave through the same gate they entered,no one was required to get a Visitor's Pass or a Buffalo Pass or any other kind of pass. The Ask-a-Scientist program, which had been moved to the Lederman Science Center while the security restrictions were in place,relocated back to the 15th floor of Wilson Hall.
But the access was not to last. On September 10, just one day before the one-year anniversary of last year's attacks, the Department of Energy ordered all national laboratories to go to a heightened state of security known as SECON 3. The guards were back at the gates,the employees were back to wearing ID badges at all times,and the visitors were back to severe limitations.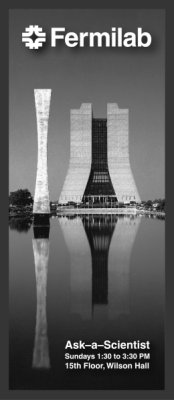 This time around, however,the Lab has been moving more quickly to step up recreational access. The Buffalo Passes are back, still free of charge, and there is a new Ask-A-Scientist Pass, also free, that visitors can obtain on Sundays at the Pine Street entrance. This allows visitors to drive to Wilson Hall and participate in the popular Ask-A-Scientist program from 1:30 –3:30 p.m. However, driving is restricted to roads that lead directly to the buffalo herd or to Wilson Hall.
Pedestrians and bicyclists are allowed on to the site between 6 a.m.and 8 p.m. every day of the week; they don 't have to get a pass,and can enter through either entrance.
On evenings of performances, Arts Series patrons are allowed on site through the Pine Street entrance. There is no pass required;they just have to inform the security guard they're there to attend an Arts Series event. Before,during and after these events, the Fermilab Art Gallery on the second floor of Wilson Hall is open to the public,but it remains off-limits at all other times.
The Lederman Science Center remains the only building open to the public,who can obtain access at the Pine Street entrance.Its hours are 8:30 a.m.to 4:30 p.m.Monday through Friday, and 9 a.m.to 3 p.m.on Saturday.
To help the public (and employees) keep track of the oft-changing status of Lab access, a new Web page has been set up at http://www.fnal.gov/pub/about/public_affairs/currentstatus.html ,although it is certainly hoped that page will become unnecessary as the restrictions loosen and visitors are welcomed back with open arms.

---
ON THE WEB:
Check the homepage for updates: http://www.fnal.gov
Fermilab public access: http://www.fnal.gov/pub/about/public_affairs/currentstatus.html