From Early Postdoc to Board of Trustees
With three decades of achievement to accompany her, Shirley Ann Jackson reconnects with Fermilab - and with memories
by Mike Perricone
(Note:Mike Perricone is a member of RPI 's Class of 1972.)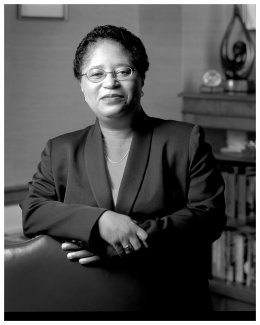 Shirley Ann Jackson firmly believes in nurture. But when she hasn't found it in her environment, she has always been able to rely on a strong nature.
Her experience with racial bias from other students in the 1960s, let alone being shot at in South Boston, left what she calls an "essential effect on my character," but she persevered to earn her bachelor's degree from the Massachusetts Institute of Technology. Her doctorate in 1973 was the first at MIT for an African-American woman. For Jackson, it was just the start.
Jackson continued to make news beyond her research, whether at physics laboratories, in private industry, in academia, or in government, where her appeal transcended political persuasion. Working at Bell Labs, and then as a professor of physics at Rutgers University,she was named to high-level state regulatory posts by two New Jersey governors, Thomas Keane and Christie Whitman, both Republicans. Following was her 1995 appointment by President Bill Clinton, a Democrat, as chair of the Nuclear Regulatory Commission. With her selection as president of Rensselaer Polytechnic Institute in 1999, she became the first African-American woman to lead a major research university. She made more news almost immediately by garnering, at the time, the largest donation in the annals of higher education: an anonymous gift of $360 million.
Within the last few months, she has been named one of the top 50 women in science by Discover Magazine, and has closed a significant personal circle by joining the Board of Trustees of Universities Research Association, Inc., the consortium of 90 universities operating Fermilab under contract for the U.S. Department of Energy. She is now on the governing body of the laboratory where she served her first postdoctoral appointment. She was a member of the Theory group at the National Accelerator Laboratory (now Fermilab)in 1973, and again in 1975-76 following a year at CERN, the European Particle Physics Laboratory.
Welcome back,Shirley Ann Jackson.
"I got a call asking me to join [the Board of Trustees], I agreed to do it, and that's about how it happened," Jackson said by telephone from her office in Troy, New York. "I think that in the constellation of high-energy physics labs, and particularly as one devoted to fundamental research, Fermilab is very important for the discoveries that will take place there. This is an opportunity for me to contribute and to help the process along.I was happy to say 'yes.' I have no specific agenda on the Board, just to be sure that the lab continues to be able to carry out its fundamental mission, and that it has the kind of scientific and financial strength it needs."
When she joined Fermilab in 1973, Jackson came to a place where founding director Robert Rathbun Wilson had posted a formal and specific human rights policy to insure that everyone at the lab "can live and work with pride and dignity without regard to such differences as race, religion, sex or national origin." Wilson, who had originally sent the statement to Dr.Martin Luther King,went on: "In any conflict between technical expediency and human rights,we will stand on the side of human rights."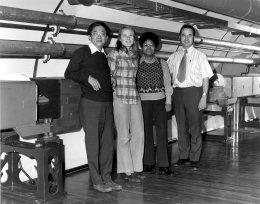 Still,there was a world and a culture beyond the laboratory.
"It was almost 30 years ago, and it was a different time," Jackson said."I had challenges in finding a place to live. I tried to find a place close to the lab,but this was before the great expansion of Bell Labs and AT & T in Naperville and Lisle, and it was difficult and I was not successful. I ended up living in Chicago, which was not my first choice. Yet Chicago had its own benefits. I got to know the city, and I loved being there. I had access to all the cultural offerings, and I probably made a wider circle of friends than I might have if I had lived right next to the lab."
Even within the lab's boundaries, principle and policy sometimes outpaced hearts and minds.
"I think it was a time when the physics community was less accustomed to having women and African-Americans engaged in fundamental research," Jackson said."I think I was a curiosity. From time to time, I did experience a lack of friendliness, though not the kind [I encountered ] at MIT. I also spent a year at CERN, and I had a fabulous time there, between work and friends and the overall experience of living in Geneva."
In that first year at Fermilab, visiting scientist Mary K.Gaillard became an important element of both work and friendship. They also worked together at CERN, where their friendship grew into a lifelong connection.
"Mary K. is one of my very best friends," Jackson said."We are still in touch and I do see her sometimes. With my move from high-energy physics to condensed matter physics at Bell Labs, our professional paths didn't cross quite as often. But that friendship was a very positive aspect of my time at [Fermilab]."
Gaillard, now a professor of physics at the University of California at Berkeley, and a theorist at Lawrence Berkeley National Laboratory, warmed to the opportunity of discussing her early friendship with Jackson in their Fermilab days.
"I have also valued our long-standing friendship," Gaillard said. "I have always admired Shirley and have been delighted with her well-deserved successes, after a difficult beginning. I remember talks while trudging through the snow together on our way to lunch, from the barracks where our offices were then located in the pre-High Rise era. I also remember my blond, long-haired, youngest son announcing one day that he wanted to 'cut his hair and make it all curly,' that is, an Afro like Shirley had. Our friendship indeed grew at CERN, where we collaborated on a paper."
And while Jackson would have appeared to have a promising future in particle physics, the world wasn't turning that way.
"Ben Lee and I tried very hard to find a particle theory job for Shirley after CERN," Gaillard recalled."When we finally got a positive response from a good place, it was too late. Shirley had given up in disgust. She took a job at Bell Labs — which, in retrospect, probably turned out for the best. The last time we saw each other was in Washington during a National Science Board meeting, while she was still head of NRC and was about to take off for Viet Nam. We don't see each other often, but this doesn't affect the relationship we have."
At Rensselaer, Jackson sees a challenge to build new relationships for the university. She concedes that the school's general level of recognition has slipped from where it was 20 or 30 years ago, but maintains it is still well respected among those familiar with its science and technology heritage.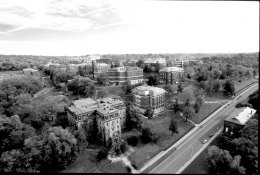 "We're working to make it even better-known," she said. "We want to strengthen opportunities for physicists. We have a specific focus on the graduate school, while maintaining the focus of the undergraduate program. A strong research program needs a strong graduate program, and having a faculty at the leading edge means educating students at the leading edge."
She's also building buildings. The roster of projects, ongoing or recently completed, is a long one: an $80 million, 280,000 square-foot center for biotechnology and interdisciplinary studies, a $142 million experimental media and performing arts building, a $33 million partnership with IBM. Her description of the new arts center is at least as enthusiastic as her descriptions of facilities devoted to technology. She is hiring 66 new faculty members over two years, with a net gain of 32 new faculty positions. She's serious about changing the nature of the place, and that includes nurture.
Jackson's husband, Morris Washington, is a professor of physics and assistant director of Rensselaer's Center for Integrated Electronics. They have a son attending Dartmouth College. Jackson is well aware that a recent mailing to RPI alumni begins: "Yeah,we know. RPI wasn't a very nurturing place when you were here." In fact, one of Jackson's changes, establishing an Office of the First-Year Experience, is aimed directly at altering that human factor in the traditional equation at the school.
"We're doing specific things to improve the quality of life for freshmen and undergraduates," she said. "We want to ensure that new students are brought in, in a way that allows them to form kinship groups early, to learn how much the university values them. I believe we can nurture students as well as challenge them."
And she would like nothing better than to have their education prepare them for the sorts of career challenges she has met. For example, not only did she revamp the NRC, with its 3,000 employees and $500 million budget, but she altered the agency's regulatory approach and believes she helped improve the international reputation of the U.S.on nuclear issues. She points to her creation of an international association of nuclear regulators.
"I believe my education as a physicist trained me to be able to look at complex problems, and see how to break them down into manageable pieces," she said."I found I had a natural affinity to run a complex organization. I enjoyed it, and I enjoyed being an agent of change."
It's in her nature.

---
ON THE WEB:
Rensselaer Polytechnic Institute www.rpi.edu
U.S.Nuclear Regulatory Commission www.nrc.gov