If it's OK to laugh again, there's nothing better than laughing with the best.
"An Evening with Groucho" opens the 2002-03 Fermilab Arts Series at 8 p.m. on Saturday night, Sept. 21 in Ramsey Auditorium. Actor-director-playwright Frank Ferrante portrays Groucho Marx in 90 minutes of wit, wisdom, oneliners and ad-libs that have been seen and acclaimed on PBS, and onstage in London and New York.
Opening-night special events include a 7 p.m. lecture in Wilson Hall's One West conference room by Ron Falzone of Columbia College in Chicago, discussing Groucho's influence on modern comedy. There will also be a reception following the performance with special refreshments, and several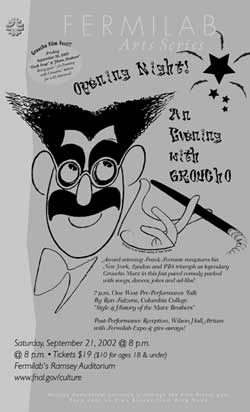 Fermilab organizations will have display tables highlighting such public activities as bird-watching, the Lederman Science Education Center, the Film Series and the prairie restoration effort. There will be prizes and give-aways.
The Film Series is offering a bonus: those purchasing "An Evening with Groucho" tickets in advance can get half-price admission for Friday night's double-feature of Marx Brothers classics, "Duck Soup" and "Horse Feathers," at 8 p.m. in Ramsey Auditorium. In "Horse Feathers (1932)," Groucho is Prof. Wagstaff of Huxley College, skewering higher education and college football; in "Duck Soup (1933)," he's Rufus T. Firefly of Freedonia, skewering world politics and anything else that comes along.
"I've had a perfectly wonderful evening. But this wasn't it."
The back-to-back festivities represent the first opening-night celebration since the 2000-2001 season. Last season's opening night performance and activities were canceled following the terrorist attacks of September 11. The performance was rescheduled, but opening-night activities were not.
"We felt that since the site was not generally open to visitors, we wanted to wait," said Ray Yarema, chair of the Fermilab Arts Committee. "This opening night is also a nice celebration of the lab being open again." Yarema also promised you can bet your life on a few more surprises for the opening-night audience.
Fermilab announced that the laboratory had re-opened to visitors on Thursday, August 8. The U.S. Department of Energy had ordered the closing of the laboratory to most visitors as a security measure following the terrorist attacks.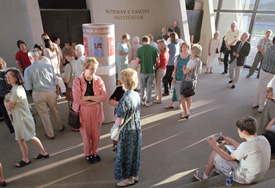 "Security remains a priority at Fermilab," said laboratory director Michael S. Witherell. "But we are delighted to welcome visitors to our site once again."
Visitors may now enter the site daily between the hours of 6 a.m. and 8 p.m. from both east and west entrances without obtaining visitors' passes. Both the west side Pine Street entrance and the east side Batavia Road entrance are again open to motorists as well as to pedestrians and bicyclists from 6 a.m. to 8 p.m. Motorists must use the indicated visitors' lane upon entry, and they must leave the site from the same gate they enter. Parking restrictions for visitors remain in effect, and drive-through traffic remains prohibited.
Patrons of the Fermilab Arts, Lecture and Film Series now may also enter the site from either the Pine Street or Batavia Road gates. The gates will be lowered at 8 p.m., with guards posted; however, the guards will be instructed to allow latecomers to attend the presentations. Parking for the performances will be available in the lot on the west side of Wilson Hall, except for restricted areas where signs or cones are in place.
"A child of five would understand this. Someone fetch me a child of five."
The Ask-A-Scientist program has returned to Wilson Hall on Sunday afternoons, from 1:30 p.m. to 3:30 p.m. Visitors can meet Fermilab scientists and ask them questions in the 15th floor display space, reached by taking the elevator from the east or west side of the Wilson Hall Atrium. As with the Arts Series, parking is available in the lot on the west side of Wilson Hall, except for restricted areas. The Ask-A-Scientist program had been temporarily relocated to the Lederman Science Education Center while enhanced security measures were in effect.
And once again, visitors may also look in on the public areas of Wilson Hall—the first-floor Atrium and exhibit space, second-floor Art Gallery and 15th-floor exhibit areas. However, all other buildings remain closed to the public, and are accessible only with a Fermilab identification card.
"Those are my principles, and if you don't like them...well, I have others."

---
On the Web:
Fermilab Arts Series
www.fnal.gov/culture/