Calendar
Website for Fermilab events: http://www.fnal.gov/faw/events.html
WELLNESS WORKS
September 9, 11 & 13 - Wellness Works presents Therapeutic Massage
Make an appointment for a FREE 15-minute introductory session during this opportunity to discover the benefits of therapeutic massage. Massage therapists will be available in the 1 North conference room between 11:30a.m. and 1:30p.m. Registration is necessary. Call Bernie Dugan x3591 or email bdugan@fnal.gov.
OCTOBER 9 - VIRTUAL ASK-A-SCIENTIST
The next chat will take place Wednesday, October 9, 7-9 p.m. Central Time. Don Lincoln, an Associate Scientist for Fermilab's DZero experiment and Jocelyn Monroe, a researcher for Fermilab's MiniBooNE experiment, will respond to questions live on-line. Further information at http://www.fnal.gov/pub/inquiring/virtual/
MEET SCIENTISTS AT SCIENCE EDUCATION CENTER
The popular Ask-A-Scientist program takes place every Saturday from 1 to 3 p.m. at Fermilab's Lederman Science Education Center. Scientists will meet visitors to answer questions ranging from "What is dark matter?" to "How do you accelerate a particle close to the speed of light?"
FERMILAB ARTS SERIES 2002-2003 SEASON
The Fermilab Arts Series will bring some of the finest performing artists from around the world to Ramsey Auditorium for the 2002-2003 season: dance and theater from Russia, Scotland, Canada, China, Cuba, and of course the USA. In addition, the Gallery Chamber Series features some of the finest classical musicians in the Chicago area in three Sunday afternoon chamber music performances set among the fine arts exhibits in the Wilson Hall 2nd Floor Gallery.
OPENING NIGHT
An Evening With Groucho
Pre-Performance Talk at 7 p.m. in 1West
Post-Performance Reception
September 21, 2002 at 8 p.m.
Tickets - $19 ($10 ages 18 and under)
Award-winning actor, director and playwright Frank Ferrante recreates his portrayal of Groucho Marx as seen on PBS, and in New York and London, in this fast-paced comedy.
Russian State Chorus
October 26, 2002
Tickets - $20 ($10 ages 18 and under)
Known for decades as one of the world's leading choral ensembles, the Russian State Chorus performs an evening of Russian classical repertoire as well as Russian folk music.
Battlefield Band
November 23, 2002
Tickets - $19 ($10 ages 18 and under)
Inspired by their rich heritage of Celtic music, and fired by the strength of today's Scottish cultural scene, the Battlefield Band mixes old songs with new material and performs them on a unique fusion of ancient and modern instruments.
Windham Hill's Winter Solstice
Featuring Liz Story, Will Ackerman, and Samite of Uganda
December 7, 2002
Tickets - $25 ($13 ages 18 and under)
This collection of Windham Hill artists features pianist Liz Story, guitarist and Windham Hill founder Will Ackerman, and percussionist Samite of Uganda.
Libana
February 8, 2003
Tickets - $17 ($9 ages 18 and under)
Libana is now in its 23rd season of researching, performing, and celebrating songs, dances, and instrumental music of women from around the world.
Dragon's Tale: Nai-Ni Chen Dance
March 8, 2003
Tickets- $19 ($10 ages 18 and under)
Bringing to life the culture and traditions of China, this full-length family show leaves children mesmerized at each enchanting, astounding dance, and adults equally caught up in the magic of it all.
Quartetto Gelato
April 5, 2003
Tickets - $21 ($11 ages 18 and under)
As the engaging innovators of a fresh approach to classical music, Quartetto Gelato has won the hearts of audiences worldwide since their remarkable 1994 debut season.
Orquesta Aragon
May 10, 2003 Tickets - $26 ($13 ages 18 and under)
Fermilab is pleased to provide a rare opportunity to see one of the most influential groups in Cuban music.
Gallery Chamber Series
Sunday afternoons at 2:30 p.m.
Three Concert Series - $36p
After a sell-out inaugural season, Fermilab is pleased to again present the Gallery Chamber Series, a set of three Sunday afternoon concerts taking place in the Fermilab Art Gallery on the second floor of Wilson Hall. This year's series: the Chicago Chamber Musicians Brass on January 26; David Schrader, performing 16th and 17th century music for the Clavichord and Italian Harpsichord on February 16; the Scholars of Cambrai, an ensemble of two lutes, soprano and tenor, performing music of the Renaissance era on March 23.
Tickets for all Fermilab Events are available now. For further information or telephone reservations, call 630/840-ARTS weekdays from 9 a.m. to 4 p.m. Additional information is available at www.fnal.gov/culture.
Milestones
First Visitor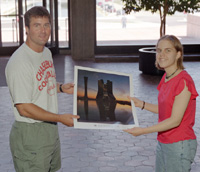 The first visitor to enter Wilson Hall at Fermilab on August 8, when the lab was reopened to the public, was Jon Bauer, high school teacher of Physics, Astronomy and the Principles of Technology from Marshfield, WI. He was greeted by Alicia Seifrid, Public Affairs summer student.
Deaths
Retiree James P. Dowd (ID 4547) died on July 29, 2002. He worked in the TD/Conventional Magnet Production.
Retiree Leon Francis Bonifas (ID 12191) died on August 2, 2002. He worked in the FESS/Operations/Fire Systems.