Calendar
Website for Fermilab events: http://www.fnal.gov/faw/events.html
MEET SCIENTISTS AT SCIENCE EDUCATION CENTER
The popular Ask-a-Scientist program takes place every Saturday from 1 to 3 p.m. at Fermilab's Lederman Science Center. Scientists will meet visitors and answer questions. The Science Center with its hands-on science displays is open Monday through Friday from 9 a.m. to 4 p.m. and every Saturday from 9 a.m. to 3 p.m. Visitors must use the Pine Street entrance.
FERMILAB DANCING GROUPS
International folk dancing is held from 7:30 to 10 p.m., Thursdays, at the American Legion Post, 22 S. Second St. in Geneva. 'Silk and Thistle' Scottish country dancing meets from 7:30 to 10 p.m. Tuesdays at the Main St. Recreation Center at the southwest corner of Hill and Main Streets in Glen Ellyn. Both locations offer wood floors, air-conditioning, and ample parking. Newcomers are welcome at both groups at any time and many dances are fully taught. Contributions towards the cost of the room are requested but not obligatory.
On Thursday, July 4, the dancers will celebrate the holiday with a folk dance party from 5 to 9 p.m. at the Geneva location. Accordionist Don Weeda of Austin, Texas will provide live music for dancing. Participants are encouraged to bring food and non-alcoholic drink to share. For this special event a donation of $5 will be requested. More information is available by calling 630-584-0825 or 630-840-8194 or by e-mailing folkdance@fnal.gov.
NALWO
NALWO invites women and their families to a concert at Chicago's outdoor music festival near Lake Michigan, RAVINIA 2002 on Sat. July 20, leaving Fermilab at 5:30 p.m.
Please register for the bus at x5059 or mendel@fnal.gov; for more info see www.fnal.gov/orgs/nalwo/ravinia.htm.
ARTS SERIES
AUGUST 10—GEORGE WINSTON
8 p.m. Tickets - $23 ($12 for ages 18 and under) "Winston is the undisputed master of contemporary solo piano, and his lyrical style is often imitated but never duplicated." —Dirty Linen Celebrated pianist/composer and Windham Hill flagship artist George Winston closes out the summer series at Fermilab. In 1998, Winston celebrated his 25th anniversary as a recording artist. His first album, "Ballads and Blues," was released in 1972 and later picked up by Windham Hill Records. Among his most memorable albums include "Autumn," "December," "Winter Into Spring," and "Summer." "Autumn," which recently celebrated its 20th anniversary, almost single-handedly launched Winston, Windham Hill Records, and the genre of contemporary adult instrumental music. Inspired by blues, rock, R&B, and jazz, Winston began playing organ and electric piano in 1967. He switched to acoustic piano in 1971 after hearing recordings by some of the legendary swing pianists, specifically Fats Waller and Teddy Wilson. For tickets or information call 630-840-ARTS, or go to: www.fnal.gov/culture/.
MILESTONES
BORN
To Elizabeth Kershisnik (ID 11964) and Tim Draper: a boy, Emrys Michael, on May 7, 2002.
HONORED
In June 2002, Don Cossairt became a Fellow of the Health Physics Society. The nomination was made by peers at other DOE accelerator laboratories. The designation, currently applied to about two percent of the membership of HPS, is in recognition of outstanding contributions to the profession of Health Physics.
LABNOTE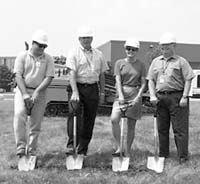 GROUNDBREAKING
July 8, 2002, marked the kickoff for another Utility Incentive Project with ComEd. A new mile-long utility corridor with lines for natural gas, domestic water, industrial cooling water and sanitary will run from near CDF around the Tevatron ring to DZero. Groundbreaking were (from left) Jim Boyanchek, representing the project design firm Patrick Engineering; Jed Brown, Fermilab Associate Director; Jane Monhart, Manager of the DOE Fermi Area Office; and Dave Nevin, Head of FESS.
LETTER TO THE EDITOR
To FERMINEWS:
It's my nature to stay out of the limelight and not draw much attention to myself. I've always opted to let the people doing the real work— technicians, designers, drafters, welders, procurement people and the like—take credit where it's due. I do find it humiliating though that the news source for the place where I've spent 25 years working on nearly every big project can't seem to get my name spelled right—it's not really a complicated name—most recently on page 13 of the June 14 issue (vol. 25, no. 10, "Changing of the Guard"), but also just last year in the Engineering issue (vol. 24, no. 5, May 4, 2001). In a place where common names are far from common, I would think that your writers would have gotten over assuming they know them all without checking first. —Tom Nicol
FERMINEWS apologizes for misspelling Tom Nicol's name. —The Editors