Calendar - Thursday, April 25
DASTOW 2002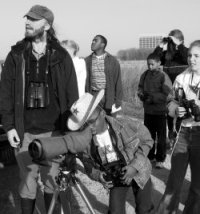 Fermilab employees, here's your official annual invitation to DASTOW2002 (Daughters and Sons To Work) and Earth Day at Fermilab. Once again, DASTOW will offer its annual array of activities for lab employees and their children.
There will be a group photo in front of Wilson Hall (make that newly-refurbished Wilson Hall!), followed by a gathering in Ramsey Auditorium for our kickoff presentations and last-minute information on the day's schedule. Then the fun really gets underway: Tom Peterson's "field guide" to the butterflies of Fermilab; Jerry Zimmerman's Cryo Show; a special presentation by the Fermilab Fire Department; the "Go For It!" panel discussion with women scientists and engineers; a look at the buffalo barn, and DASTOW posters at the end of the day. Plus: for "early birds," Peter Kasper will again conduct his early-morning birdwatching expedition. You'll need to sign up for the tour, and space is limited.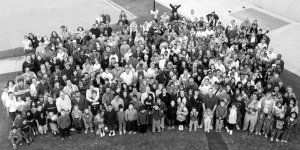 Watch the Fermilab website for more details as the day draws near. Or call the Office of Public Affairs at 630-840-3351.
Earth Day
Plant prairie seeds, plant a tree, have a hot dog—it's the annual Earth Day celebration at Fermilab. Bring a shovel and wear gloves and boots. The activities will take place at the corner of B Road and Wilson Road (the same area as last year), starting at 11:30 a.m. and continuing until all the seeds and trees are planted. Fermilab taxi service will be provided, with pickups at the ground floor, west side entrance.
Tree Planting Instructions:
Make sure your hole is dug properly—not too deep or too shallow. There will be a diagram to show you the correct way to dig.
Do not remove wire baskets or burlap. They will decompose under the soil.
Completely untie twine from tree trunk.
Pack soil tightly around tree ball.
Create a soil ring around tree to retain water.
Firmly grab hot dog and direct toward mouth.
For more information, call Fermilab Roads and Grounds (630-840-3303) or contact Mike Becker: becker@fnal.gov.