Calendar
Fermilab Arts Series Presents: Solas
Saturday, March 23, 2002 $20 ($10 ages 18 and under)
"... the best Irish traditional band in the world." — Boston Herald
No band in Irish music today has risen faster and farther in such a short time than Solas. Formed about five years ago, this versatile group has already received three consecutive awards from the Association for Independent Music for Best Celtic Recording: Solas (1996), Sunny Spells and Scattered Showers (both 1997), and The Words That Remain (1998). The band has appeared on Garrison Keillor's "A Prairie Home Companion," NPR's "Morning Edition," "Mountain Stage," "World Café," CNN's "World Beat" and "Showbiz Today," and NBC-TV's "Weekend Today Show." With similar speed, Solas progressed from clubs to theaters and headlining status at festivals. Band members include John Doyle (guitar); Seamus Egan (flute, banjo); Winifred Horan (fiddle); Mick McAuley (accordion, tin whistle); and one of the best in the new generation of singers in Ireland, Deirdre Scanlon.
All Fermilab Arts and Lecture Series programs begin promptly at 8 p.m. in Ramsey Auditorium, in Wilson Hall. For more information, call 630-840-ARTS, send a fax to 630-840-5501, or email audweb@fnal.gov.
Fermilab Arts Series Presents: The Dark Side of the Universe: Beyond Stars and the Starstuff We Are Made Of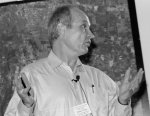 Dr. Michael Turner, Fermilab and University of Chicago Friday, April 5 at 8 p.m., Ramsey Auditorium Tickets: $5
Cosmologist Michael S. Turner is trying to crack the mystery of why the expansion of the universe is speeding up and not slowing down, and the nature of the dark energy causing that accelerated expansion. He has made important contributions to inflationary universe theory, to the idea that dark matter is a new form of matter, and to understanding how structure formed in the universe. Turner is the Bruce V. and Diana M. Rauner Distinguished Service Professor and Chair of the Department of Astronomy & Astrophysics at the University of Chicago. He also holds appointments in the Department of Physics and Enrico Fermi Institute at Chicago and is a member of the scientific staff at the Fermilab. With Edward "Rocky" Kolb, Turner established the Theoretical Astrophysics Group at Fermilab and wrote the monograph, "The Early Universe."
Tickets are non-refundable. For further information or telephone reservations, call 630/840-ARTS weekdays between 9 a.m. and 4 p.m. Phone reservations are held for five working days, but will be released for sale if not paid within that time. Fermilab is only accessible from the west side entrance at Pine Street and Kirk Road. For a map or further information, please see our web page at www.fnal.gov/culture.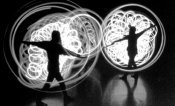 LUMA
Saturday, April 20, 2002 $18 ($9 ages 18 and under)
"The show never fails to amaze, it is literally and figuratively illuminating." — Chicago Tribune
While almost impossible to describe, LUMA embodies a breakthrough in family performance art, similar to those of Imago, Mummenschanz and Michael Moschen. Using new light technologies and various performance art disciplines, Luma transforms a darkened theater into a spatial canvas, where three-dimensional illuminated objects and chaotic characters paint surreal worlds of colorful motion. Fireflies dance, fireworks explode, and iridescent maidens trapeze to an eclectic score in a performance that is part puppetry, part dance, part fireworks, with a little Big Top action thrown in. The Philadelphia City Paper described Luma as "a magical treat in the dark. It's part visual lullaby and part sweet, funny circus of light." Appearing last June on The Tonight Show with Jay Leno, Luma has also been featured at Philadelphia's renowned Fringe Festival, and at the Spoleto Festival where they were deemed "definitely the coolest thing…appropriate for young children."
Related links: www.sroartists.com/luma.html
ONGOING NALWO
Free English classes in the Users' Center for FNAL guests, visitors and their spouses. The schedule is: Monday and Friday, 9:30 a.m. to 11:00 a.m. Separate classes for both beginners and advanced students.
Wellness Works Seminar
Healthy Cooking, Healthy Eating, a lecture and food sampling. April 3, Noon to 1 p.m. in WH 1West with Michele Kinzler, Registered Nutritionist, Central DuPage Hospital
Milestones
Recognized
213 employees and users who volunteered their time to support K-12 activities and education programs, during a reception hosted by director Mike Witherell on Feb. 20.
Named
Hugh Montgomery, as new Associate Director for Research. Mike Shaevitz, who filled the position since July 1999, will return to his post as Professor of Physics at Columbia University at the end of Summer, 2002.
Awarded
Ph.D. to Marcello Santo Nicola, Centro Brasileiro de Pequisas Fisicas, Brazil. For his research related to the E769 experiment at Fermilab.
Ph.D. to Juan Estrada, University of Rochester. For research related to the DZero experiment.
Elected
As CDF Cospokesperson: Nigel Lockyer (ID 03577V, University of Pennsylvania), for a two-year term to begin June 1, 2002. Lockyer succeeds Franco Bedeschi.
Retiring
Howard Casebolt, ID 2462 BD-Environmental Safety & Health, effective March 29, last day March 15.
Edward Wilmsen, ID 4579 PPD Division Office, effective May 31, last day March 19.
Philip Martin, ID 5111 BD-DH Headquarters, effective April 20.