Calendar
Fermilab Arts Series Presents: Solas
Saturday, March 23, 2002 $20 ($10 ages 18 and under)
"... the best Irish traditional band in the world." — Boston Herald
No band in Irish music today has risen faster and farther in such a short time than Solas. Formed about five years ago, this versatile group has already received three consecutive awards from the Association for Independent Music for Best Celtic Recording: Solas (1996), Sunny Spells and Scattered Showers (both 1997), and The Words That Remain (1998). The band has appeared on Garrison Keillor's "A Prairie Home Companion," NPR's "Morning Edition," "Mountain Stage," "World Café," CNN's "World Beat" and "Showbiz Today," and NBC-TV's "Weekend Today Show." With similar speed, Solas progressed from clubs to theaters and headlining status at festivals. Band members include John Doyle (guitar); Seamus Egan (flute, banjo); Winifred Horan (fiddle); Mick McAuley (accordion, tin whistle); and one of the best in the new generation of singers in Ireland, Deirdre Scanlon.
Related links: www.flemtam.com/so.html
All Fermilab Arts and Lecture Series programs begin promptly at 8 p.m. in Ramsey Auditorium, in Wilson Hall. For more information, call 630-840-ARTS, send a fax to 630-840-5501, or email audweb@fnal.gov.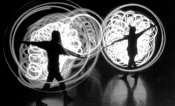 LUMA
Saturday, April 20, 2002 $18 ($9 ages 18 and under)
"The show never fails to amaze, it is literally and figuratively illuminating." — Chicago Tribune
While almost impossible to describe, LUMA embodies a breakthrough in family performance art, similar to those of Imago, Mummenschanz and Michael Moschen. Using new light technologies and various performance art disciplines, Luma transforms a darkened theater into a spatial canvas, where three-dimensional illuminated objects and chaotic characters paint surreal worlds of colorful motion. Fireflies dance, fireworks explode, and iridescent maidens trapeze to an eclectic score in a performance that is part puppetry, part dance, part fireworks, with a little Big Top action thrown in. The Philadelphia City Paper described Luma as "a magical treat in the dark. It's part visual lullaby and part sweet, funny circus of light." Appearing last June on The Tonight Show with Jay Leno, Luma has also been featured at Philadelphia's renowned Fringe Festival, and at the Spoleto Festival where they were deemed "definitely the coolest thing…appropriate for young children."
Related links: www.sroartists.com/luma.html
Milestone
Awarded
By Gustavus Adolphus College (St. Peter, Minn.): The First Decade Award, to CDF postdoc and University of Rochester Instructor Fellow Kirsten Tollefson (ID #03619V). The dual award goes to one male and one female graduate of the tenth anniversary class, honoring them for outstanding early professional achievement in their chosen field. Tollefson worked with the CDF group in the Top Quark discovery and her thesis is the current single best measurement of Top mass.
Correction
The cosmic ray poster image featured in "High Schools Join the Search for Most Energetic Particles in the Universe" (FERMINEWS, vol. 25, no. 2, Feb. 1, 2002) was incorrectly identified as originating with NALTA, the North American Large-area Time-coincidence Arrays. The illustration is in fact the copyright work of David Parker and was commissioned for the book The Particle Explosion by Frank Close, Michael Marten and Christine Sutton (Oxford University Press, 1987). A new edition will be published by Oxford University Press in June 2002 under the title The Particle Odyssey: A Journey to the Heart of Matter. The book is both a history of and introduction to experimental particle physics, and its 350 pictures include many images of Fermilab facilities, experiments and event displays. FERMINEWS regrets the error.