Calendar
Ask a Scientist
Beginning January 19, Fermilab resumes its popular Ask-a-Scientist program for the general public at a new time and location: Saturdays, 1 - 3 p.m. at the Lederman Science Center. The hands-on exhibits of the Center will be open from 9 a.m. to 3 p.m.
For more information: www.fnal.gov/pub/presspass/press_releases/ask_scientist.html
Fermilab Arts Series Presents:
Marc Smith's Uptown Poetry Slam
Featuring 4 Performance Poets, 4-Piece Jazz Band and Marc Smith "The Slampapi"
Saturday, January 26, 2002 at 8 p.m.
Tickets: $18 ($9, ages 18 and under)
Since Marc Smith began the poetry slam at the famous Green Mill jazz club (former hangout of Al Capone) in Chicago's Uptown neighborhood, competitive performance poetry has spread throughout the world. The evening includes performance poetry as well as a poetry slam, in which audience members are invited to take that power and creativity into their own hands.

Fermilab Lecture Series Presents:
Bioterrorism in the 21st Century
Dr. Philip Brachman, Emory University
Friday, February 1, 2002 at 8:00 p.m.
Tickets: $5
Fermilab's Ramsey Auditorium
Dr. Philip Brachman is former Director of the Bureau of Epidemiology with the Centers for Disease Control in Atlanta and currently a Professor in the School of Public Health at Emory University. He will sled light on the recent events, as well as give insights on prevention and contingency plans on a variety of methods of bioterrorism.
To purchase tickets, or for further information or telephone reservations, for Fermilab Arts and Lecture Series events, please call 630-840-ARTS weekdays between 9 a.m. and 4 p.m.
Please Note: At this time Fermilab is acessible to the public only from the west entrance. From Kirk Road, turn east on Pine Street. Additional information is available on our web page at www.fnal.gov/culture.
Ongoing Nalwo
Free English classes in the Users' Center for FNAL guests, visitors and their spouses. The schedule is: Monday and Friday, 9:30 a.m. - 11:00 a.m. Separate classes for both beginners and advanced students.
---
Milestones
Stored
Antiprotons; by the Fermilab Antiproton Recycler Accelerator, for 30 hours reaching a beam intensity of 1e11 (units); on January 9, 2002.
Appointed
Persis S. Drell of Cornell University, as Professor and Associate Director of the Research Division at the Stanford Linear Accelerator Center. The appointment takes effect in the spring of 2002.
Retiring
Glenn C. Johnson, ID 1039, BD-Accelerator Controls Dept. December 31, 2001.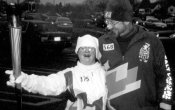 Carried
The Olympic Torch: by Annie Jackson, daughter of Judy Jackson, head of Fermilab's Office of Public Affairs; on January 5 in Racine, Wisconsin as part of the procession bringing the torch to the 2002 Winter Olympics in Salt Lake City.
CORRECTION
Due to an editing error, "View From the Top" (FERMINEWS, vol. 24, no. 20, Dec. 14, 2001) omitted the information that Lederman Fellow Natalia Kuznetsova received her Ph.D. from the University of California at Santa Barbara. FERMINEWS regrets the error.