Shipping Delivers

by Mike Perricone

How do you ship a particle accelerator- to California?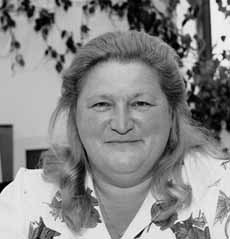 Carol Weissert-Jagger and the Fermilab shipping department met that challenge in 1990, loading a dismantled 250 MeV proton synchrotron onto a moving van. When the accelerator reached its destination, Loma Linda University Medical Center used it to establish the world's first hospital-based proton therapy cancer treatment center.
Another major moving plan around that time was never put into effect: shipping Fermilab's DZero detector to the Superconducting Super Collider. But Weissert-Jagger and the shipping department actually figured out the details of getting the 5,000-ton, apartment-building-sized apparatus dismantled and delivered by a complicated sequence of barge, rail and truck transport to Waxahachie, Texas.
From data cartridges to plastic scintillator, from computer chips to magnets to collider detectors, if there's a way to get it there, the shipping department will make it happen. Within reason, of course.
"We try to never say `never,'" said Weissert-Jagger, more familiar as "Peaches" throughout her 33 years at Fermilab. "But not everything can get everywhere overnight, no matter what the commercials say. You have to realize that Novosibirsk is 4,000 miles east of Moscow, and that Malargu╬, Argentina is a long way from anywhere."
The terrorist attacks of September 11 removed everything from the realm of business as usual, including shipping and receiving.
"Fortunately, we were in a lull as far as our international outbound shipments were concerned," Weissert-Jagger said. "Air carriers like FedEx and DHL were affected, since no planes were in the air. However, ground carriers like UPS and other motor freight operators were not."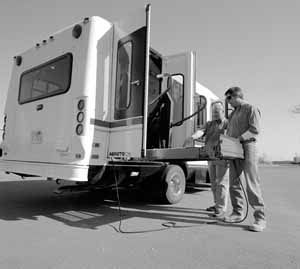 A shipment of components for the Compact Muon Solenoid detector, part of CERN's Large Hadron Collider project, had already been sent by ocean freight to Hamburg, Germany on the way to Russia for additional fabrication. That shipment arrived safely in Hamburg. But another shipment bound for CERN was delayed in the backlog of international freight arising from the ban on air traffic.
"Also, U.S. Customs is paying stricter attention to all shipments both in and out of the country," Weissert-Jagger added.
With assistants Al Elste and Claudie King, she is the supervisor of the shipping and traffic departments, which confront logistical hurdles every day. The hurdles can be geographic or bureaucratic. Shipments to Russia, for example, encounter frequently changing rules with a government where duties are a needed major source of revenue, "and even the Russian officials can't keep up with the changes." There are domestic challenges, too. The Main Injector Neutrino Oscillation Search (MINOS) experiment must ship its massive detector plates and other components to the mineshaft in Soudan, Minnesota, which is a half-mile underground- in a former iron mine that is one of the state's major tourist attractions.
Another famous hurdle: large (17.5-foot) detector tanks that were built in New Hampshire and bound for Fermilab. The Department of Energy contacted all the states along the shipping route to obtain permission for the oversize loads. But the shipment, originally scheduled for winter, was delayed until the following summer-tourist and construction season. One state wouldn't allow access at all; another wouldn't provide a state police escort.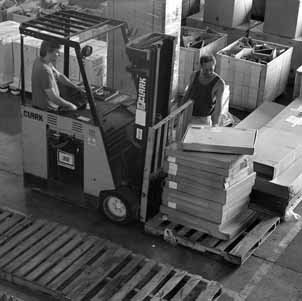 "We wound up routing it through Canada," she recalled. "On one bridge, we had a total of about a half-foot of clearance."
Weissert-Jagger points out that all it takes to get the shipping process started is a material move form, which is available on the Business Services website (http://www-bss.fnal.gov/mmr). Shipping can pick up an item and crate it, or accept an existing package to be shipped from the lab. The traffic department manages the progress of both inbound and outbound shipping, getting the best freight rates and auditing all freight bills. Both areas work closely with Fermilab's Environment, Safety and Health section in shipping any hazardous materials or wastes.
"Every project that comes through shipping is very important, and it has to get there, and it's under time constraints," said Ron Haynes, manager of support services in Fermilab's Business Services Section. "But all the steps take time: the items have to be picked up, crated, shipped out. We've seen that Carol and everyone else in shipping are both efficient and creative, and they've come up with some ingenious solutions over the years."