Service: A Way of Life for Fermilab Firefighters
by Mike Perricone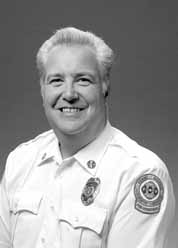 Going around the table, they take turns reciting their lengths of service: Firefighter Greg Hansen, 22 years, Don Kerbs, 22 years, Joel Hurst, 25 years, Captain Larry Meyer, 33 years, Chief Jack Steinhoff, 30 years. Meanwhile, firefighter Alex Silva is growing a sheepish grin.

"I'm almost embarrassed to say it-only six years," Silva finally offers, leaving himself open for immediate kidding about "bringing down the average."

Summing up the years tells that firefighting is more than a profession; it is a life, an around-the-clock occupation. Fermilab's crews work 24 hours on duty, followed by 48 hours off duty. The shifts usually add up to 56 hours per week, and always include one part of the weekend (Friday, Saturday or Sunday) with the inevitable interruptions of family plans and events at home. The life doesn't stop at the boundaries of the job; 14 of Fermilab's 18 firefighters are also volunteer firefighters in their communities.

The job runs in families; Hurst's father was a volunteer firefighter in Elmhurst; Steinhoff's father was a fire chief in Stickney and a fire captain at Western Electric. Firefighting also creates its own family. Silva says that living alone, he anticipates the time at work as a family experience. He likens sitting down for a meal with the firefighters on his shift to sitting around a table with his brothers. Silva isn't using the term lightly; all of them openly call each other brothers (and sisters, although Fermilab currently has no female firefighters).

"It's the camaraderie that grows from spending a third of your life together, and facing potentially dangerous conditions together," says Kerbs.

The bond extends to other firefighters in other fire companies-in fact, to any firefighter in any firehouse in any city. Traveling, vacationing, looking for directions, seeking a spot for a good meal, a firefighter will drop in at a local firehouse, from New York to Honolulu and anywhere between.

"As soon as they know you're a firefighter," Steinhoff says, "the first thing they'll say is, `Come in and eat something with us.'"

That simple but symbolic connection tells why the grief is so personal in the faces of firefighters at memorial services in New York City. That bond tells why Fermilab's firefighters feel they lost 350 brothers and sisters at the World Trade Center, and why the black bands on their badges carry palpable but immeasurable weight. Meyer notes that the terrorist attack on the morning of September 11, 2001 coincided with the shift change for the New York firefighters, and no one went off duty. The departing shifts stayed on with the incoming shifts and responded to the disaster.

"Whole companies were wiped out," Meyer says. "Losing this many-it's never happened before."

The loss of top officers was also unprecedented, including three of New York's most senior fire officials-first deputy commissioner William Feehan, chief of department Peter Ganci, chief of special operations Raymond Downey. These weren't leaders who took up positions safely in the rear.

"They were doing exactly what the situation dictated, setting up a good central command post," Kerbs explains.

Without exaggerating or dramatizing the comparison, the Fermilab crew knows the common factor linking the 110-story twin towers in New York City to the lab's own signature building, 16-story Wilson Hall. In firefighting terms, both buildings qualify as "high-rises," the description applied to any building over 75 feet tall. In firefighters' minds, responding in either situation could mean knowingly jeopardizing their own lives.

"One of the stories from New York involved a firefighter helping an older woman out of the building," Hansen recalls. "When he turned around to go back to the scene, she called after him, `Where are you going?' He said, `I have to go back in there.' That's what we do, and it's something we understand when we take the job."

"You try not to dwell on it," Meyer continues. "But when you take the job, it's always there. You try to use your training and experience to avoid that kind of situation. But at some time, it may simply be inevitable."

Meyer compares firefighting to a military operation, with the hierarchy of officers, the organization of companies, brigades and battalions. He cites the ceremony granting promotions to more than 150 New York firefighters in the aftermath of the World Trade Center disaster.

"It was very much like giving field promotions during battle," he says. "The job is very much like being a soldier. You accept that, and you move on."

Like soldiers, firefighters rely on intense training and a daily attention to detail. The Fermilab site holds out special challenges: cryogenic systems, oxygen-deficient areas, tightly confined spaces, unusual materials such as beryllium and lithium, and the possible presence of radiation. At any time, at least one department member is probably attending a class, conference or seminar, with programs ranging from regular State of Illinois certification requirements to arson investigation schooling. There are daily department exercises-practices, plainly put. Smoke alarms and fire extinguishers are checked monthly all over the site. Department members offer training to lab employees for using fire extinguishers and respirators. Shining up a vehicle is only the most visible example of painstaking daily maintenance, testing and organizing of equipment that must work on a moment's notice-perfectly-in answering more than 400 calls a year.

Fermilab's fire department has seven vehicles: Ambulance 751, with basic life support equipment; Squad 701, with fire rescue equipment and extrication tools; Engine 702 and Engine 703, with pumps, hose and water tanks; Grass Unit 705, a 4x4 with small pump, tank and hose specifically designed for grass fires; Command Vehicle 707, an SUV for the shift commander; and a sedan, Chief's Car 710. The department has no vehicles that would be classified as "trucks," which carry aerial ladders from 65 to 100 feet long. Neighboring communities would respond with trucks if needed. Fermilab provides automatic aid in times of need to Batavia and Warrenville, and belongs to the Northern Illinois Mutual Aid Box Alarm System (MABAS).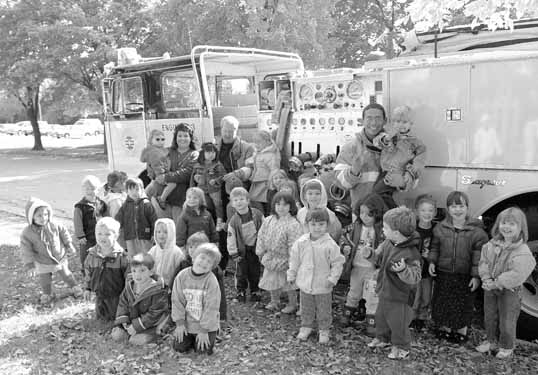 Like all firefighters, Fermilab's department offers another automatic response: a delight in kids. Daughters and Sons to Work Day at Fermilab has become the setting for an annual fire department blockbuster display, last year featuring a demonstration on escaping from a burning building. For school groups, for visits on Fire Prevention Week, for virtually any kid who can imagine hanging onto a speeding truck with sirens blaring, firefighters have a smiling welcome.
"Kids play with toy trucks, and we've got the big ones," Hansen says. "Kids love the uniforms, the helmets, the coats, the boots. And I think we respond because we identify with our own kids."
Throughout this break to talk about their work, all six have an ear cocked for the radio that crackles intermittently. None of the messages command their response, but their postures change, their eyes shift, and their readiness is unmistakable. How dangerous does their job get? No one really wants to give an answer, but the chief responds.
"The potential is always there," Steinhoff says.
---
On the Web:
Fermilab Fire Department History: http://www-esh.fnal.gov:8001/FD_History/FD_History_2002.htm
Fermilab Fire Department: http://www-esh.fnal.gov/home/esh_home_page.page?this_page=5
New York City Fire Museum: http://www.nycfiremuseum.org/
"I wish you could see..." http://www.setel.com/~sarah/fireman.html