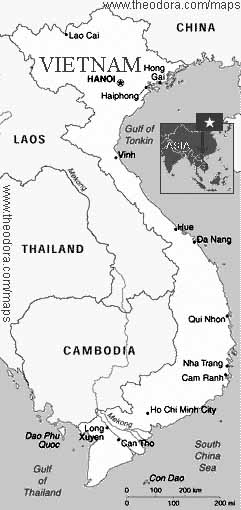 Slender as sunbeams, lashed together of rope and bamboo, the characteristic "monkey bridges" of Vietnam crisscross the country's inland waterways. By ones and twos, holding the rope handrails, travelers cross the cau tre as they pass from shore to shore.
Earlier this year, a group of Vietnamese physicists crossed another sort of bridge, perhaps as slender, from their home Institute of Physics in Ho Chi Minh City to the DZero experiment at Fermilab.
On July 31, Professor Nguyen Mong Giao of the Institute of Physics, Ho Chi Minh City, Vietnam, received a letter from the spokesmen of Fermilab's DZero experiment. "Dear Professor Giao," the letter said, "It is with great pleasure that we welcome you and your colleagues in the HEP group at the Institute of Physics in Ho Chi Minh City as full members of the DZero Collaboration. Your membership was ratified by vote of the DZero Institutional Board on July 26, 2001....Welcome to DZero!"
The journey from the city formerly known as Saigon to Batavia, Illinois is a long one, but the travelers to this far-off shore appear to have arrived. Today, Run II at the Tevatron finds Giao (pronounced Zow) and two of his graduate students from Ho Chi Minh City already hard at work on the DZero detector, very glad to be there.
"For me, Fermilab is the most famous and the most important center of high-energy physics in the world," said graduate student Trang Hoang. "This is a very important opportunity for me, really more than I could imagine."
Like most such opportunities, this one arose from a human relationship. It began with a conversation between Fermilab physicist and DZero collaborator Boaz Klima and the man most U.S. physicists think of when they associate physics and Vietnam, an energetic Vietnamese theorist from the University of Paris at Orsay, Jean Trân Thanh Vân. Trân, as he is known, is the organizer of some world's most respected physics conferences. In 2000, Trân asked Klima, an old friend, to lend a hand at the famous Rencontres de Moriond in France.
"During our discussions, Trân asked if I would help him," Klima said recently. "He said there was a small experimental particle physics group starting in Ho Chi Minh City. He asked if I would go there to give a talk and see how serious they were."
When Klima arrived in Ho Chi Minh City in July, he found a very small group indeed: one. Professor Giao was the sole experimental particle physicist in the country of Vietnam. He had worked on experiments in Dubna, Russia until 1985, when events brought him home to the Physics Institute in Vietnam. About 40 scientists work at the Physics Institute, mostly in solid state and applications physics. With no possibility for experiments in high-energy physics, Giao devoted himself to theory and teaching.
"We have good students," Giao said, "but not too many opportunities for them."
In fact, Klima found, there were plenty students eager to become experimental particle physicists. They had enormous enthusiasm, but they lacked one crucial element: an experiment to work on.
"There were many young graduate students in Ho Chi Minh City who wanted to talk about physics," Klima said, "We talked for hours into the night. I left a summary of DZero research for them to read and told them I would do what I could."
At the Trân-organized Rencontres du Vietnam conference in Hanoi the same month, Klima met with the president of the Vietnamese equivalent of the National Science Foundation, the National Centre for Science and Technology, Professor Nguyen Van Hieu.
"We talked about the possibility of Vietnamese physicists coming to Fermilab to collaborate on an experiment," Klima said. "I told Hieu that we would help over here, but that he also had to work on his end. I couldn't make any promises, of course, from Fermilab or DZero. Hieu said he would see what could be done."
Back at Fermilab, with the help of DZero founding father Paul Grannis and Associate Director Roy Rubinstein, Klima went to work. Ultimately, Fermilab Director Mike Witherell approved a plan that would provide funding for the Vietnamese group for three years, enough to support the equivalent of one full-time person at Fermilab per year. For their part, the NCST in Vietnam arranged to pay for travel and for computers so that students returning from Fermilab could continue to participate in DZero from Ho Chi Minh City.
The next step was to join DZero. Klima helped the Vietnamese fill out an application.
"In order for them to become collaborators," said DZero cospokesman John Womersley, "we needed to identify projects that they could work on that would make a solid contribution to the experiment. We found critical software development and electronics projects where their help was much needed."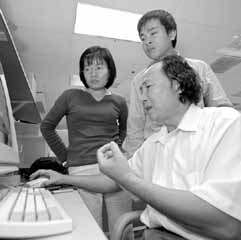 Last spring, Professor Giao arrived at DZero. Three weeks later, the first student, Trang Hoang, arrived. In June, first-year graduate student Han Do joined them. Hoang went to work on Analog Front End boards, developing software to test these electronics for the readout of DZero's fiber tracker. Do began helping to develop software for the Level 3 trigger system that identifies potentially significant particle events. Both students will return to Vietnam this fall, to make room for others back home to come to the U.S.
For his Vietnamese students, Giao said, life is different in the U.S. but "they are very happy. People at Fermilab and at DZero are very kind. For me and for the people from Ho Chi Minh City, the chance to work at the energy frontier, at the Tevatron, with the potential for discovery, is very important. We are all working hard to learn English. In the dorm, after work, there are opportunities for conversation, for connection with physicists and students from many U.S. universities."
The DZero collaboration is equally pleased.
"From a narrow viewpoint," Womersley said, "we are gaining the enthusiastic participation of highly motivated young people who have already impressed those who are working with them. In a larger sense, when we discussed admitting them, we felt we had an opportunity to do something good to help forge international connections for this physics group who want to break out, to push science forward in their country."
Klima agreed.
"They are truly starting from scratch," he said. "They had no network, no seed money, nothing. This collaboration will give them a tremendous boost and establish the high-energy physics credentials of this group-in-the-making. Twenty years from now, people will say, `They were the pioneers.'"
Giao looks forward to the day when his graduate students will become colleagues, and he will no longer be the only experimental particle physicist in Vietnam.
"Collaboration with DZero is important for Vietnam," he said "because Fermilab is the world center of our science. It is a good chance to develop science and technology in Vietnam. It is a chance to build a bridge between Ho Chi Minh City and Batavia."
As they look forward to the next few years, the Vietnamese physicists have at least one thing in common with the rest of their DZero collaborators. All three hope that at the end of the bridge lies a Higgs boson.